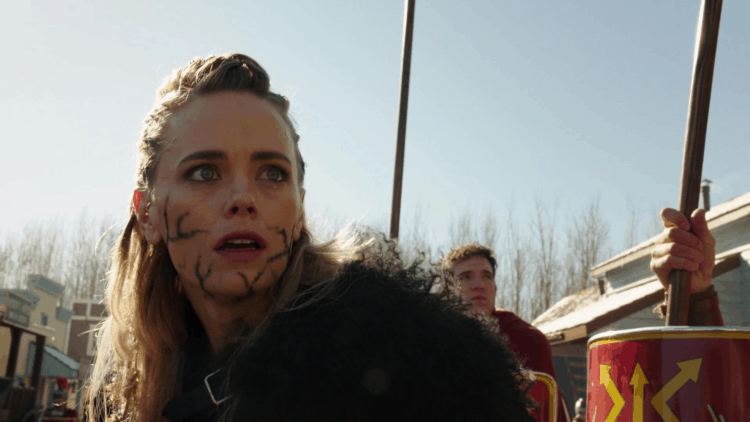 Swedish actress Katia Winter is best known for her roles as Russian stripper Nadia in crime drama Dexter, and bewitching sorceress Katrina Crane in the Fox series Sleepy Hollow. You may also recognize her name from films such as Knight of Cups, Arena, Malice in Wonderland and Banshee Chapter. While she already has a number of hits under her belt, 2019 is set to be the year things get big for the Scandinavian starlet. With 3 hotly anticipated films in the works and a lead role in the 2019 drama series Blood and Treasure already in progress, this is one star who's most definitely on the rise. Find out more with these 10 quick facts.
1. Her casting in Sleepy Hollow was last minute
Katia may have bewitched us with her performance as Ichabod Crane's wife Katrina in the hit Fox series Sleepy Hollow, but the casting itself was a hectic affair. Katia wasn't cast until 3-4 days before shooting was scheduled to start, leading to a lot of scrambling around to get ready. Apparently, it's not the only time it's happened to her: "I get cast at the last minute," she told Collider. "I don't know, maybe somebody drops out and they can't get someone, and someone is like, "Oh, how about Katia Winter?" I'm so jealous of actors who are like, "Yeah, I spent two months in Italy, researching my role."
2. She was born in Sweden
Katia might be able to pull off an amazing American accent, but the talented actress is in fact Swedish. Katia was born in Stockholm, Sweden, but relocated to London in the UK when she was still a child.
3. She's divorced
In 2013, Katia seemed to have found her happy- ever ending when she married musician Jesse Glick. As it turned out, she hadn't; in June 2015, the couple separated just a few months short of their 2nd anniversary. In February 2016, things were made official when Katia filed for divorce. Fortunately, with no children and no property to squabble over, the divorce was a pretty clean-cut affair.
4. She loves Netflix
When it comes to deciding how best to spend a lazy Sunday morning, the choice for Katia is clear. If she's not shooting, Katia loves nothing more than to snuggle up in bed with her 2 dogs, a remote control and a full schedule of Netflix. Favorite shows include House of Cards, Orange is the New Black, Top of the Lake, Scandinavian drama Quicksand and Succession. She also loves watching BBC shows as well, if nothing else than to remind her of her youth in the UK.
5. She wanted to be a cop
Before Katia got drawn into the world of entertainment, her dream was to join the police. The ambition was sparked by her time at a military-style high school, where she studied crime psychology and took part in a ton of physical training. "I still think about it because it's interesting to think about your life choices, and how different my life would have been if I had gone to the police academy, which I was so close to doing!" she told SELF.
6. She's not a natural redhead
Viewers of Sleepy Hollow might be disappointed to learn the fiery redhead is not in fact a redhead at all. The secret to her vibrant locks? Dying her hair twice a month using a careful combination of three hair dyes. Fancy some more hair related trivia? For the part of the Poet in the 2010 feature Anaphylaxis, Katia shaved her hair completely to debut a freshly bald new look.
7. Her TV debut was in Dubplate Drama
Katia's TV debut was on the British television drama series, Dubplate Drama. The series, which was created, written and directed by Luke Hyams, premiered on Channel 4 in November 2005. The storyline revolved around MC Dionne (played by Chanelle Scott) as she attempted to realize her dream of helping her family by securing a big-time record deal. The series followed the revolutionary format of allowing viewers to decide the outcome of each episode via an interactive text service. As well received critically as it was publicly, the series managed to run for 3 hit seasons before coming to an end in 2009. Katia joined the show during its second season as the character Scarlett.
8. She's currently starring in Blood and Treasure
2019 is set to be a great year for Katia. Along with roles in the upcoming releases The Wave, 1066 and L.V.J., she's currently acting up a storm in the action- adventure drama television series, Blood and Treasure. The show features a bevy of stars, including Matt Barr as FBI agent turned lawyer Danny McNamara, Sofia Pernas as Lexi Vazir, a con woman and Danny's partner, James Callis as Simon Hardwick, an international smuggler, and Michael James Shaw as Aiden Shaw/Dwayne Coleman, an arms dealer. Katia takes the part of Gwen Karlsson, an Interpol agent who follows a blood antiquity trail into the dark world of terrorism. For Katia, the opportunity to play a character like Gwen is a dream come true; "I don't think I've ever played a character like this before," she told TV Fanatic. I've always wanted to. She's very unapologetic and holds her own. She's not a damsel in distress and she really kicks ass'.
9. She wants to play a Viking
Katia has donned her fair share of corsets and petticoats over the years, but if she had her way, her next role would see her wearing a bearskin and kyrtill… or if that can't be arranged, she'll take parading around half dressed with a dragon in toe instead. When asked by TV Fanatic what her ideal part would be, Katia had no hesitation: – "Game of Thrones. I'm a sucker for period pieces altogether, and I mean that's fantasy period, but mine is the dragons and all that. I can't imagine what it was like back then, way back when. Oh, Vikings! God, I want to play a Viking one day."
10. She has a net worth of $2 million
With a career spanning nearly 15 years, you'd have expected Katia to have racked up a few dollars by now, and you'd be right. According to Celebrity Net Worth, the talented actress has already hit, and exceeded, the million dollar mark. These days, Katia is in fact sitting pretty on a cool $2 million. With so many new and upcoming projects lined up for 2019, it's a fortune you can confidently bet your own money on increasing.