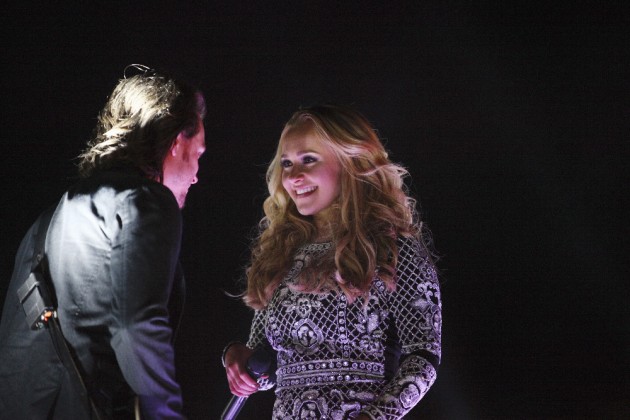 Everybody's got a problem this week on Nashville, and everyone is trying to do their best to fix it. With the drama from music city trickling out to other cities as well, everyone's issues are getting worse, not better.
Following last week's harsh blow that Deacon will not be getting a liver transplant, Rayna is desperate to save the man she loves. Under the guise of going away on business, Rayna finds Deacon's sister Beverly knowing she is his last hope for a transplant. Rayna begs Beverly for her help, but all Beverly can see is the past, particularly Deacon leaving her to go on tour with Rayna 20 years ago. Defeated and desperate, Rayna makes one final attempt to coax Beverly into being Deacon's donor, in the form of a million dollar check.
In another town that isn't Nashville, Luke, Jeff and Layla are in Los Angeles for one of Jade's parties. Jade and Luke are happily canoodling all over Jade's mansion, while Jeff and Layla are clashing about the necessity of making an appearance. It truly is an outrageous party which quickly makes Luke and Jeff feel out of place. Luke realizes it's time for this chapter to end, and he goes home to his son where he belongs. Jeff meanwhile sees history repeating itself with Layla, and makes a desperate move of his own to get her away from Jade's world. Jeff sends a photo from Jade's party on Layla's phone out into social media, knowing it will be the push for Jade to fire Layla.
Back in Nashville, Rayna's baby daddies have some difficult issues to deal with. Teddy gets a heads up that he's about to be arrested, and decides that he is going to run. He goes so far as to write tearful goodbyes to Maddie and Daphne when a Hail Mary comes out of the sky. A friend from the U.S. Attorney's office promises to extricate Teddy from the charges he is facing, for a favor of course. It seems like the harder Teddy tries to swim for shore, the more waves keep crashing on his face.
Deacon is holding down the fort taking care of the girls while Rayna is out of town, but doesn't know what to do when he finds Maddie and Colt in a very risqué position in his house. Surprisingly, it's Juliette of all people who helps Deacon out, pointing out the fact that she could be a cautionary tale for Maddie. Juliette has a really great talk with Maddie, then finally gets the news that Deacon is dying.
Juliette is still off balance trying to adjust to life as a mother and as a performer. Avery proves to be an extraordinarily patient husband, simply telling his wife that he is with her not just as a husband but as her guitarist as well. Juliette can't completely control her career at the moment, but after hearing what Deacon is going through she can take steps to get there. So she decides to throw an impromptu concert on the Highway 65 rooftop. The concert is a huge success that leaves both Avery and Juliette exhilarated, until they get home and Juliette looks uncomfortable at the thought of taking care of her own daughter.
Scarlett and Gunnar have their own adjustments to make this week in addition to trying to find a new balance in their band without Avery. Scarlett is now officially the girlfriend of a doctor, even attending a fancy country club staff dinner with him. Gunnar's world is disrupted when Kylie shows up on his doorstep wanting to see her son, unaware of everything that has happened in the months since she disappeared. He doesn't want to hear what she has to say, but is stopped cold when Kylie tells him that she didn't cheat on him, she was raped. Now fully understanding the inner torment Kylie has been dealing with, Gunnar tries to support her, even though it means creating a bigger rift in his already fragile friendship with Scarlett.
I'll admit, I'm a bit disappointed with Christina Aguilera's short run on Nashville since her character didn't really show that much growth or big effect. Anyone else agree?
[Photo via ABC]