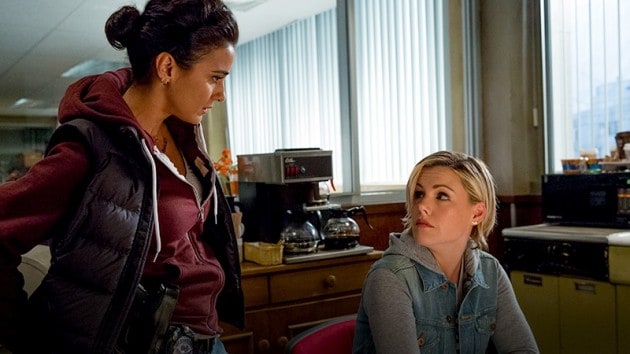 Sometimes, within a serialized story, there is an episode that is entirely dedicated to moving the plot forward, and planting seeds about various characters that will pay off down the road. That is exactly the purpose that "My Sugar Walls" served for Murder in the First. There were some intriguing elements involved with this week's installment, but ultimately, the episode had mixed results.
This week on Murder in the First: Hildy displeases Raffi by continuing her investigation into the drug ring, because Raffi has made significant progress on it. Terry gears up to hand things back to Lt. Koto, who has returned from his leave. The remaining mass shooter is analyzed by his lawyers and a psychiatrist, while his parents are interviewed by the police. Molk is partnered with Hildy's brother.
This episode had promise in some ways. Raffi, for instance, turned from the officer that Terry is sleeping with into an interesting, deep character within the confines of this episode. The series also planted several more seeds for other characters to show more depth. However, the whole episode felt like little chunks. Previously, I've been excited by the multiple mystery arcs and how they affect one another, but this episode came across choppy and jumbled. I'm supposing that everything is important, but you couldn't have guessed that by how much screen time some arcs got versus others. I'm barely familiar with the drug dealer characters, but I thought the drywall thing was pretty darn cool. Just throwing that out there.
Perhaps my biggest complaint was the lack of Hildy and Terry. Robertson and Diggs are what make the show great, so when they don't have a lot to do, there leaves a gaping hole in Murder in the First where its two most talented actors should be. I'm a big fan of Raphael Sbarge's work, too, but even he was barely present in the episode. Most of the hour was spent on the psych evaluation of the "suspect" (I put 'suspect' in quotes because he did it, and we all know it), and the dialogue between his lawyers. I was a little interested in his case, but more interested in how it relates, if at all, to the other tasks at hand. Emmanuelle Chriqui, who plays Raffi, was the saving grace of the episode. She received the more screen time than any of the other officers and made the most of it, showing great depth and range in her character. I'm truly intrigued by the relationship she and Terry have. They've both suffered unimaginable losses, and that has great potential to pay off in the future. The other stuff does too, but this was much less annoying.
Overall, Murder in the First is a solid show. This episode is one that would get blown through on a binge, and we would all be grateful to have the information it contained. In a 12-episode season, though, I feel like stories could be spread a little differently so the audience doesn't become disengaged. All in all, though, Murder in the First is a solid show that's fun and exciting to watch.
What did you guys think? Were you on the fence about this episode like me? Let us know in the comments!
Murder in the First airs Mondays at 10/9c on TNT.
[Photo via TNT]
Tell us what's wrong with this post? How could we improve it? :)
Let us improve this post!