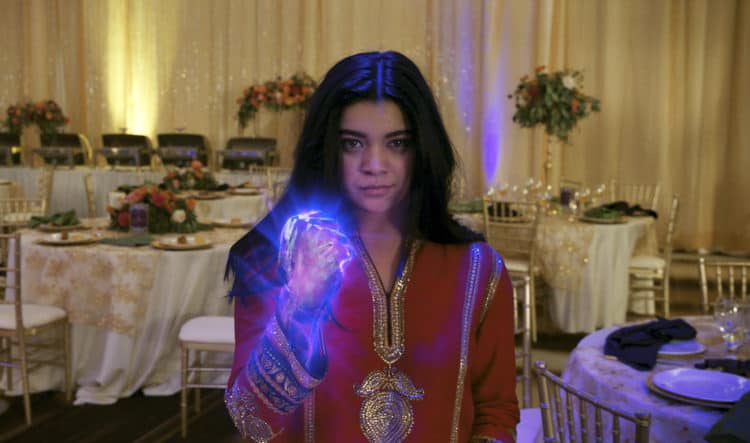 There's plenty of praise being heaped on Ms. Marvel and for the most part, the show deserves it since the action has been fun and the girl power moments are tolerable since they're warranted, mostly. But it's fair to say that the reception for the show could have been a lot greater had it not been released when it was. Some might want to say that it doesn't matter as much that this show was released when Obi-Wan was playing, especially considering that so many fans had been anticipating the Star Wars spinoff since it was announced. There's little to no doubt that this show is leaning toward a great finale and possibly a second season if things go well, but even with a warm reception, it doesn't appear to be pulling down the kind of numbers that a lot of people thought it might. There could be a few reasons for this, not the least of which is the timing, but it could also be that the fanbase, and there is a sizeable one, wasn't too thrilled to see the big change made to Kamala Khan's powers.
There have been a few explanations for the changes, and while fans have been watching the show it feels as though they're just looking for things to gripe about right now, as though their needs haven't been met at this time and they want to know if anything is going to change. If that's the case, and that's a big if, they're bound to be a bit disappointed since it would appear that nothing is really going to change when it comes to Kamala's power and that the story is going to keep moving forward with the Clandestine harassing her in ways that are becoming highly complicated. The latest episode, which saw her being transported back in time after defending herself from the Clandestine, is thoroughly confusing to those who haven't read the comics, and it's not tough at all to say that Ms. Marvel is going to explain a few things quickly to keep the onus from falling entirely on the fans.
It's easy to wonder if the arrival of this show would have done better or worse depending on what show it coincided with, since while Ms. Marvel is fun, it's also a sign of change in the MCU that's not negative in the least, but is still showing how things are pulling away from what people recognize. The heroine is obviously well-liked, and everything from her culture to her powers is uplifting enough that they've pleased many fans. But there's still something missing to this story that has been presented but has also been held back in a manner that it wasn't held back from other stories. The sense of danger simply isn't there for some reason, no matter that Kamala has been attacked, chased and forced to defend herself a couple of times. Something about the fight scenes indicates that despite those around her being stabbed and beaten, Kamala isn't in the greatest danger, and therefore isn't being pressed as many other heroes have been in the past. It could be that she's a kid and Disney doesn't want to endanger a younger hero, but it's become noticeable on more than one occasion.
Maybe it's being a little too demanding, but after shows like Moon Knight and movies like Endgame, it does feel as though the risk factor needs to be a little heavier. It could be that things will continue to increase in intensity as the show goes along, but at this point, it almost feels as though the action will increase, but it will reveal Kamala as a badass that suddenly has control of the power inside her. That would be a seriously bad move since as of now it does feel that she's earning her way up and would be best served by continuing to make mistakes even as she gains a little more mastery over her powers. In that manner a lot of heroes can actually earn the praise they're given. Too many folks don't care about this that often, which is unfortunate since it cheapens the experience and the hero. So far though, Kamala has been seen as the type of individual who wants to be a hero but isn't quite making all the right moves yet.
It's fair to state that Kamala is growing in popularity when it comes to her live-action show, but it does feel as though things will need to build in a way that the fans will want to keep watching eventually, or her ratings might take a serious drop. The truth is that being released at the same time that Obi-Wan Kenobi was being aired wasn't that bright of a move, but it wasn't the end of the world. There's still plenty of time for Ms. Marvel to become an even more impressive addition to the MCU.