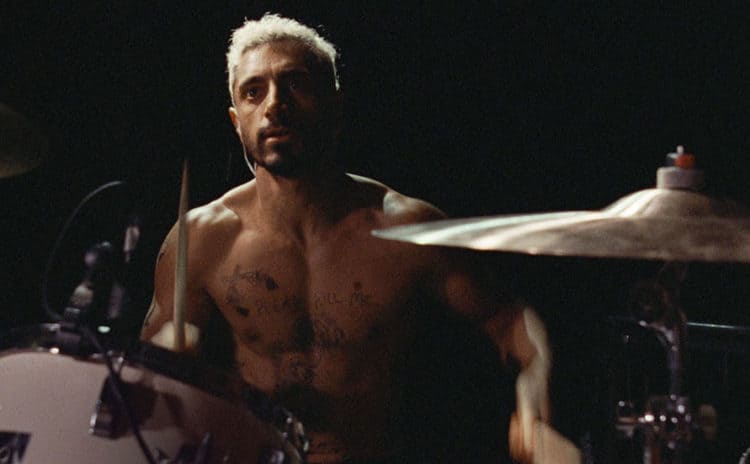 Plenty of people might agree that we take our five senses for granted a lot of times since how we live makes it possible to ignore many of the dangers we face every day that might pose a serious threat to one or more of those senses. The Sound of Metal is a great reminder of what it's like when just one of those senses is abruptly taken away since life becomes exceedingly tough when a person is forced to do without a sense that is more than a little important to how many people get by from day to day. Ruben and Lou come off as a fun couple that has had issues in the past, but there are signs that things haven't always been that great for the pair as their avant-garde metal sound has earned them a following, but living out of an RV and traveling from city to city makes it clear that their lives are free, but not exactly carefree. They do appear to be happy and perhaps even content, but all signs point to the idea that things have been kind of rough in the past. 
This has to do with the fact that Ruben was, at one time, a heroin addict that has since cleaned up his act and stayed sober, thanks in part to Lou. But there are signs within the movie that Ruben still has to be doing something at all times since he doesn't appear to be capable of just slowing down and being still for that long. When he suddenly begins to lose his hearing, Ruben is quick to head to the pharmacy and then to a doctor who makes it clear that his massive hearing loss isn't going to get better, and will eventually get worse. Upon learning this fact, Ruben continues to perform despite the doctor's warning that loud noises and his regular lifestyle will continue to damage what little hearing he has left at an accelerated rate. 
The doctor does mention the use of cochlear implants, but he also notes that since they're not covered by insurance that they're extremely expensive. As an alternative, Ruben's sponsor gives him the location of a place that might be able to help him. Upon finding out that the place is a home/school for the deaf where he's expected to learn how to cope with his hearing loss and learn American Sign Language, Ruben is immediately resistant as he and Lou leave the place. When Lou packs her things and leaves, however, imploring Ruben to return to the home, Ruben does so reluctantly but eventually learns how to sign, and how to live without his hearing. One might expect that this would bring about the happy ending that a lot of people want, but like Joe, the individual that welcomed Ruben to the home, works with Ruben over and over, it's still obvious that Ruben can't let go of the life he had before. Even Joe notes that he still acts like an addict, as Riz Ahmed does a rather good job of portraying someone that has a very addictive personality and can't let things sit as they are.
Ruben's desire to see Lou is so strong that he uses Joe's computer to keep tabs on Lou, as he eventually discovers that she's in Paris trying to make her music work. Selling off his RV and sound equipment Ruben comes up with the money he needs for the implants, but the acceptance he wanted doesn't come as to Joe, this is a sign that Ruben hasn't learned anything, as he's still treating his deafness as a handicap. When Ruben asks Joe for money so that he can get his RV back, Joe declines and asks Ruben to leave the home. Following this, Ruben makes his way to Paris after the activation of his implants. Sadly, the sound that comes through the implants is distorted and not nearly as clear as Ruben was hoping to hear, as the doctors' warning that his hearing would not be the same was disregarded along with just about everything else. Ruben heard what he wanted to hear and left the rest, as he's the type of individual that hears the solution but virtually ignores everything else. 
Upon finding Lou at her father's home in Paris, Ruben is welcomed in and allowed to stick around. During a house party that Lou's father holds however his implants continue to deliver every sound he hears in a distorted manner, making things quite uncomfortable. Despite the distortion, Ruben tells Lou he wants to get back to their music, but this doesn't appear to settle well with Lou. The next morning, Ruben leaves while Lou is still sleeping, leaving the audience to wonder what's going to happen. When Ruben sits down to listen to the world around him in a distorted manner that his implants allow, he removes the devices that work with the implants and sits in silence for a moment before the credits begin to roll, giving the impression that he's finally ready to sit in silence.