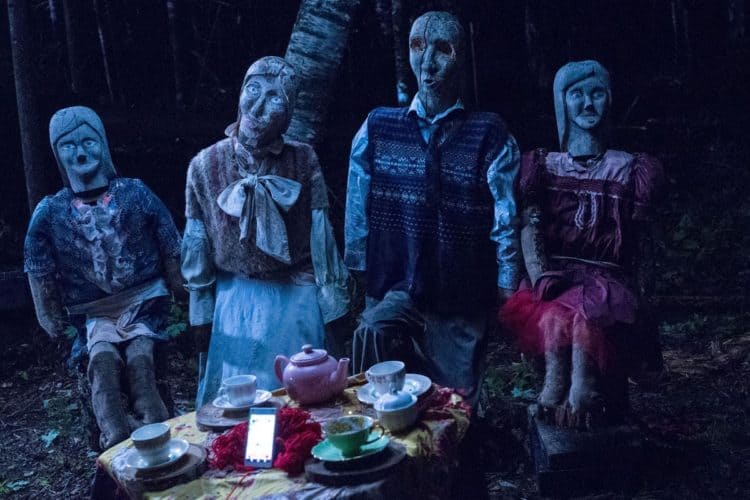 In terms of the creep factor, this movie definitely has it, but the reveal is where things get a little 'meh'. There's a definite supernatural feel to this story to start with and had the director leaned into this idea it might have been far better, but the way things went still had a style to it that was able to capture the attention of some folks. The beginning is simple enough as glimpses are seen of a bloody ax handle and signs of disarray that can be seen strewn about. The story dials back to Shawn and Laura as they're discussing their annual trip to a lake house, along with their two daughters, Kayla and Maddie. Upon reaching the gate that leads down a dirt path to the lake house, Laura and the girls are met at the gate by a man named Owen, one of the area residents. He imparts the story of how a local boy went missing years ago from the same house they've selected for their getaway, as this is their first time staying at this home.
That's something you love to hear when vacationing somewhere, right? It doesn't help that Shawn had to come later since he had work to tend to, and made a promise that he would join his wife and girls later that night. As Laura begins to settle in upon arrival to the house, Kayla and Maddie play outside, having fun on the swings that are located within sight of the house. When the two girls happen to notice a red string leading off into the nearby woods, they decide to follow it, finally coming to a strange but quaint tea party that's been set in the woods. Finding two cupcakes, Maddie eats one, while Kayla saves hers for her father later on. The only trouble is that Maddie becomes seriously ill after eating the cupcake, and vomits up a note that says 'Hello'. Digging into the second cupcake after Kayla tells their mother about it, Laura finds another note that says 'Goodbye'.
There could have been a seriously supernatural lean to this movie, but going with practical effects and the idea of a lurker in the woods became even creepier at one point as Laura and the girls were being actively terrorized by someone that they didn't understand. When they see a figure standing in the front yard, they realize that they're not alone, and Shawn has yet to arrive. Of course, when he does arrive it doesn't help as he's drawn into the woods to the tea party, where he sees several wooden mannequins set up in attendance. That would be creepy enough, but he finds his wife's phone as it echoes with his voice as he was trying to call her. Not understanding what was going on, Shawn was then killed by a masked assailant with an ax. Laura and the girls are then lured outside as the killer uses Shawn's voice on a recording to draw them out, at which point he drops Shawn's lifeless body from the roof. As the movie continues to go along it becomes kind of obvious that the killer is working on the idea that scaring the family is the best way to go, or perhaps he's enjoying the lingering feeling of power that this gives him.
Whatever the real explanation might be, the masked killer eventually succeeds in drawing Laura and the girls out, and he ends up attacking Laura with the ax and eventually subdues the girls. The reason for this is made clear during the daylight when it would appear that he's going to carve up the girls, and Laura, and add several parts of their bodies to the wooden mannequins, as he's already done with Shawn. At this point, it almost feels as though things have gone on too long since one might assume that the story is just about over. But at some point, the girls escape, the killer runs after them, and Laura, who's still alive after taking a serious ax blow to the body, buries the ax in the killer's back before getting her girls into Shawn's car to get away. Upon driving away, however, they look behind to see that the killer's body has disappeared.
There are elements in this movie that could be listed as supernatural since even the opening appears to hint at such. But keeping it practical and maintaining the same feeling throughout the movie, that it's creepy but not so out of control that it can't be brought back down to earth, feels kind of important. Plus, the whole idea of an individual that's been living in the woods and stalking people for so long is kind of enticing since doesn't require nearly as much thought. All it takes is the ability to keep watching and not make too many wild predictions.