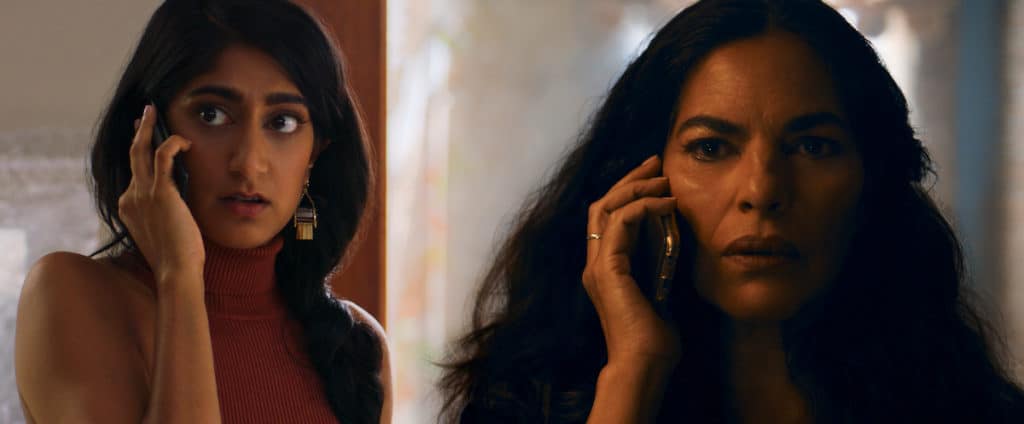 The title of this movie grants a lot more excitement than the actual movie does, but it's worth taking a look to see what it's all about. Once might be enough unless a person feels confused and needs another look in order to really understand what's going on. Stripped down to the most basic idea, this story is one of revenge through reincarnation, and while the premise is thinly veiled, the movie does a decent job of making people second-guess themselves. The main idea of a mother trying to set her daughter up with a nice man to form a relationship with, and possibly marry, is one that has played out a few times in more than one culture. But Usha, the mother in this instance, is the type that might not like to be seen as anything but protective and even a bit too zealous in her expectations, especially when it comes to her daughter. Her way is always the right way as one can easily establish, and if anyone says differently she does get a little defensive. Her daughter, Pallavi, is definitely frustrated with her mother but does her best to please her. 
When Pallavi meets a nice young man her age named Sandeep she finds that he's the perfect man for her, as her friends love the guy, her father approves, and yet Usha feels a bit worried for reasons that become clearer as the movie goes on. Every now and then in the movie, there are flashbacks involving Usha, and Pallavi, though it doesn't become clear until the revelation of something that happened to Usha when she was younger begins to come clearer. As the story moves along, the mistrust that Usha harbors for Sandeep continues to deepen, and the reasons why begin to become a little clearer, until at last, the reveal comes around, and people can settle back and realize that their guess was correct. 
Usha was with another man before she married again and had Pallavi, and for two years after her marriage, the man she'd left was no longer a part of her life. But upon finding her again, the man who dominated and abused her attempted to reclaim Usha, only to underestimate her. After slamming Usha's head against the concrete barrier of a bridge, Usha managed to turn the tables and toss the man in the river below. Without being able to swim or tell which way was up, the man drowned. But in what could only be called a sick karmic joke, the man was reborn nine months later as Sandeep, who came upon Pallavi in a coffee shop where she was waiting for another date that her mother had set her up with. Arranged dates sound like a very odd way to go, and it's a bit obvious that Pallavi wanted to break with that particular tradition, but her approval of Sandeep set alarm bells ringing in Usha's mind, and upon finally speaking to the younger man she found that she could not relax nor even fully function, which causes everyone to believe that something is very wrong with her and that she might have gone crazy. 
But as it does happen, there are times in movies when the crazy people are in the right and hold tight to their beliefs. In this case, Usha is quite right about Sandeep since from the moment he speaks to her it becomes a little too obvious that he's well aware of who she is and is toying with her in a sadistic game. When it comes down to Usha making her way to America to help her daughter, things take a dangerous turn as Sandeep becomes even more familiar with Usha, affirming her fears as he reveals himself and even goes so far as to threaten Pallavi at one point. But when the final showdown does happen it's kind of interesting to see Sandeep lose control as once he knows the game is up he gets increasingly violent, stabbing Usha and nearly drowning Pallavi in the kitchen sink. Eventually, Usha does get the upper hand as she smacks Sandeep with a large pot hard enough to incapacitate him.
The final scene takes place at a hospital where Usha is being treated for her stab wound, and Pallavi wonders what will happen to her daughters when she has any, should Sandeep be reincarnated again. As the final minute's tick by the scene shifts to a hallway scene in which the audience can hear a few doctors attempting to keep a patient alive. The sound of someone flatlining is meant to indicate that Sandeep has died, and the image of a newborn that comes seconds after this is a good indication that he's been reborn again. As movies go, this wasn't bad, but it wasn't good either. If anything, it was easy to watch.