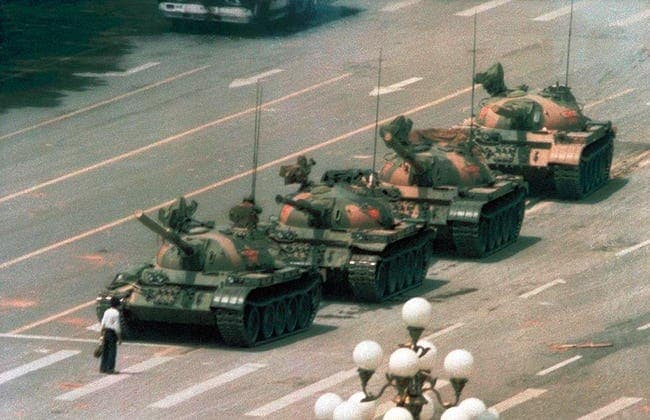 The massacre at Tiananmen Square was something that protesters in America might take notes from. The "tank man" as the individual in the picture became known, despite being given a couple of identities by Ranker as the writers go on to explain the incident, has reportedly never been heard from since that day, as two people pulled him into the crowd, away from the tanks that he was attempting to stop. Apparently China did attempt to kill this story and even erase it from its history, but this photo has been circulating for decades now and as a memory of the massacre that happened when people attempted to stage a protest it's a poignant reminder of how badly things can truly go, and a reason why American protesters should possibly be thankful that we don't have a government that will simply open fire on civilians in this manner. The issue that we currently have in America between the police and the average citizens is almost minor compared to this, as a line of tank and soldiers being allowed to mow down unarmed civilians is a serious issue that would require immediate action. This is China however, a place that many people simply don't understand when it comes to the government and how they handle the citizens. It's not right of course and it's not something that anyone in their right mind would agree with, but it did happen, and the idea of making "tank man" into a movie is likely something that would infuriate China to no end as it's a dark mark on its history that it would rather forget.
It's likely that things would become even more controversial depending on who wanted to take over the project, since some directors are obviously all about getting a reaction and instilling as much emotion into their viewers as they possibly can. The only problem with this individual appears to be finding reliable information on who he was, is, or if he even still exists. The whole legend of tank man has to do with what is thought to be a very unplanned protest that could have ended with him being squashed or riddled with bullets but ends instead with him simply disappearing. Basing an entire movie off of that wouldn't be too hard for a lot of writers, but getting it to mesh with what people want to see might be kind of difficult simply because there's not a lot to go on and the story itself is something that might be deemed as culturally offensive to a lot of people. In this day and age there are still those that don't worry about offending the sensibilities of viewers, but offending an entire country, if in fact this is what might happen, could be a bit catastrophic. China being the big market that it is and all when it comes to Hollywood, it might not be a great idea to antagonize them in Hollywood's opinion, though of course a dedicated and motivated director would likely say to hell with it and just go with it.
The whole standoff is a bit confusing though considering that the troops had already decimated the protesters. One more life on their consciences wouldn't have been that big a deal it feels, though they stopped. Were they ordered to stop? Did someone of a higher rank tell them that it was enough? Those that would order their troops to gun down innocent civilians that were looking to make a point and a difference don't sound like the type that would simply balk at killing one more individual that was standing in the path of their tanks. In fact the tanks actually tried to go around him, but tank man simply moved to block them again and again and was allowed, somehow, to keep them from advancing. How was this possible? There aren't a lot of details to this story and as a result anyone deciding that they had the nerve to make it work would have to fill in a lot of blanks after doing a heavy amount of research on the subject. Likely as not though the massacre would be a huge selling point to a movie like this, morbid as that might sound. It would be what might be used to draw people in to the story and to get them thinking a little more critically of just who the man was and why his stand against the tanks was so important.
There would still be a lot of caution to be taken in making this movie however since it wouldn't be a wise project to take on without gauging just how people in this country think about it, and how people in China might react to the fact that it was actually being made.