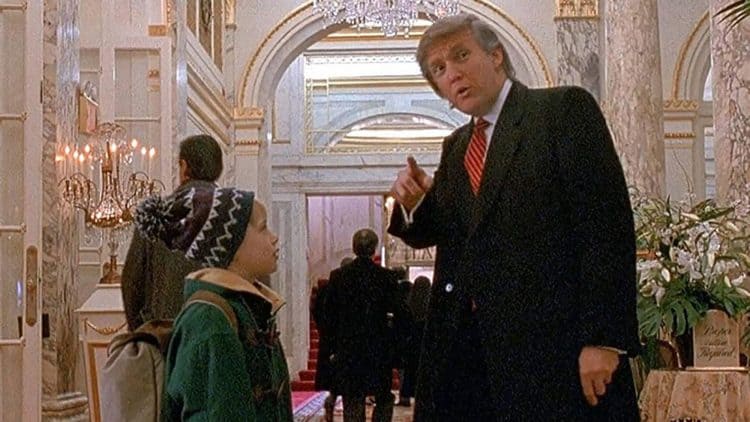 When the name 'fame' is mentioned, a couple of people come up. First on that list would be Oprah Winfrey, who's been in the spotlight for the longest of times. Next on the list would be Donald Trump, a man who has proven to have nine lives. Though many love to hate Trump (rightfully so), he's mastered the art of consistency, garnering enough momentum to find himself at the White House for a single term. Besides bringing his no-nonsense persona to The Apprentice, one of the ways Trump has managed to keep his name alive is by making appearances in movies and television shows. Here are a couple of times he did just that:
1.'Ghosts Can't Do It'
The first movie appearance Donald Trump made was in the John Derek movie, Ghost's Can't Do It. The film features Bo Derek as Katie Scott. In the film, Donald Trump is seen conversing with Katie in a flirtatious manner while carrying out a business deal. Later, each of their teams go back and forth, with Trump maintaining a calm demeanor. For his role in the film, Donald Trump earned himself a Golden Raspberry Award in the category of Worst Supporting Actor. Not that it mattered. Trump would make more appearances afterward.
2. 'Home Alone 2: Lost In New York'
One of Trump's popular appearances was in the sequel to Home Alone, where a young Kevin (Macaulay Culkin) is seen asking for directions. According to Chris Colombus, the film director, Donald Trump may have bullied his way into making an appearance in the film. This was because, at the time of filming, Trump happened to own the Plaza Hotel. Years later, a grown Culkin would co-sign a petition to have Trump digitally cut from the scene and replaced with Kevin as a grown-up.
3. 'The Nanny'
In The Nanny, Trump is welcomed into the Sheffield household by Fran 'Fine' (Fran Drescher). Fran proceeds to introduce Donald Trump to Mr. Sheffield (Charles Shaughnessy). Trump receives a phone call while Fran and Mr. Sheffield watch. " I told you not to call me on this line again," he says, as he cuts the phonecall, only for his second phone to ring, too. At this point, Fran and Mr. Sheffield seem quite uncomfortable. "That's better", Trump says as he walks away.
4. 'The Fresh Prince of Bel-Air'
In Donald Trump's cameo on The Fresh Prince of Bel-Air, Geoffrey (Joseph Marcell) announces the arrival of Trump. As Trump walks in with company, Carlton (Alfonso Ribeiro) shouts, " It's the Donald! Oh My God!" and proceeds to lose consciousness. Midway through his fall, Calton is held by Uncle Phil (James Avery), who eventually throws him on the couch and proceeds to greet his guests. " It's an honor to meet you." Uncle Phil says. '" I like keeping a low profile," Trump quips. The house sale he'd come to conduct doesn't work out. Trump leaves, his briefcase with millions in tow.
5. 'Sex and the City'
What's more New York than a cosmopolitan, Samantha, and Donald Trump? Nothing, really. And that's exactly how Carrie Bradshaw (Sarah Jessica Parker) introduces the scene in which we see Donald Trump. The billionaire is having a talk with a friend on one end of the bar, while Samantha (Kim Cattrall) conducts her ritual of having a drink at the end of a long work day. " I've got to go. Think about it. I'll be at my office at Trump Tower," Trump says as he bids farewell to his company, who has eyes for Samantha.
6. 'Two Weeks Notice'
In 2002, Trump made an appearance in the Marc Lawrence romantic comedy Two Weeks Notice starring Sandra Bullock and Hugh Grant. Trump is in conversation with Grant's character, George, who happens to be in the real estate business. " I hear Kelson (Sandra Bullock) finally dumped you." Trump tells George. " Not exactly, no. We just came to a mutual understanding that she couldn't bear me for another second." George replies, to which Trump says he's likely to bag the new chief counsel.
7. 'Days of Our Lives'
In Trump's appearance on Days of Our Lives, Nicole Walker (Arianne Zucker), implies that she's ready to do anything to land a job with trump. " I am afraid I gave you the wrong impression earlier. I was more than just Victor Kiriakis' (John Aniston) trophy wife. I have a very impressive resume if I do say so myself. I mean, I was co-CEO of a major corporation, I know my way around the boardroom, and when it comes to being tough, I could put Caroline and George to shame, okay? Hell..even Omarosa." Walker says.
8. 'The Drew Carey Show'
In The Drew Carey Show, Drew manages to make his friends take a trip with him to New York in a delivery truck. Their goal is to catch a baseball game. While they are stuck in Traffic, Donald Trump appears. Trump asks to buy ice cream but the friends let him know they have beer instead. " Beer in the back of an ice cream truck? What are you? Morons?" Donald Trump asks. He then goes on to give them his box at the Yankee Stadium.
9. 'Spin City'
In Spin City, Trump makes an appearance to give Mayor Randall Winston (Barry Bostwick) advice on writing an autobiography. The mayor asks Trump to sit down, and in true Trump fashion, he does just that. Except he takes the mayor's seat. " That must have been tough, coming up with that material." Randall says. " No" Trump replies. " First day, nine chapters." The real estate mogul brags. In the end, it is agreed that he should have named his book 'The Art of Not Helping.'
10. 'Zoolander'
In 2001, Trump made an appearance in the Ben Stiller-directed comedy Zoolander, a film that features Stiller, Owen Wilson, and Will Ferrell as part of the main cast. Stiller portrays the role of Derek Zoolander, a professional model. As the film opens, a few celebrities give their two cents on Zoolander at a red carpet interview. " Look, without Derek Zoolander, male modeling wouldn't be what it is today, " Donald Trump says while his wife Melania stares on.
Tell us what's wrong with this post? How could we improve it? :)
Let us improve this post!