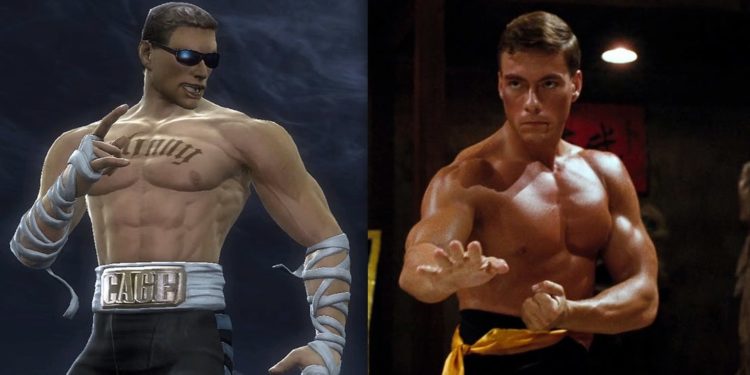 There are video game characters that are designed to be cool but are initially seen as jerks, and then there are those that are just designed to be jerks. Johnny Cage seems to fall into the second category as he's never really been anything but cocky and self-absorbed as well as self-assure. This has made him kind of an off-putting character in the franchise and not someone that a lot of people would gladly pick as their first choice. But if one can master his moves and his fatalities then he does present pretty big challenge to anyone that steps in the ring with him. As heroic video game characters go he's a little egotistic to really be taken seriously, but he's become one of the absolute legends of Mortal Kombat for being among the first to be developed and because he's just that awesome, in some ways.
Here are a few things you might not have known about Johnny Cage.
10. He was based on Jean-Claude Van Damme.
JCVD was supposed to voice and act out the character but thanks to other commitments he wasn't able to do so. Cage was still modeled after him however from his movements to his appearance to the infamous splits-into-groin punch that has helped Cage to become such a fun character in the games.
9. Brandon Lee was supposed to play him in the movie.
Once again JCVD was set to play Cage but he was caught up playing Guile in Street Fighter instead. Brandon Lee, who was trained in martial arts and would have been kind of awesome to watch, was unfortunately and tragically killed on the set of The Crow, so the replacement of Linden Ashby was what we got.
8. He's died numerous times throughout the games.
You could argue that thanks to the players he's died billions of times by now, or something close to that, but his actual character in the story has died and been resurrected a few times throughout the telling and has come back in a few different ways thanks to a few different people.
7. He joined the tournament for his acting career.
Cage came to the tournament to try and help his flagging career. If you can recall his character was under fire from critics since they thought that he was a poser and didn't really know any martial arts. So instead of coming for the honor of it or to save the world he was there to prove to everyone that he was the real deal and not some cheap copy that knew a few moves.
6. If there had been a third movie he would have been resurrected.
Linden Ashby didn't want to come back for the second movie and he was wise to make such a choice since Annihilation was an utter flop. But the actor that was there and then gone in the second movie would have been brought back for a third if it had actually happened. As it stand now there's still no reboot in the works as far as anyone knows. Maybe that's a good thing for now.
5. He was the first character created.
It's funny but while he was the first character to be put into the game he was the last one to be given a fatality, and in the end the fatality was kind of screwed up since a glitch forced it to repeat the same action twice. The fatality was that Johnny Cage would punch the character so hard that their head would fly off. If you did it fast enough their head might fly off twice or more depending on the character.
4. In Japanese his last name means 'shadow'.
The actual word for this is kage, but it does translate out to shadow. He had a few different names before the creators finally settled on Johnny Cage, but you can see from his initials how his character was still inspired by JCVD in a way.
3. He and Sonya Blade did get married.
The funny thing is that Sonya was already pregnant with their daughter Cassie when they got married, and while he's usually been a cocky jerk throughout their history the two divorced and Johnny became the more level-headed of the two, even going so far as to lead a task force that his daughter served on.
2. He's descended from ancient warriors.
The power he exhibits is a little bit limited but it comes from an ancient line as Raiden reveals and only manifests when someone he cares about is in danger. But otherwise he's still pretty tough, he'd have to be in order to keep up with the enemies he's fought.
1. His daughter inherited his powers.
This is shown in the Mortal Kombat X game when it's seen that Cassie is able to emit the same green energy that her father has shown and is able to defeat Shinnok much as he did. Like father, like daughter.
He started out as a jerk, but he's kind of mellowed as the franchise has gone on.