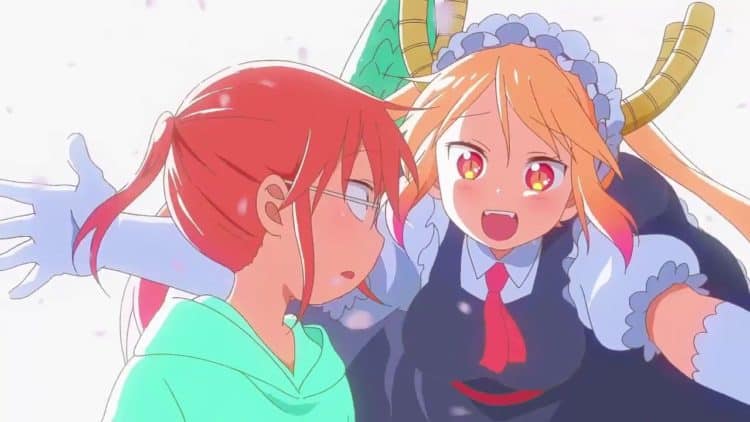 Miss Kobayashi's Dragon Maid is an anime television series that was released in January of 2017 in Japan and it ran through April of 2017. It's in the comedy/fantasy genre. If you're considering watching it but you're still not sure about it, here are ten things you didn't know that might help you decide if it's for you.
1. It's about an office worker and a dragon
We said it was fantasy and although dragons can be scary, this anime is hilariously funny. Kobayashi is the office worker who runs into a dragon as she's leaving for work. The dragon turns into a girl who is wearing a maid's clothing. She tells Kobayashi that her name is Tohu and that while drunk in the mountains the night before, they met. Tohu was from another world and when Kobayashi took a sword off the dragon's back, she gained her trust and thanks. She informs her that she had also offered her a place to stay and this is how the show begins. The office worker has a dragon on her hands.
2. Tohu attracts other supernatural beings
The real adventure begins more gods, dragons and mythical beings are attracted to Tohu. They start showing up in the real world and it changes Miss Kobayashi's life forever. The dragon makes a lot more work than the contributions she attempts to make as Kobayashi's maid, although her intentions are good.
3. It is an adaptation of the original manga
The original Manga was written by Coolkyoushinja and first published by Futabasha, then by Seven Seas Entertainment. The original run was released on May 25 of 2013 and it is ongoing at the present. There have been a total of seven volumes written.
4. The second Manga is titled Miss Kobayashi's Dragon Maid: Kanna's Daily Life
This manage was illustrated by Mitsuhiro Kimura and retained the same publishers as the first Manga. The original run began on December 24 of 2016 and is ongoing at the present. A total of 5 volumes have been written.
5. The Manga's first volume was changed before it was published
Most fans of the series are not aware that the first volume of the story was intended to feature a boy named Kobashi. It was going to be a romance. This would have resulted in an entirely different kind of story. Instead, the writer had a change of heart and decided that it would work out with a better flow to drop the romance and make the character a female so it could focus on the fantasy and comedy aspects. A romance would have complicated things.
6. The Hashimoto adaptation is expanded beyond the Manga
There are a lot of new things that Hashimoto has introduced in the anime series that was not in the Manga. This was a bit of creative license that included moments that added more to the characters and helped to develop their characters more fully early on in the series. There was no harm done to the original plot.
7. Some of the adaptations are out of order
If you read the Manga first it may give you a bit of a bias when you watch the adapted anime version. You'll discover that some of the sequences are out of order when compared to the Manga. The thing of it is, if you watch the anime version and then read the Manga, you'll default to the anime version as being the correct one even though it's just the adaptation from the original written story.
8. Dragon Maid introduces a new animation professional
Few people know that this anime is the directorial debut of Shinepei Sawa. He graduated from Kilauea Animation School and the 2009 grad directed the second episode. He has become a key staff member and he specializes in effects animation that is new and innovative. Why is this significant? Because it means that we're going to be seeing different projects in the future from the studio and this means there will be similar anime released. It's all good news.
9. This anime was completed ahead of schedule
One of the things that makes Dragon Maid much different than most other anime is that the production finished far ahead of schedule. As devout anime fans know, it's usually the opposite and they're left waiting and wondering when a new episode is going to be released.
10. There are fewer criticisms with Dragon Maid than most other anime
We all know that there will be lovers and haters for most anime adaptations released. We're not seeing many scathing comments about this one. In fact, the worst thing that has come across our radar is that it's boring for some, but there are more positive reviews than negative.