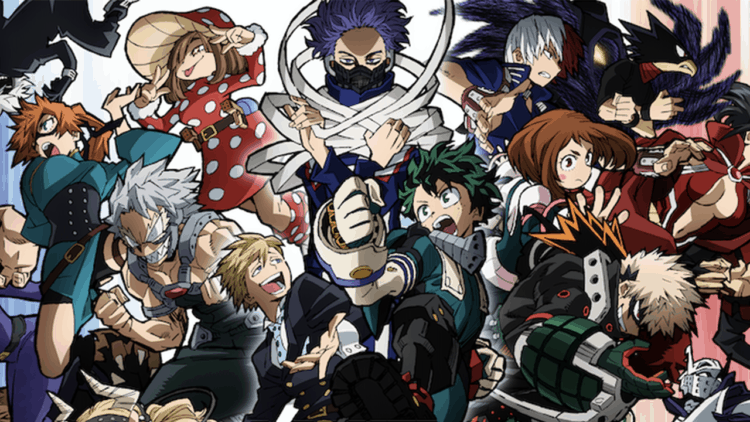 The massively popular anime, My Hero Academia, has finally made its long-awaited return with the debut of Season 5 on March 27, 2021. Ever since Season 4 of My Hero Academia aired its final episode on April 4, 2020 (Japanese) and June 28, 2020 (US English), fans of the shonen series have waited patiently for the series to return. Season 5 premiered with an episode that felt pretty Plus Ultra, however it really wasn't all that plot-heavy (which is expected with a season premiere). So let's take a look at the premiere episode of Season 5 of My Hero Academia and see how it stacks up to the manga as well as our thoughts on the episode. I'd say it's pretty safe to say there's gonna be spoilers for the Season 5 premiere of My Hero Academia, so if you don't really want to read spoilers….I would suggest coming back after the episode.
Opening Theme
The opening theme for Season 5 of My Hero Academia is called "No. 1" and is performed by DISH//. This is definitely in my top 5 My Hero Academia opening themes of all time, though nothing can beat The Day by Porno Graffiti or Peace Sign by Kenshi Yonezu. While it's not necessarily as intense, or as action-packed as other OPs, I find myself enjoying this song even without the anime behind it. The song is just a solid bop in and of itself, and I need to find it on Spotify, because it's that good. Regarding the OP credits, this is probably my favorite My Hero Academia opening by far. It includes shots of both UA Class 1-A as well as Class 1-B and shines a particularly bright light onto Shinso Hitoshi, a prominent member of Class 1-B, and a fan-favorite from the series. We also get a glimpse at the past users of One For All including All For One's younger brother (The First User), Hikage Shinomori (The Fourth User), Daigoro Banjo (The Fifth User), En (The Sixth User), and Nana Shimura (The Seventh User). We also see a couple of black shadows that seem to represent the second and third users of One For All, however nothing is currently known about them, so that might explain why they are simply shadows.
Plot
Nothing particularly interesting happened in the Season 5 premiere for My Hero Academia, it was essentially just a catch-up episode as most premieres tend to be. It didn't actually contain a whole lot of manga canon content, except for the beginning of the episode where it showcased Endeavor and Hawks fighting off a particularly strong Nomu. Other than that, it was pretty much just filler, except for maybe some minor details here and there. The episode followed Class 1-A on an emergency drill activity where Mirio played a helpless civilian and the other members of the Big Three, Tamaki Amajiki, and Nejire Hado were the acting villains of the exercise. While it wasn't the most exciting or risky episode in the show's history, it was still enjoyable to see Class 1-A working together using their Quirks.
Animation
I don't exactly know if the animation is actually different than previous seasons, but something about seeing Endeavor use a Plus Ultra Prominence Burn on that Nomu in the beginning of the episode looked absolutely phenomenal. I could watch that scene over and over without ever getting sick of it – and that's saying something, especially since it's Endeavor. It's not on the level of Deku vs Muscular or All-Might's United States of Smash, but it's definitely a great beginning to the season. If Season 5 of My Hero Academia goes where I think it's going to go, we're in for loads of beautifully animated episodes.
Overall, I liked the Season 5 premiere of My Hero Academia. Although it was a bit of a filler episode, I think that most of us expected that from the first episode of the season, and I'm sure that the next episode will be a much more plot-heavy episode filled with everyone from Class 1-A, the League of Villains, and even more new characters to come. I can't wait for the coming arcs of My Hero Academia, because there's definitely some thrilling and unexpected decisions made within the manga, and I am super excited to see when the anime will catch up to it. Unfortunately for fans of the series, it looks like the manga is beginning to wrap up here, as the final arc of the My Hero Academia manga has already begun. I'm hoping that it's a long arc and does the series justice, but it looks like we'll just have to wait and see.