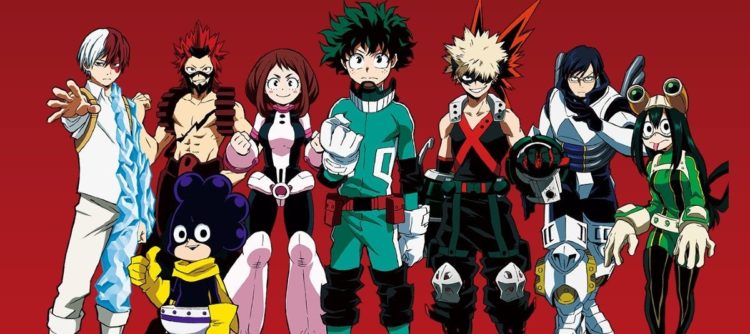 Spoilers ahead for the most recent chapter of My Hero Academia (as of writing this article on 3/25/21), so if you haven't caught up with the manga, or if you only watch the My Hero Academia anime, then you might want to stop reading here and come back after you've caught up. If you have caught up with the manga, or you just don't care about spoilers then by all means please keep reading. So that's a pretty hefty headline, right? "Is My Hero Academia Really Ending For Good?" I didn't think I would be writing that headline for at least a couple more years, but here we are. It looks like My Hero Academia (at least the manga) has just about run its course. Why do I say that? Let's take a look why My Hero Academia may be ending soon!
Chapter 306
In the most recent chapter of My Hero Academia (again, as of writing this article), chapter 306, the final page of the chapter reveals Deku has made the decision to leave the UA Hero Academy as it states "The Final Act Begins." Midoriya's decision to leave the UA Hero Academy comes from his awareness that Shigaraki (aka All For One) will not stop trying to find him, no matter who is in the way, on his journey to consume One For All. Deku decides to leave UA in order to protect his friends and family as well as the rest of the UA staff. This has led readers to assume that this means the final arc of My Hero Academia has just begun – or rather will begin with chapter 307.Within chapter 306, All Might also reveals the secret of One For All to Hawks and Best Jeanist, something that I didn't think would happen for quite some time. It seems that both Hawks and Best Jeanist, as well as All Might, know just what is at stake, so All Might is done hiding the truth behind One For All.
My Hero Academia Ending?
I'm definitely surprised that My Hero Academia may be starting its final arc as soon as it is, though I definitely think it's a good thing. As much as I love My Hero Academia and would love for it to go on forever, it does have to end at some point, and I think that point is now. The most recent arc that concluded with the massive battle between Deku and Shigaraki (who later becomes consumed by All For One) really seemed like it should have been the final arc of the series. The fight between Deku and Shigaraki was the most intense fight that (in my opinion) My Hero Academia has ever seen, including the Deku vs. Overhaul fight. There was so much at stake throughout this entire fight with Deku and Bakugo essentially taking on All For One by themselves as Endeavor was pretty much completely out of commission after fighting Dabi. I mean, Bakugo nearly died after getting stabbed through his entire body – seriously, how did he not die? The entire arc felt like it was gearing up to be the ending of the series, or at least what should be the end of the series, and it seems like it wasn't that far off. I always expected the manga to continue on for at least another year or so, considering how popular it is, but I'm glad that Horikoshi isn't deciding to milk the series for years to come, because after this recent arc it would seem nearly impossible for anything to seem even close to the same level of a threat. The good thing for fans is that the manga is so far ahead of the anime that we've still got probably a solid 2-3 (maybe even 4 depending on the length of the final arc) seasons of the anime.
My Hero Academia Season 5
If you're starting to get the itch for My Hero Academia content, I have great news! My Hero Academia Season 5 starts airing on Crunchyroll on Saturday, March 27, 2021! Season 5 of My Hero Academia is set to pick up as Deku and the rest of Class 1-A and Class 1-B continue their training together.
While we don't exactly have a confirmation if this is the end for My Hero Academia for good, I think it's safe to say that "The Final Act Begins" is pretty substantial evidence that points towards the series ending here pretty soon. As unfortunate as it is, I do think that Horikoshi is making a great decision to end the series here and I hope we get all of the closure that we deserve.
Tell us what's wrong with this post? How could we improve it? :)
Let us improve this post!