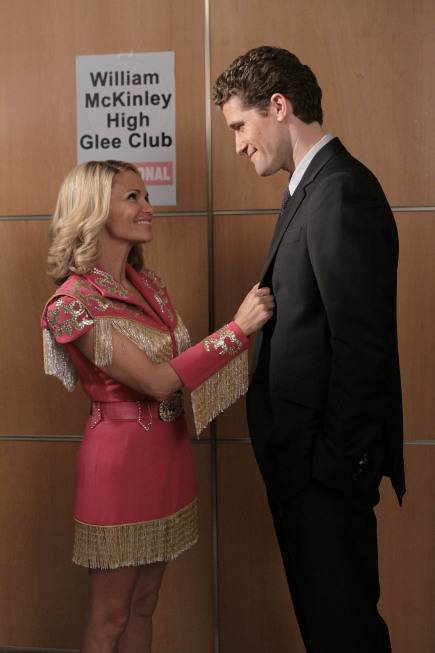 Quinn is still pregnant, and her morning sickness is getting in the way of rehearsal; she's a poor replacement for Rachel. Terri is still not pregnant, but eating for more than 2. Will spilled the beans on Finn and Quinn's issues to Emma, who tries her best to help Finn by encouraging him to get Rachel back and increase his chances of getting a music scholarship, since football seems less likely.
Rachel was serious about leaving, and Glee continues with her. She's definitely missed. Or, rather, her phenomenal voice is. Finn puts the charm on Rachel by taking the non-obvious route of suggesting they run lines together for the play. He feels dirty for it; deceit doesn't seem to suit him. Rachel, meanwhile, is starting to cave under horrible pressure from Sandy, who's determined to chase her out of the play and take the lead for himself. Finn and Rachel go bowling to ease the stress, and have an adorable mini-date. In about 3 seconds, something terrible happens. Finn and Rachel kiss; Finn asks Rachel to come back to Glee; Finn hints that he might leave Quinn, but doesn't mean it, Rachel agrees to quit the play and come back to Glee; Finn dies a little inside. Rachel returns to Glee club just when the news has broken that Quinn is pregnant. She is not pleased, and confronts Finn with a slap and a telling off. He comes clean about his music scholarship, and Rachel leaves Glee yet again, now with full artistic control over the school musical. Rachel ricochets back though when she realizes being a star isn't as important as being a friend and saves the day with a duet with Finn on 'Somebody to Love'that leaves me with goosebumps.
Will finds a way to beat Vocal Adrenaline by taking a page out of their cheating book. Emma helps him track down an old student who never graduated, April Rhodes (Kristen Chenoweth). Rhodes was Will's first crush and a Glee star; she's now a barely functioning over-sexed alcoholic. There's only so much you can do to Chenoweth to make her not adorable, gorgeous, and charming though. Glee isn't necessarily sold on Miss Rhodes (except for Puck). Rhodes tries to win the kids over by giving them each a bit of herself (Kurt gets her thermos of alcohol and her collection of muscle magazines, Mercedes and Tina get shoplifting lessons, Puck gets…her). Poor Kurt ends up drunk at school and ralphs on Emma's shoes. April can't get her act together and continues to drink and be a bad influence. On the night of the Glee invitational, she shows up drunk but still hogs the spotlight with a crowd pleasing performance. April and Will both finally come to the realization that April is stealing the spotlight from the kids when she's already had her time. April heads off to Branson to try for a fresh start.
Your Music for the Evening
Ms. Lea Michaels holding her own with Broadway legend Chenoweth on 'Maybe This Time.'
Rachel trying to channel Sally Bowles on 'Cabaret'while Sandy berates her
A quick hit of classic Huey Lewis 'I Want a New Drug'
April and Will knocking the walls off the bowling alley for 'Alone'. HOW on earth do I get a chance to karaoke with Chenoweth? Is my girl crush showing?
April channeling her country self into 'Last Name'
Rachel, Finn, Merecedes, and the club on 'Somebody to Love,'the only song in this episode to actually sound like a Glee club
Next Week: Boys vs. Girls! Terri comes to work as the school nurse, despite her lack of qualifications, and Emma receives a proposal.