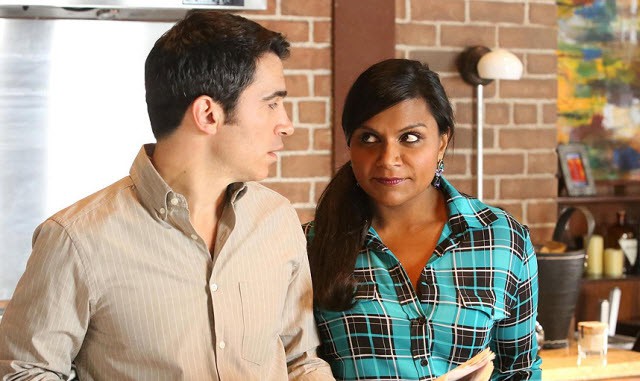 Ever since Mindy and Danny finally got together, The Mindy Project has been on an upswing. This episode is no exception, given the latest relationship milestone achieved amidst more of Danny and Mindy's secrets from each other.
A simple pink nightstand for Mindy replaced Danny's treasured Yankee Stadium seat in his living room. While this is a sweet gesture on his part, it took a lot for Danny to finally allow Mindy to leave some of her things in his apartment. When she would try to sneakily hide her toothbrush behind the toilet, in the microwave, and even out on the fire escape, he would find it every time. It's hard to tell what his problem is exactly. He's all talk with Mindy that he's "all in" this relationship but up until now he hasn't done anything to prove that.
One thing that was very uncharacteristic of Danny was the revelation that he's still legally married. How could he not have finalized his divorce months ago? Of course he made sure it was annulled in the eyes of the Catholic Church, but come on. That was one part of the episode that was a stretch to believe. It all worked out in the end when Cliff's observations about Danny's apartment baring no sign of Mindy prompted him to go out and buy the nightstand.
Honestly though the whole "Wheelie" bit was pretty funny. Danny's Ma gave him this little wheeled suitcase to bring to divorced kids camp when he was younger. He's saved it in his closet and loans it out to Mindy to tote her things back and forth from work and his place.
Mindy's habit of not paying her taxes is also catching up to her when she's served with papers threatening to put a lien on the medical practice itself. She's a smart woman so I don't quite believe that she could be so careless. Anyway, the whole fake break-up with Danny just to use Cliff to help her with her taxes ended up working out in everyone's favor. Let's just hope Danny isn't hiding any more secrets from her.
The Jeremy/Lauren/Peter love triangle resolved itself tonight in a predictable manner. Lauren "put a pin" in her relationship with Peter and her flirtation with Jeremy. I have to wonder if there was a deleted scene where Peter reported Jeremy to immigration services. When Lauren came running into the office thinking he was being deported back to England, I couldn't help but think she was going to propose a green card marriage. Thankfully she didn't have to because he was let off the hook once they realized he was a "rich white man." Poor Peter never stood a chance with her when you really look back at their relationship. He'll no doubt move on soon.
Morgan wasn't in the episode much, but when he was, he stole the scenes. When Mindy first finds out about her tax troubles and asks if everyone else actually pays their taxes, Morgan says he doesn't have to pay because his salary falls below the poverty line. Pretty absurd to believe that a nurse in New York City doesn't make decent money, but it made the joke about Morgan relying on food at work for sustenance all the more funny in retrospect. I'd like to imagine he feeds all 40 dogs of his before he gets a chance to eat.
What did you think of the episode?
[Photo via FOX]