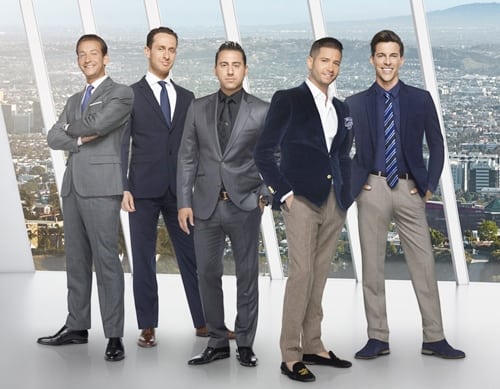 As Season 9 of Million Dollar Listing Los Angeles kicked off, we were treated to the ultimate in luxury with David Parnes and James Harris touring a jaw-dropping forty-five million dollar property. The two British BFFs were determined to land this listing, which would be the largest endeavor of their careers. However, they soon discovered that an agent named Kelsey had already secured the listing for herself, leading to an awkward situation and a fierce battle for the listing.
This season, we saw David Parnes sporting a new look due to corrective plastic surgery, and Josh and Heather Bilyeu Altman preparing for the birth of their daughter. Love, luxury, and drama are all part of this year's season, with the fights being one of the most interesting aspects of Million Dollar Listing LA. Let's take a look at the five most memorable feuds in the history of the show.
1. Josh Flagg and Josh Altman Feud Over a Stolen Client
In a luxurious setting with an amazing panoramic view, Altman confronts Flagg about a client he started dealing with at one of Altman's open house events. Flagg admits that he stole the client but tries to justify his actions by claiming that Altman had previously stolen the client from him. The two exchange unpleasant barbs, highlighting the cutthroat nature of the real estate business and the ongoing feud between these two agents.
2. Madison Hildebrand and Heather Bilyeu Feud
Heather, who once served as Madison's assistant, confronts him about being stiffed on over seven thousand dollars in commissions. Madison tries to avoid the conversation, but Heather persists, leading to a nasty exchange in which Madison calls her a "brat" and attacks her character. Josh Altman steps in to defend Heather and confront Hildebrand about his shady dealings.
3. The Plastic Wrap Prank and Ensuing Battle
Josh Altman decides to wrap Josh Flagg's car in plastic wrap and place advertising fliers for Altman Brothers real estate in clear view. As Flagg emerges from a property he's working on with the Brits, Altman is waiting, and the fight between the two rivals begins anew. Altman taunts Flagg, suggesting that he can't be trusted to handle a listing alone and that's why he's working with the Brits.
4. "You're Not Welcome Here"
James Harris and Josh Altman square off over dinner, with James finally having enough of Josh's interference with his clients. The confrontation starts with controlled anger but quickly escalates into a heated argument filled with insults and swear words. The encounter ends with Harris telling Altman that he's no longer welcome and must leave.
5. David Parnes and James Harris Square Off Amidst Slipping Listing
When Matt's email to James about pulling the listing leads to a finger-pointing session between David and James, the two agents begin to attack each other's handling of the property. Instead of working together to figure out what went wrong, the pair tear into one another, showcasing their frustration, anger, and disappointment.
Conclusion
Million Dollar Listing Los Angeles is an addicting reality TV show on the Bravo network that showcases some of the most amazing luxury homes for sale in the best areas. It also reveals how the pressures involved in real estate sales can bring out both the best and the worst in each of the agents involved. Each episode has brought us entertainment and amusement as the agents do their thing in their unique and individual styles, which just happen to work so well together for the purposes of the series.
Tell us what's wrong with this post? How could we improve it? :)
Let us improve this post!