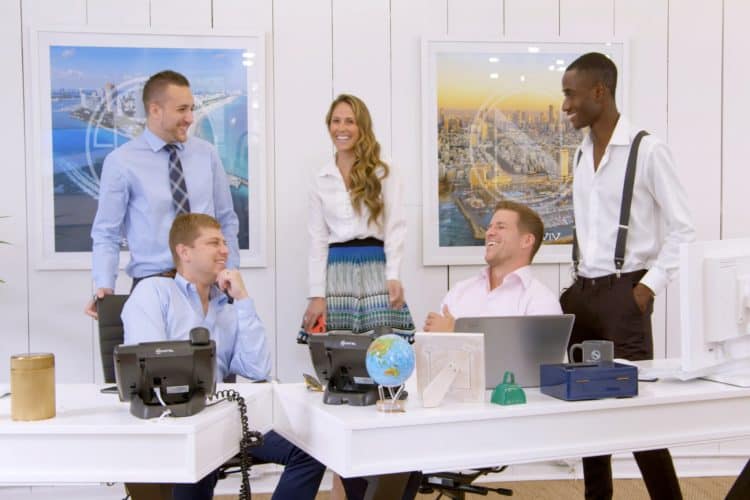 If you're a fan of Netflix's Selling Sunset, you may want to check out the "Million Dollar Beach House," series the streaming company introduced. It's a "Sibling Series," to the Selling Sunset empire, which has turned into a shockingly big surprise hit for Netflix. However, there are a few people who are less than impressed with this version of the show. It's too 'bro-heavy' for some, and it's too much of a 'wannabe' for others. With that in mind, what is it about this show that you simply don't know yet? Let's find out, and you can draw your own conclusions about what is going on here.
1. The Show is About Nest Seekers
Nest Seekers International is a real estate company that sells homes in the Hamptons. The idea is meant to be like Selling Sunset, the New York beach community edition, but it's just not the same. We get to see people like Jimmy Giugliano, Michael Fulfree, J.B. Andreassai, Noel Roberts, and Peggy. She's the only woman on the show, and her last name is Zabakolas.
2. The Season is Short
One thing we have learned about this season is that the selling season in the Hamptons is a short one. It lasts only a few months through the summer, which means that these agents have from Memorial Day at the end of May to Labor Day at the beginning of September to make all the sales that they can.
3. You Don't Need to Sell Much
It's hard work to become a big-time seller around here, but you don't have to sell much to live well and comfortably off these homes. They're all so expensive and so profitable for the agents that they can sell just a few every year and live well for the rest of the year.
4. Competition is Fierce
Did you know that while we're only watching a handful of agents welling homes in the Hamptons, there aren't that many homes for sale? There's only so much space there to sell, but you have 2,500 agents all competing to get listings, make sales, and actually make a living in this line of work.
5. No One Plays Nice
There are thousands of agents, not that many homes, and not that many clients in this area, so people just don't play nice. If you were thinking of a career as a realtor in the Hamptons, don't expect to get very far in your career if you are unwilling to poach clients from your friends and coworkers, go behind people's backs, and do things that just don't come across as very nice as a whole. It's a dark and ugly game, and you have to know how to play it if you want even a chance at winning.
6. Homeowners Aren't Always Happy
There is a lot of competition here, and it's not something that works well for everyone. Sometimes, the homeowners don't like what is going on, and that's a risk for the agents who fight so hard for the client to become their own. For example, we've heard there will be an episode in which one agent decides that his client's house has the worst décor possible, and he cannot hold an open house with cocktail hour with her décor, so he waits until she's out of town, puts all her stuff away, and spends tens of thousands of dollars on staging. No problem, right? Well, the homeowner comes home early, and she finds cocktail hour in her home, not with anything she owns, and she's unhappy enough with the agent to make a big scene in front of all his prospective buyers. Could he lose her as a client?
7. Reviews are Mixed
If you go online and read the various articles about the show, you'll find mixed reviews. Some love it and think it's a must. Others aren't so impressed with anything that is going on here. There are some who find the male-heavy cast a little bit of a turn-off, and there are some who simply love it.
8. The Cast is Not As Knowledgeable
One thing that you will notice if you choose to watch this when it premiers on August 26th is that it's just not as good as Selling Sunset. We hate to sound rude, but these agents are nowhere near as knowledgeable as the ladies from the Oppenheim Group. They know everything there is to know about a house, and it's clear they've toured each house they show extensively before they show it. They know the houses, they know the history; they know it all. These agents in the Hamptons don't seem to know much about the homes they are selling, including how many appliances it comes with, etc. It's disappointing.
9. It's Nowhere Near as Glam
We aren't saying the men aren't well dressed at all, but we are saying that there is just nowhere near the glamour in New York as there is in LA. These people are lovely, but they aren't glam. We need the glam. It's just good for us.
10. It's Less Impressive
We can't put our fingers on it, to be honest. It's just not nearly as impressive as Sunset. The houses, we know, are huge, lovely, and opulent, but they simply don't show that way on this show. There's a lackluster appearance to almost all of it, and we simply don't see this one gaining as much traction or success as its west coast sibling show.