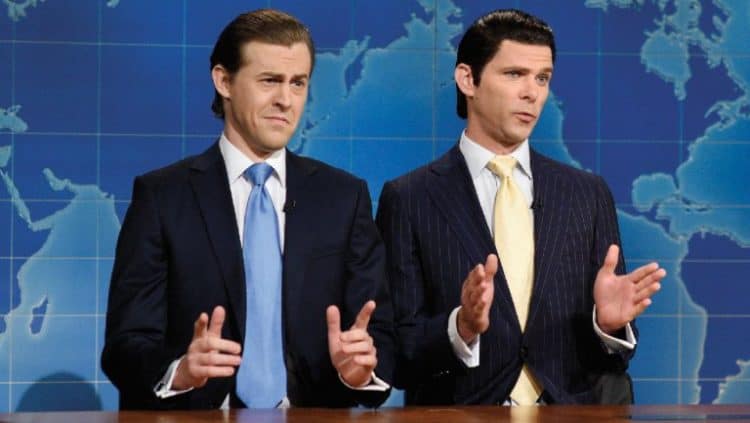 Mikey Day is a funny guy, that's really what you need to know about him going in. But he's also a very talented funny guy that could take off with his career at any time if he so desires, it's just a matter of when or if he really wants that. You might think that of course everyone wants that but some people hit their niche and are quite happy where they end up. Even if they're not the whole comfort zone thing is something you don't get past that easily. Mikey Day however could be a big star if he so chooses to be since he does have the talent and the ability to generate laughter within an audience, so he's got the most important factor right there. That being said wherever he wants to go with his career is something that's up to him, but in truth he could do just about anything so long as it's funny.
Here are a few things you might not have known about him.
10. He graduated from UCLA.
Day is an educated comedian which means he has a lot of potential and a good chance to apply his comedy in many different ways if he wanted. Right now what he's done is both funny and in some cases kind of controversial but he's always made people laugh.
9. He hosted a segment on the Jay Leno Show.
Keep in mind it's not just anyone that gets to work with Jay Leno, as it shows that that he was considered worth the effort of taking on. You might think that any other comedian could have made it but don't discount Day just because he got a shot to work with a legend.
8. He's a current cast member of Saturday Night Live.
SNL has certainly changed over the years and whether you still think it's funny or not is all dependent on your sense of humor. Day and his fellow cast members have been keeping with the times and so have the skits but most of them have still been hilarious.
7. He does celebrity impressions.
There is a long list of celebrities that Day impersonates and it's fair to say that each person he does might grate on certain individuals given the propensity of hurting peoples' feelings these days. But his impressions are pretty good all the same.
6. He started his career with the Groundlings.
This is an improv group where he got his first chance to really show what he could do and obviously he made an impact since he kept moving onward and upward, honing his act in a way that finally allowed him to step into the big time.
5. He's big in TV but not so much in films.
As I was saying some people do fit into their own niche and don't really seem like they want to leave even if they step out of that comfort zone now and again to experience a different side of the business now and again.
4. He was in the David S. Pumpkins sketch.
Very few people ever got the David Pumpkins sketch since it seemed so nonsensical to put it in there in the first place. It's basically a guy dressed in a pumpkin suit with two other guys dressed as skeletons that are dancing around and smacking each other's butts. It's kind of funny really but the sketch it was put into didn't seem to make much sense. Of course that seems to be the whole point to be honest.
3. He's very active on social media.
He does have a lot of followers so obviously he's doing something right and has managed to influence a lot of people. It could be that some of us don't really follow up on the new comedians that are making their mark now but it's hard to deny that some people are definitely coming on strong when it comes to making their careers noticeable for everyone to see.
2. He's done a few controversial bits on SNL.
Day hasn't really shied away from doing controversial bits it seems and has managed to fall into his characters when needed in order to get the sketch done despite what people might think. Public opinion being what it is you can't always blame someone for portraying a situation or an individual in a certain manner or light but you do have the option of changing the channel if you see something you don't like.
1. At this time he's single.
There doesn't seem to be a lot out there on his personal life other than this and maybe that's for the best. It's nice to think that actors and performers can have their moments of privacy when they really want them.
He's definitely a funny man, so don't be surprised if his career starts an upward climb.
Tell us what's wrong with this post? How could we improve it? :)
Let us improve this post!