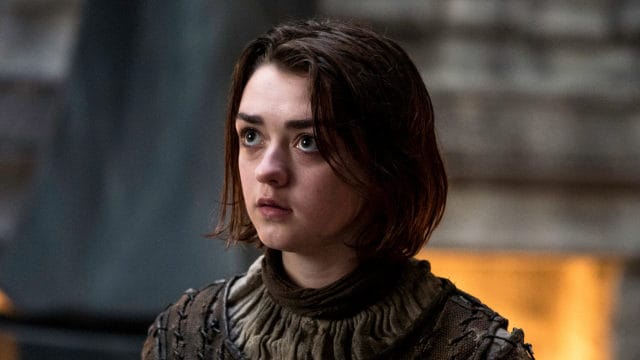 If you've been keeping up with the show then you know that Arya Stark girl has been busy indeed. The end of the last season left us all wide-eyed, some of us might have even cheered, as she first fed Walder Frey's idiot sons to him in a pie and then proceeded to carve a new sneer in his throat. So then, who does that leave on her grisly hit list? There are still a few names that she might consider, but keep in mind that the Hound is no longer as much of a priority by Arya's own word. Instead let's focus upon those that she continues to hold true animosity for and would gladly run through.
Arya might be small, but it's already been proven that she can get the job done when she needs to.
Melisandre
She didn't really harm Arya in any way, but she did take Gendry away from her. Despite his gruff demeanor and attitude Gendry was, at that time, one of the only friendly faces that Arya had to depend upon. Losing him was akin to losing another part of the world she needed to support herself, and her anger at Melisandre was quick to develop. Now that Melisandre is on her way to Winterfell it is likely that the two will meet up, but there's no way to say what will happen, or if Arya could somehow overcome the sorceress.
Ilyn Payne
This is the man that beheaded her father on order of Joffrey Baratheon. He's been on Arya's hit list for quite some time now along with Cersei Lannister and the Hound. In truth this might be more of a childish desire for vengeance but she's shown no less than absolute determination to keep him in mind. How she will deal with Payne has yet to be seen or even considered, but with her training it is reasonable to think that she will find a way to get the man alone and prey upon whatever weakness she can find. Remember that Arya has already taken down some serious contenders, and she did get close getting the jump on her mentor AFTER killing the Waif. Payne shouldn't be as much trouble.
The Mountain/Gregor Clegane
This one could be a bit problematic. When he was still the same man that was so violent in Harrenhal Arya might have had the most difficulty with Clegane, but there would have been a minute chance to kill him in some deceptive manner. However now that he's anything but human she'd likely have to decapitate the brute to do any lasting damage, or find a way to incapacitate him to the point that he could no longer move. Arya is a skilled killer, but this is almost like a wolf cub trying to bring down a rampaging bear that feels no pain, all on her own. Good luck Arya, you'll need it.
Cersei Lannister
This is the death that many fans are clamoring for. She's been one of the most despicable characters in the series since season one and her time has been coming for some time. Each and every time the fans think she is about to receive the payback she so richly deserves Cersei has found a way to turn even the most damaging of circumstances to her favor. Now that she's seated on the Iron Throne she's become one of the least accessible figures in Westeros. But if Arya can get past the Mountain, Cersei won't be able to hide much longer.
Arya Stark is no longer the scared little girl she was upon reaching King's Landing. She is every bit the dire wolf of her house, ready and willing to take her revenge. It will be interesting to see who she targets next.