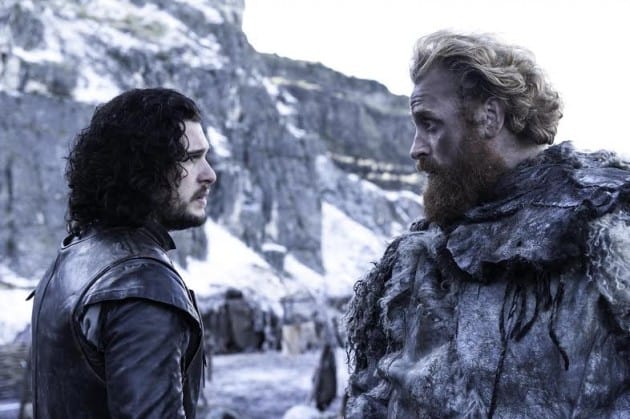 The fifth season of Game of Thrones has moved at a snail's pace; and in some places, this has been a good thing. As aimless as it currently seems to be, Arya studying with The Faceless Men offers the potential of a character finding a new direction – by the same token, we've slowly watched Sansa get broken down by her time married to Ramsay in Winterfell, just as Jon has raised himself up to the title of Lord Commander of the Night's Watch. Along with other stories like Cerei and Dany's, Game of Thrones has done more talking and suggesting than it has actually moving forward with these characters. These patterns alone make "Hardhome" the most satisfying episode of the season, in how it begins to catalyze important changes to their paths.
And then there's the final, titular scene, which blows Season 5 as an entirety out of the water.
Before we get to that scene, however, it's worth noting again how well constructed the first forty or so minutes of "Hardhome" are; on the surface, it once again feels like stories that are refusing to move forward, characters sitting around and discussing rather than acting. And yet, there's major movement in Arya, Sansa, and Cersei's story, before the episode heads due north past the Wall; more specifically, they're all at a crossroads of identity, forced to take on different titles, names, and homes (which for Cersei, is a prison cell) in pursuit of protecting what's most important to them: their families. These three stories are wonderfully aligned with each other, moving from Braavos to Winterfell to King's Landing, each featuring key interactions between two players, shrouding the rest of each location in shadowy silence to allow the thematic material of these conversations rise to the surface.
Their individual quests – Arya's revenge, Sansa taking back agency, Cersei getting free – all stem from steep challenges to their known identities by men around them; Arya's sent to murder a man, Cersei is imprisoned by the man she gave power to, and Sansa is given new hope from the man she hates the most (or at the very least, second most). And even though they are most catalytic events, how they're depicted in audience with each other makes for some of the most engaging storytelling we've seen all season – and to be honest, they're not even the best moments in this episode.
That award goes to the scenes bookending the episode, the first of which picks up right from the end of last week's episode, with Dany and Tyrion sparring with each other, feeling out each other's motivations, dedication, and intelligence. Her seeking council on Jorah's fate is an impressive move for Dany; though she's been seen to be open before with other people she's trusted, taking the advice of a stranger (one from the family who murdered your siblings and parents, nonetheless) is a bold move for her, and one Tyrion certainly notices, as he talks about the lives of "two terrible children" and the horrible families they came from. Their parlay, as brief as it may be, could turn out to be one of the most dynamic shifts of alliance we've seen so far in the show; and as an offering of peace between the two, stands in direct contrast to the episode's central spectacle.
Okay, the Battle of Hardhome. First of all: holy crap. We've all expected a large battle at some point this season, most likely the season's penultimate episode (which for four seasons, has been each season's climatic hour), but we've all expected that battle to be between Stannis and the Boltons, not the first true battle of the war between man and The White Walkers. And that's what makes this scene so anxiously engaging; we're not expecting this fight to break out; if anything, our expectations leaning towards a fight between Jon and the Thenn reluctant to join the alliance between man and wildling. But when snow begins to fall on the mountains behind them, this scene turns into another high mark for Game of Thrones, a visual spectacle that features its own story arcs (the life and death of Karsi, who saves her daughters and then is killed by child wights), an epic battle that reminds us why Jon Snow is the best, and the chilling, chilling image of the Night's King bringing all those slaughtered in the brief battle back to life as Jon and what wildlings remain escape to the south.
We've seen lopsided battles before on Game of Thrones; never have we seen hundreds of undead soldiers flinging themselves off the side of a cliff, arguably the most definitive image of how deeply evil and inhuman these creatures are. They exist to consume life, the darkness that doesn't fade with each morning, pushing forward until it can stomp out the sun with its cold, undead feet. The Battle at Hardhome takes a terrifying new depth when we see that; even after Jon kills a Walker lieutenant with a sword made of Valyrian steel (or dragonstone; it is named "Long Claw" after all), there's no hope for anyone on the beach as they retreat. Even the cursing giant barely makes it out alive, and as Jon, Tormund, and the others retreat, Game of Thrones finds itself in frightening new territory. That scene makes all the human drama of the south seem much, much less important; right now, the most important thing in Westeros is the alliance between the Night's Watch and the wildlings, something that is very much up in the air given that Season 5 has made it very obvious that Olly the orphan is going to screw it up somehow (in this episode, he ponders why Jon would become allies with the people who killed his family… be careful, Jon Snow).
"Hardhome" is not only one of the best episodes of the season, but of the series; how it incorporates this idea of undiscovered identities extends from the first scene to the last, where the true threat of the White Walkers is finally depicted by something other than "Winter is coming." We've seen what winter looks like now, and it brings a new level of tension to everything happening down south, and as Season 5 heads into two episodes of climatic moments and subsequent resolutions, "Hardhome" is an important hour of course-correcting, a thematically-united installment that truly shines when it reaches its central spectacle.
[Photo credit: Helen Sloan/HBO]