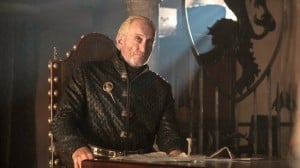 The upshot from Jean Renoir's The Rules of the Game is, "The awful thing about life is this: Everyone has their reasons." That statement seems fairly axiomatic not only in the real world (no, I'm not talking about MTV), but in Game of Thrones as well. Except it isn't so awful for us viewers. In fact, it's one of the reasons why watching Game of Thrones is so rewarding: the depth of these characters. That blurry realism is once again prevalent in the season 3 finale titled, "Mhysa", making us yet again recalibrate our loyalties as fans. Who are we supposed to be cheering for? Who are the good guys? Who–other than Joffrey–are the bad guys?
"It's not easy being drunk all the time. Everyone would do it if it were easy."–Tyrion Lannister
Oh that's right, I'm cheering for Tyrion. Tywin pragmatically explains to Tyrion that he had Robb killed in such an unceremonious manner because it saved the lives of thousands of bystanders on both sides. Tywin acts not out of selfishness or avarice; he acts out of the good for the family, hence why he deigned to sire an imp. He continues to prod Tyrion to impregnate Sansa by any means and Tyrion refuses. He is bogged down by the feelings of his new wife and in the world of Westeros, that mentality may be problematic.
Cersei also encourages Tyrion rather inscrutably to impregnate Sansa. Her rationale: to make Sansa a happy mother. Tyrion is deft in pointing out that being a mother hasn't exactly worked out to great for Cersei and while Cersei admits to that, she adds that being a mother is the one thing that has prevented her from committing suicide. It's the feeling of having "someone of your own" that has served as solace through the years, even if her son is a deplorable creep.
Stannis faces a similar obstacle in either sacrificing his nephew as a good omen, or sparing his own blood's life. After another reading session, Davos confronts him about the unseemly use of magic and evil. Stannis, however, has been inured to these practices by the Targaryens who wrecked massive destruction to his kingdom with dragons. He sees no conflict, favoring his quest for the throne over Gendry. Moreover, like Tywin, he distills it down to the life of one person vs. the life of tens of thousands of people. Gendry eventually absconds via boat, abetted by Davos; Davos is sentenced to death and is only saved by–you guessed it! Oh, you didn't guess it? Never mind–Melisandre who still sees his import in the more important war in the north.
Conversely, there are still a select few in Westeros who value their family over what Little Finger previously dubbed "the ladder." While Theon's father has essentially spurned him–particularly now that he is absent his "favorite toy"–from the Greyjoy family, his sister, Yara, cannot countenance such egregiousness directed at her brother. She rounds up a posse and sets out save him. Arya also cannot stand idly by as her family named is impoverished and makes her virgin kill.
For Daenerys, the greater good is the purest: freeing enslaved people. And once again, the people embrace her lovingly, joining her cause. I really liked this storyline earlier in the season but by the end I thought it was getting a tad redundant. Maybe this process of building her army was a necessity to depict, but I didn't find it very fascinating. By the end of season 2, Daenerys was climbing the ranks of my favorite Game of Thrones characters; she has currently dropped down a few pegs. I feel like they are just making it too easy for me to cheer for her. I want to see more of the grit of this character, and with that being said, I'm very excited to see where she ends up next year.
Speaking of characters that I have complaints about, Bran and his Warg friends are still on their quest to make it to The Wall. At least Sam points out the absurdity of this crippled kid fending off battalions of White Walkers. What, am I supposed to believe that his Warg abilities are somehow an edge over virtually impenetrable zombies? Sorry, not buying it.
All in all, this was a good year for Game of Thrones. This probably ranks as my least favorite season thus far, but that says more about the standard that this show has set for itself.