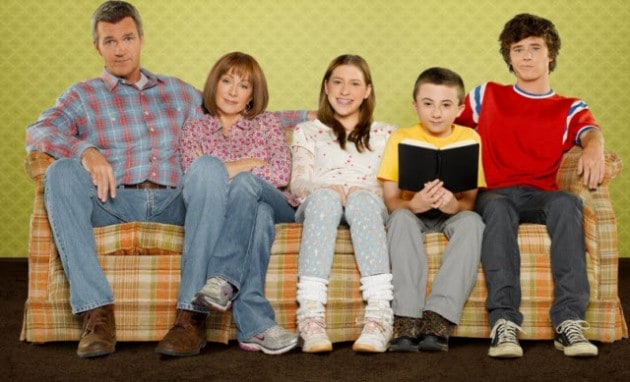 Frankie and Mike's anniversary contrasted with Sue and Darrin's young love last night on The Middle. It really was a great episode since all the Hecks got equally hilarious storylines.
Frankie and Mike's "twenty something" wedding anniversary rolls around but they're both too busy working around the clock that they have no desire or time to acknowledge it. Frankie actually gets sucked into the appeal of online shopping when Axl is using their internet to find a cheap table for his house at school.
Let this be a lesson to all that measurements are so important to pay attention to when you order furniture online! Knowing Frankie, it's probably safe to assume that if any dimensions were listed in the Craigslist ad she may have mistaken 6" to mean feet and not inches. Anyway, she's excited to order it because they've had the same dining room table for as long as they've been married and it's not often that they get to treat themselves.
Mike's reaction to the dollhouse sized furniture that gets delivered is classic.
Mike: "Someday we'll learn."
Frankie: "To be happy?"
Mike: "No. To stop trying."
Haha! In the end they make the best of their situation for now (not yet knowing that Axl broke their old table) and celebrate their anniversary with their tiny new dining room table. Can't wait to see how or if they're going to be able to afford a new table in time for Thanksgiving.
Axl and Hutch face the struggles of typical broke college kids. Instead of resolving to pick up part time jobs to pay for their housing bills, they plan on making their house a new "fratority" (combination fraternity and sorority.) They figure if they can get enough people to join Hutch Axl Pie they'll actually be making a profit after paying off their bills. Oh, boys. Their pledge party goes about as great as you'd think. Their back-up plan to get Axl's freshman year roommate to move in was a pretty smart idea.
Sue and Darrin are most definitely a match made in heaven. They're still in their honeymoon phase much to everyone else's annoyance. Even after a minor fight about a necklace he gives her that she discovers he'd also given his ex-girlfriend, Sue always finds the silver lining in life.
We got to see Brad's bedroom for the first time ever this episode. Complete with a dressing room mirror and vanity to a custom Bradway sign on the wall, it was everything you'd expect and more. Hopefully there's more reasons for Sue to visit his room this season!
Last but not least, Brick found a new hobby of the week. He started a podcast about fonts, appropriately dubbed The Fontcast. After just one recording, he's starting to get tired of it but he pushes through at least three nights worth of shows for his one and only fan. That anonymous fan on the internet turned out to be Jimmy Kimmel in a cameo as himself.
Whether you're a font fanatic or not, we should all take Brick's advice to heart. "Don't be afraid to let your freak font fly."
[Photo via ABC]