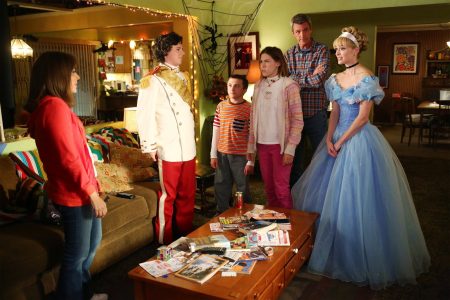 If there's one thing The Middle does better than every other family sitcom, it's holiday episodes. Halloween with the Hecks is always a memorable one, and this is no exception considering it started out with the spookiest sight of all: Axl frolicking in leaves!
April's influence on Axl starts to bring out his old snarky side with his family. It seems like a step backwards for him to start calling Sue a dog and other mean nicknames again, but Mike figures out the reason for that. Axl spends so much time with April putting on a happy face that he needs some sort of outlet for his naturally sarcastic comments to come out. I don't know what this says about the lasting impact of this relationship if Axl can't be completely himself around April.
Sue and Brick fight over her old room, but again Mike stops them and shuts down the idea that a room should have a name other than "room". I felt awful for Brick who finally voices what's really bothering him. He doesn't have anything of his own: a bedroom, clothes, not even a real chair at the dining room table. Being the third kid can be rough. When he finally gets a matching chair at the table, Brick's welcomed to the family and replies, "I've been waiting 14 years to hear that!" In true Heck fashion though it turns out they've had the chair all along. It was just under a stack of junk in their basement literally all of Brick's life.
Frankie's hoarding tendencies end up bringing another major point of contention to light when the family starts talking about Jennifer Aniston and Brad Pitt's divorce. The kids wonder aloud which parent they'd live with if Frankie and Mike split up. Of course they'd all choose Mike, which outrages Frankie. She's picked on for talking too much and clapping too loudly that she storms out on them on Halloween night to cool off. When she does get home to her "truly haunted" house she realizes it was nothing to freak out over. As she says in the voiceover, it would be easier to split $50 million than $50, plus "there's the love thing."
The Middle Season 8 Episode 3 Review: "Halloween VIII: The Heckoning"
Summary
Talk of a celebrity divorce sparks a fight in the Heck household for the kids to decide which parent they'd choose to live with if Frankie and Mike split up.