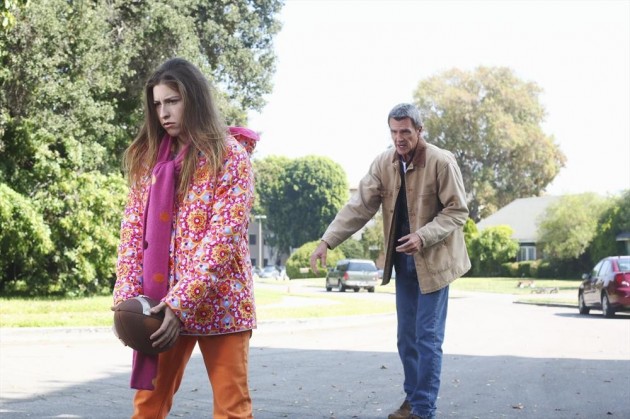 Thanksgivings with the Hecks have always been hilarious. In past years they've always spent the holiday with either Frankie's or Mike's family, and usually a few friends end up stopping by too. This year was no different. Even though Frankie was planning on a simple dinner with just her parents, they got a few unexpected surprises on Turkey Day.
Frankie and Sue went shopping the Wednesday before Thanksgiving at their mall's Midnight Madness sale. This was pretty funny because as we all know, plenty of stores have moved Black Friday sales up into Thanksgiving dinner time, so it's probably not too far-fetched to imagine they will eventually move the sales even further before Thanksgiving. Sue was so excited to spend her hard-earned potato job money on presents for her family, but something traumatizing must have happened because she acts very nervous and jittery all day on Thanksgiving.
Not soon after they sat down for dinner, the doorbell rings for the first time. It's Dr. Goodwin (Jack McBrayer), Frankie's boss who she only sarcastically told him to come to her house for the holiday when he was complaining about his family's holidays spent fighting. Next thing you know, the doorbell rings again. It's Mike's brother's wife and her two teenage kids from previous relationships. All these unexpected visitors add up to some awkward conversations. Mike's sister-in-law is hitting on Frankie's boss when she finally blurts out that she divorced Rusty Heck. Frankie's dad Tag is confiding in Mike that he lost all of his money intended for a Christmas cruise with his wife by gambling online. His guilt finally gets the best of him when he shares this secret at the dinner table. We also find out what exactly happened the night before in the mall when the local news shows coverage of the midnight shoppers. Frankie is featured in the report, as she led the crowd into the store. She went full-on crazy and was throwing deals into her cart, while Sue stood by horrified at all the hardcore shoppers.
Axl has been on his best behavior around the family while he waits for the perfect time to tell his parents that he had to drop three classes. Unlike what I thought last week, I guess this doesn't mean he's technically dropping out of school. When he finally does share his news, Frankie and Mike don't yell at him like he thought they would. This quiet reaction of Mike just shrugging his shoulders saying it's his life, and he's not their responsibility anymore, actually kicked Axl's guilt up a notch. He swears to talk to his advisor after break and make up those classes next semester with no goofing around.
Poor Brick asked Frankie if she would be making a lime jello salad for him, which he's patiently been waiting for the past ten years. In a cute flashback scene, we saw Brick as a toddler asking his mom to make him a lime jello salad for Thanksgiving. Busy as always, Frankie blew him off even then by telling him to remind her in ten years. Of course Brick remembered, and when Frankie didn't find the time to make it this year, he had to make it for himself. When he saw all the people who ended up coming to their house for Thanksgiving dinner, he was just worried that they'll all want to eat his prized jello salad. I've never made lime jello salad, but I can relate to Brick's territorial actions over his food.
Whether it was a confession of guilt or simply eating too much jello, the message of the episode is that everyone makes mistakes. If we're lucky, we all have families like the Hecks to support us no matter what. I can't wait to see the Christmas episode in just a few weeks now!
Image (ABC/Michael Ansell) EDEN SHER, NEIL FLYNN