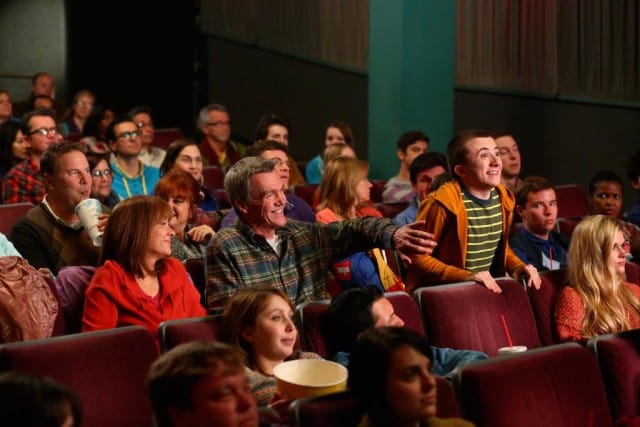 Never before has The Middle been the cause of so much secondhand embarrassment. Everyone who is anyone in Orson made a big deal out of a new movie featuring the outside shot of a local diner. Hometown pride counts for something, but it only gets better when all the Hecks have painfully awkward encounters on this night out.
First off, how in the world has Brick never been to a movie before? I find that incredibly hard to believe. Frankie and Mike somehow let such a basic social outing slide by for Brick until he's already in high school and they wonder why he's different, to say the least. Seeing a movie trailer for his favorite science fiction novel series "Planet Nowhere" was rightfully traumatizing. Any diehard fan of any book being adapted into a film can relate to the stresses of casting choices on top of every other minute detail you've only imagined in your head before. Brick maybe doesn't understand how the whole movie release thing works because he begs the theater worker to just simply not show Planet Nowhere when it comes out. When that doesn't pan out, he literally takes his stand by walking out of the theater lobby with the big promotional movie stand in his arms. Unfortunately that won't stop the movie from being released, but I do hope this means we'll get to see Brick's reaction to it once he sees the finished product!
Frankie and Mike shared an equal portion of the episode with the kids, which is a rarity as the show ages. They get into a disagreement when Mike shushes Frankie in front of their friends. This is where the storyline got funny because they both recalled the situation differently. He says she was constantly interrupting their friend, she says otherwise. Should Mike have made the "shush" motion with his hands to get her to be quiet? Probably not. Should he have kept his mouth shut about talking to Ron Donahue about how to handle this fight with Frankie? Probably. In the end it all worked out because of one miracle at home: all the pictures they thought were lost on their computer forever suddenly appeared again! Whatever Frankie was mad about before seemed insignificant then.
Sue joined her family out for movie night but barely spent any time in the theater. I was so happy for her to finally run into Logan again! They always have these almost magical encounters and then never manage to get each other's contact information. Seriously, do these kids not use Facebook or any fictional equivalent? Anyway though, Sue and Logan enjoy what could only be described as the cutest impromptu first date. It's all going well until he tells her about his idea to become a priest. Sue freaks out and prays aloud to God when she's back at home. She maturely handles the situation by returning his jacket that she ran off with, as well as agreeing that they both need to figure out their own lives. Nothing's set in stone for Logan, he's only considering it. Plus Sue's still just soaking up every little aspect of college that she's not even looking for a committed relationship right now. I hope this isn't the last we see of Logan!
Sean's turn for the hipster lifestyle (and his mother's reaction to it) never gets old. I do wonder what ever happened to Darrin after Sue broke up with him last year. Sure, things might be awkward if he went to the movies with the whole Heck family but he was Axl's other best friend. Sean clearly has top priority in the friendship though when they discover they were each other's first kiss in a dark basement party when they were 14. Not as horrifying as Ross and Monica Geller's mistaken incestous first kisses but still not what Axl or Sean were ever expecting!
Right down to the giant purse to sneak in popcorn and a 2-liter bottle of soda, this Heck movie night was certainly entertaining! What did you think of the episode?