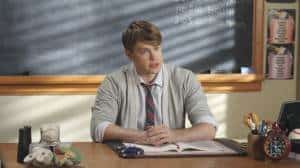 Wow, Trouty Mouth went from being a high school student to an elementary school teacher in a matter of months. Chord Overstreet (Glee) guest starred as Mr. Wilkerson, the next teacher that Brick doesn't click with. It's that time of year everyone: the kids are back to school!
Sue is ecstatic to be in high school, but she's unintentionally ruining Axl's life. The only way she could say "frosh" more times in a conversation is if she suddenly acquired Brick's whispering reflex. Since her presence at the school is making Axl crazy, he decides to get a little revenge when she asks for advice about what elective to take during her free period before math. He tells her that by taking swimming, she can prepare to be on the swim team and get extracurricular experience. What he doesn't tell her is that there's no way she'll make it to her math class if she has to run from the pool at the other end of the school. Poor Sue. Too many tardies can go on your permanent record! ("Tardy sweeeep!")
Frankie and Mike find out Brick doesn't like his teacher mostly because he's male (no bosom), but also because he makes kids catch an answer ball before speaking, and doesn't notice Brick's reluctance to climb the rope during gym class. Not wanting to get on the bad side of yet another teacher, Brick's parents tell him that he has matured and can handle the situation himself. When he does, Mr. Wilkerson tells him he can skip gym and stay in the classroom to read by himself. Brick's wildest dreams are coming true, but Frankie and Mike know they need to talk to the teacher. Frankie wonders why they can't just write something and pin, tie or attach it to Brick in some way. "Like a quirk alert bracelet. Wait a second, this could be a thing!"
After a careful analysis of the school map, Sue has found a way to make it to her math class by taking a shortcut through shop class. She finally makes it as far as her locker, only to find a couple making out in front of it. She misses math again, and decides she'll just have to take her locker with her. Next time, she's well on her way to punctuality when her heavy backpack tips her over and she becomes Turtle Girl. Kids are cruel, and they take pictures instead of helping her. Axl doesn't help her either. Frankie can't believe it. "You didn't flip your sister? What is the matter with you?"
When Axl refuses to continue to drive Sue to school, Frankie creates a chart to remind him of who is in charge in the house: her, with all the kids underneath. The kids wonder why dad isn't on the chart. Frankie adds him as an equal to her, but the kids are under the impression that he's above her. Uh oh. He's scarier and he pays the bills. That doesn't go over well, and poor Brick is sad that he's always last. On cards he's always listed at the end as "and Brick." And he's been eating old candy canes for breakfast.
Mike blames Frankie for the kids' perception of the order of power. He says she's played the dad card too many times. "Your dad's going to be home in five minutes and he's not going to be happy!" Frankie may have given Mike power by using him as a backup, and Mike points out that the Godfather never called for backup. (This reminded me of the movie You've Got Mail. "What is it with men and The Godfather?") Happy with his status in the family, Mike agrees to be the one to go visit Brick's teacher.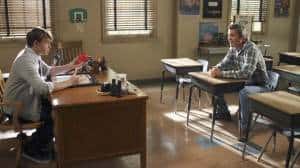 Mr. Wilkerson is a first time teacher and it's his first parent meeting. He's hip, he's cool, he uses Twitter, he wants Brick to want to go to gym, and he makes Mike use the answer ball. Mike knows that Brick will read instead of go to gym for as long as anyone lets him, so in the heat of the parent-teacher meeting, the answer ball ends up breaking some classroom accoutrements. Mike fails to get Mr. Wilkerson to force Brick to go to gym, and instead ends up bringing home a questionnaire to complete about his parenting style. He couldn't say no because he didn't have the answer ball.
Axl makes Sue hide on the floor of the car as they approach school in the morning. As rude as that is, he compliments Sue for never giving up. "You're like this dork optimist."
With that, Sue finally makes it to her math class. She even makes it to her locker first, and we later find out that Axl drove away the couple who had claimed a make-out spot in front of it. Sue convinces Brick to go to gym, because if he makes it up to the top of the rope he gets a coupon for a free frozen yogurt. The kids are helping each other out.
Sue, as usual, had the best lines in the episode: "Axl eats four donuts everyday for lunch. Oh! See you in court, 'cause you just got Sued!"