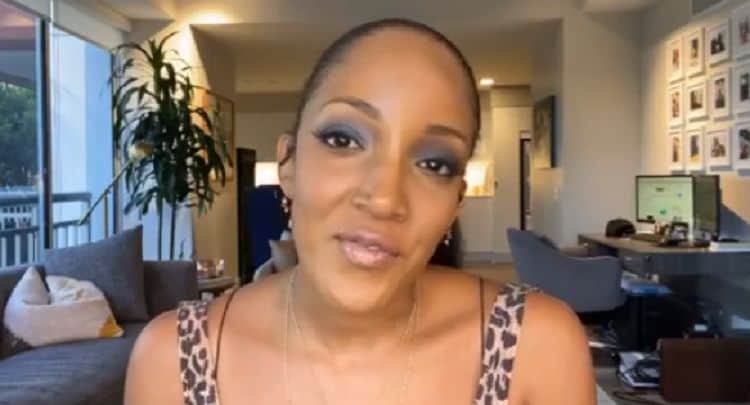 Commercial country music has never been a very racially diverse space. However, singer/songwriter Mickey Guyton hopes that her talent and her presence can help inspire change. The Tennessee native has been working hard to make her mark on the industry for nearly a decade, and she's made some amazing progress along the way. She released her debut single "Better Than You Left Me" in 2015 and it earned her an Academy of Country Music Award nomination for New Female Vocalist of the Year in 2016. After her recent performance at the ACM Awards, Mickey is feeling a renewed sense of self and she's ready to reach new heights. Continue reading for 10 things you didn't know about Mickey Guyton.
1. She Came Very Close To Giving Up On Music
Mickey's journey in the professional music world hasn't been an easy one. Although she has made a lot of progress, things in her career haven't always moved along as quickly as she'd hoped. At one point, she even considered quitting music although she had nothing to fall back on. However, she chose to keep pushing forward and she's glad that she stuck it out.
2. She Was Inspired By LeAnn Rimes
Mickey developed an interest in music at a very early age. Music has always been a way for her to express herself and feel connected to others. One of the first things that inspired her to become a singer was a performance of "The Star-Spangled Banner" by LeAnn Rimes before a baseball game.
3. Her Name Isn't Really Mickey
Picking the perfect stage name isn't an easy task, but Mickey managed to find something that has a nice ring to it. Even though she is known professionally as Mickey, her name is actually Candace. The nickname Mickey likely comes from her middle name which is Mycale.
4. She's Originally From Texas
Mickey was born in Arlington, Texas, however, she moved around the state a lot as a child due to her father's job. While she is very grateful for her Texas roots, she knew that Nashville was the perfect place to be in order to have a successful career as a country music artist.
5. She Wants To Use Her Platform To Fight For Others
At this point in her career, Mickey isn't just concerned about entertaining people and winning awards. Of course, those things are nice, but she hopes that her music does much more than that. One of her main goals is to use her platform to fight for those who may not be able to speak out for themselves.
6. She Auditioned For American Idol
For nearly two decades, American Idol has given singers a platform to showcase their talents with the hope breaking into the music industry. Like many other aspiring artists, Mickey auditioned for the show. Unfortunately though, she was cut before the live shows.
7. She Is The First Black Woman To Perform Solo At The Academy Of Country Music Awards
When I said that there was a serious lack of diversity in country music, I wasn't exaggerating. Most people can't even name more than two Black country artists. With her recent performance at the ACM Awards, Mickey became the first Black woman to perform solo at the award show.
8. She Sells Merch
Music isn't the only business Mickey is involved in. She also sells branded merchandise through her website. Her items include t-shirts, bracelets, and autographed copies of her EP. Merchandise may not be a lucrative opportunity financially, but it's a great way to build community among her fans.
9. She Comes From A Close Family
When you work in an industry like the music business, it's important to stand grounded and keep people around who want the best for you. Mickey is lucky to come from a close knit family and they have been a strong support system for her throughout the years.
10. She's Not Afraid To Speak Her Truth
For much of her career, Mickey has been afraid to speak up about certain issues, but she has since had a chance of heart. She told NPR, "I had to control my mouth for a long time. … It was like, "How are we going to represent you in the best way possible without losing radio?" as I was trying to push a single up the charts. And the more I saw that radio wasn't supporting women anyway…I hit my lowest lows. I have nothing left to lose. And because of that, even if my music goes nowhere, I want to empower people to use their voice."
Tell us what's wrong with this post? How could we improve it? :)
Let us improve this post!