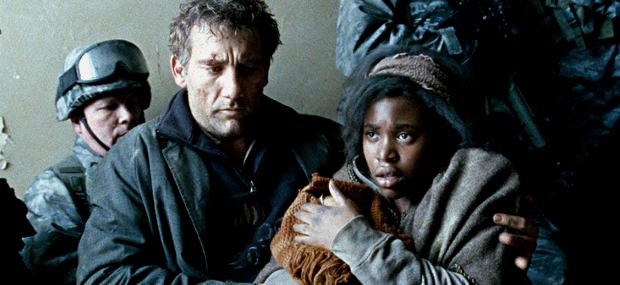 One thing that the dystopian movies have shown us despite a depressing and horrifying look at how the world is going to react to one disaster or another is, as Aswin Narayanan of Screenrant states, that the wealthiest among us will squirrel themselves away in private hideouts that are secured by the flexing of their financial muscles. It might be nice if this was just another part of the movie, if it wasn't bound to be seen as the reality that it is. But according to many reports there are private and communal bunkers that the high and mighty and the rich are able to afford where luxuries exist aplenty and their every need is seen to while those without the funds or the fame are left on the streets to tough it out. This makes it sound as though we'll all be eating each other and feeding off of whatever we can find in the next few weeks as the world continues to crumble around us, but only if you're watching an old movie. Thankfully it's possible for people to calm the hell down and realize that the world hasn't ended, that we're still here and despite the thousands of tragic deaths that have come from this current pandemic, which was not prepared for and did not receive sufficient attention when it was necessary to do so, we're bound to keep moving forward so long as we keep our heads.
Maybe that's the one lesson that we haven't fully learned from the movies at this point, that keeping a clear and reasonable frame of mind is absolutely vital to moving forward, and that freaking out about every little thing isn't in our best interests. The rich and famous are bound to hide away in their private retreats and distance themselves from this virus while encouraging the lot of us to 'stay safe' as they dole out their love and support and, in some cases, give generously of their fortunes to help the less fortunate. It's not all bad really, as those that actually contribute to society are of the right mind even as they continue to remain relatively safe in their million-dollar palaces, but this is where the movies and reality meet and diverge on a pretty continual basis. Noah Berlatsky of Pacific Standard has a different angle on this. In the movies the rich are often seen as the uppity, arrogant bunch that don't give a tinker's damn for the downtrodden, or are the caring and genuine people that want to help everyone but have no idea what life is like away from their fortunes and security and therefore don't understand the true scope. It's playing out like this in real life as well, more so than people realize since with the current pandemic that's occurred and is still ongoing, the rich and famous are at this moment keeping themselves largely sequestered in their homes and doing what they can to avoid mixing with the 'common folk'. What's amusing about this is that a lot of the common folk are still going about their business as much as they possibly can, and for one reason only: life has to go on.
That's the message of many dystopian movies that have come across the screen throughout the years, life goes on whether it's miserable or not. The reason behind this of course is that to stop and give into despair is to give up, to admit that whatever has pushed us to these ends has won. Humans are many things without a doubt, both good and bad, but for better or worse we are incredibly stubborn on a regular basis and don't like being told what to do. Even in the face of utter annihilation this will likely be true since it's bound to be seen that on the verge of Armageddon, Ragnarok, the Tribulation, the Apocalypse, whatever you want to call it within the movies and in real life, humans will stand in defiance of fate if only because there's no other way to express ourselves, save for bowing our heads to wait for the inevitable. That's one of the strongest messages we can take from the movies at this point, and unfortunately a great many people are seeing fit to bow their heads, to accept what might be coming as they panic, worry, and concern themselves with the thought that they might not live to see another day. The rich sequester themselves away thinking that their money can serve as a buffer between themselves and what's to come while the poor simply do the best they can and hoard whatever resources are available. All this is happening while the rest of us look at those who are seeing fit to panic and wonder "why?".
If one thing has been gleaned from the movies, life will go on, no matter if we're not here to see the sun rise over that unseen landscape.