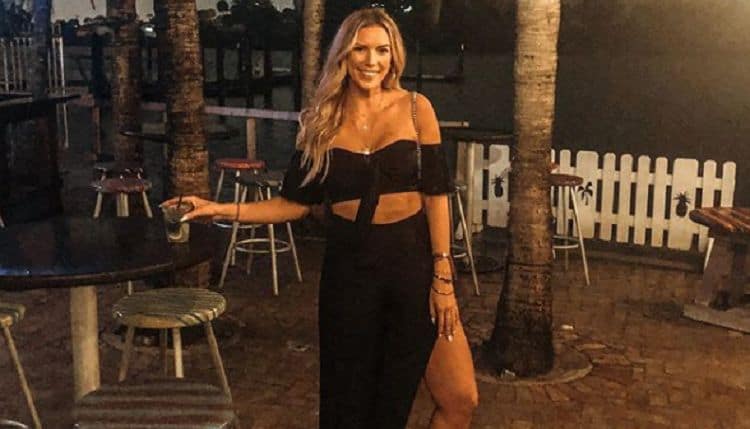 The Bachelor is a popular television show that tries to help one eligible bachelor find true love. The show airs on ABC and starts with 30 beautiful, available women who try to win the heart of the bachelor and get him to fall in love with them. One-by-one, the bachelor eliminates the women he doesn't connect with and in the end, hopefully ends up with the one woman he thinks he could build a long-lasting relationship with. This season, Peter Weber is the bachelor. He's a pilot from Virginia and so far, he has narrowed his women down to four. The drama-filled, weekly show has had some interesting twists, including one that brought an ex-girlfriend of his, Merissa Pence, to the surface. She wasn't even a contestant on the show but she made an appearance. If you have at least heard the name, then keep reading to learn 10 things you didn't know about Merissa Pence.
1. She dated the bachelor for six months
Pence is an old acquaintance of Weber's; someone she knew from their hometown of Virginia Beach. The two were friends and even began dating for about six months back in 2012. Pence has said that even though the relationship didn't last, the two ended things on a good note and remained friends. Although the two hadn't been in contact for some time, Pence says she had some news she needed to deliver to Weber regarding one of the women on the show who was trying to win his heart.
2. She knows, and was friends with one of the contestants from The Bachelor
Pence knew one of the contestants from this season's, The Bachelor. Victoria Fuller is also from Virginia Beach, and through a few mutual friends, the two got acquainted. Although they weren't close friends, Pence claims she knows enough about Fuller, and even had her run-ins with her that she thinks Weber should know about. Pence described it more as a 'forced friendship,' and wouldn't purposefully hang out with her, but it was enough to learn some dirt on the girl, and Pence wanted Weber to hear it before he made a mistake of choosing her in the end. What makes it even more dramatic, is the fact that Fuller never mentioned she knew one of Weber's ex-girlfriends since being on the show.
3. Pence and Fuller rare rivals now
Pence claims that on the two girl's first encounter, Fuller threatened to 'slash her tires for hanging out with one of her ex-boyfriends,' according to Marie Claire. On another occasion in December, the two ran into each other at a bar, and according to Pence, Fuller yelled something quite vulgar across the bar, shouting, "You're a f*cking loser!" If things Pence has told the media is true, then it's quite clear that the two are rivals.
4. She showed up on one of the 'bachelor's' dates
Pence became so determined to talk to her ex, Weber, that she contacted the show and asked to see him. She was denied access at first, but in the end, she was able to catch up to him on his home date in Virginia Beach. Pence caught Weber leaving a date with Fuller, who was clearly shocked to see Pence, and was able to pull him aside. According to an article on Distractify, a picture was posted on Instagram showing Pence and Weber talking. She wasn't wearing a mic, so it was unclear what all she said, but by his reaction, it was quite upsetting.
5. She claims Fuller sleeps with married men
One of the most disturbing bits of news Pence has openly discussed regarding Fuller, is the fact that there are plenty of women in Virginia Beach who claim Fuller slept with their husbands. According to Pence, Fuller is responsible for breaking up a few marriages, and this isn't sitting well with a lot of people, fans and real life acquaintances of those who know these people personally.
6. She's a marketing director today
Pence is a college graduate, graduating from the Fashion Institute of Design and Merchandising back in 2013, and holds an AA degree in Fashion Merchandising. She's worked for a number of big names in fashion, including, Kors and Guess. Although she left Virginia Beach for California to pursue fashion, she's the Marketing Coordinator for MSP Design Group in Norfolk, VA, but has an even bigger dream in fashion that she is still working towards.
7. She used to model, and dreams of modeling for VS
Not only is Pence into the marketing end of fashion, but she used to do some modeling, as well. She's worked her way up with different companies, from marketing and merchandising, and became the Director of Social Media House of Maya Online, but when you ask her what her dream job is, she'll tell you that it is to design a fashion line for Victoria Secrets, a top global lingerie company.
8. She's done some pageantry work
If you look at Pence's Instagram site, you can clearly see she is a beautiful woman, and it's easy to see how she's been able to get some modeling gigs. But that's not all she's dabbled in. Pence has also done some pageantry work and began entering in 2009. She obviously had the knack for it as it led to her being crowned Miss Teen Virginia.
9. She has an Instagram pic of the two
Something else you'll find on Pence's Instagram site is a pic of her and the bachelor together. According to Hollywood Life, although she and Weber haven't had much contact over recent years, she still keeps a photo of the two posted. The pic shows the two hanging out together and is captioned with something that suggests they are just chilling, and watching a football game.
10. She's a kickboxer and instructor
Most people try to get exercise in one way or another. It's good for you, and for many people, it is an outlet from their hectic schedules. For Pence, her exercise routine includes a little kickboxing on the side, but not just a little kickboxing for herself, but she's an instructor in the sport. If you've ever seen the sport then you probably know it's quite a workout and can whip you into shape in no time. If you want to see Pence in action, just check out her Instagram.