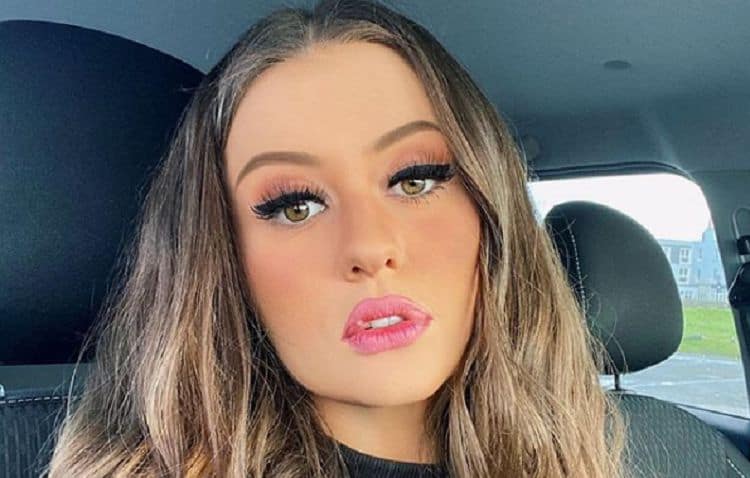 Like many social media platforms today, TikTok is making people famous who would otherwise likely remain unknown their entire lives. Like YouTube, but on a smaller, yet somehow more elaborate scale, the site allows amateurs to create their own videos, post them, and share them with the world. Of course, the number of 'likes' and 'followers' one gets will determine popularity, earnings, and establish a level of fame, if the stats are high enough. The site is mostly popular among teens and young adults, but isn't limited to their use only.
Holly H is a TikTok user who has managed to gain a bit of renown for herself through her use of this app. While she got her start on Vine, another video app, she went on to use TikTok, formerly known as 'musical.ly'. The change proved to be a wise move, gaining her more than 16 million fans. But fame today isn't like that of yesterday, when people actually got where they were through blood, sweat, and tears; success seemingly happens overnight, and one result is that the 'celebrity' may only technically be famous with a very specific group of people. Therefore, many out there may not have any clue who the person is, while others know all about her. Holly H is one such example. It's not like she is a television regular, or a music star whose albums are played on the radio nationwide.
So, in an effort to familiarize more people with this girl, whom you may have heard about in passing but have no clue about when it comes to her life or 'accomplishments', we have put together a '10 Things' list all about her. It's featured below, and the facts listed will give you a much better idea who Holly H is and what she is 'famous' for. Whether you're a fan or an innocent bystander, you'll soon have a much clearer picture of this teen sensation by the end of this piece. Keep reading to discover:
Here are 10 things you might not know about Holly H:
1. Early Life
Holly was born Holly Jo Hubert in Guernsey, England on October 17, 1996; she is a Libra, born in the Year of the Rat. Her parents are Jody Horne and Steve Hubert, and she has three siblings, Phoenix, India, and Megan. On a unique note, Holly was born at home in Guernsey, which is an island located on the English Channel. While she has not attended college due to focusing on her video career, she did attend school at the Guernsey Grammar School and Sixth Form Center while growing up.
2. A Few of Her Favorite Things
Like everyone, there are things that Holly likes, and some things that are her favorites. One of her all time favorite foods happens to be croissants, and as far as colors go she likes purple, white, and grey. She also enjoys comedy and loves to laugh and make others laugh as well. Holly has made comical videos which has added to her fan base and raised her level as a social media personality. The Vine platform was the initial outlet for the comedy videos that initiated her popularity.
3. Current Platforms
As we've stated, Holly first got started using Vine in the month of May, 2015, which is now out of commission. She moved on to Musical.ly, where she began posting lip-sync videos, and that gained her even more attention. Musical.ly eventually became TikTok, and she continued to post a variety of videos while getting more and more popular and well-known. She also currently has a YouTube channel that features her work. To date, Holly has 16 million fans on her TikTok account alone.
4. Collaborations and Other Claims to Fame
Holly posted a lip-sync video she made with social media personality Toireasa McGuire, which they put out in 2018. At the time, the pair was both in the process of filming for the BBC television network; this fact alone added to her fame. She also was nominated for Choice Muser at the Teen Choice Awards in 2018. While she didn't win, the nomination alone attests to the fame she has gained through her work. Holly was also featured in a video she did with the celebrity known as 'Li'l Ducky'.
5. Social Media Use
Besides her use of TikTok and YouTube for her money-making ventures, Holly is an active user of Instagram, where she can be found under @hollyh. She has nearly 1.5 million followers there. Her Facebook page, 'Holly H', has more than 14K likes, and on Twitter the self-proclaimed 'professional weirdo' can be found under @HollyH. View her videos on her official TikTok account, @hollyh, and on her YouTube channel, Holly H, where she also posts videos of makeup tutorials in addition to the other videos she does.
6. Zodiac and Star Sign Traits
Holly was born on October 17, which makes her a Libra. Libra women are said to be full of passion, have an active social life, and exude class through their personality and mannerisms. They are sexy in their own unique way, standing out from others with a sexuality that isn't common to anyone else. They are charming, attractive, and they love being female, and it shows. Being born in 1996 means that she is a child of the Year of the Rat. Children born in Rat years tend to be collectors, and they are creators of shrines to things they love or want to pay tribute to. They are usually on top of things habitually, including their finances, which they are normally quite thrifty with. Overall, children born in Rat years have a very positive attitude about life in general.
7. Personal Life
At the current time the 23-year-old Internet sensation is not married, though she does look forward to tying the knot with someone someday; she also has no children at this point in her life. While she has been known to post photos with an unknown male on her Instagram account, whether or not she has an exclusive boyfriend has not been revealed. According to Healthy Celeb, Holly prefers to not discuss her love life, dating status, or anything else regarding any potential relationship she may be in. She likes to keep her private life on the down low.
8. The Real Deal
Most every photo and video seen by fans show Holly as a brunette. Is this her real hair color? Well, sources say that while the person is Holly, the darker hair color her fans are used to seeing her with is not legitimate. Holly's natural color is really blonde, but she has worn the darker colored locks for some time, a fact which fans are mostly unaware of.
9. Net Worth
Holly has been an active celebrity presence on the Internet since 2015, and while she was accepted to two different colleges after high school graduation, she chose to set her focus on a career online. It has paid off for her, fortunately, proving that she made the right decision, for the time being, at least. While one source, Net Worth Leaks states that she is currently worth around $2 million, there are a couple of other sources which claim that he multiple professional projects have brought her net worth to between $500k and $600k to date. Since she has only been in the public eye for four years, we are more apt to estimate in agreement with the latter approximations.
10. Other Projects and Future Plans
Holly doesn't just make videos for Internet and social media fan viewing, she has a couple other irons in the fire as well. She sells merchandise promoting herself, which serves as a huge marketing tool that pushes her career successfully along, and she has also worked with the famous British television company BBC. Together, Holly and the broadcasting company put together a 'muser' battle which was televised live in 2017. The event, which she collaborated openly with BBC to make happen, was dedicated to some of the most followed and popular Musical.ly users at the time, and was a success. She will continue to focus on all these projects, and probably many more, should her popularity continue to grow, with the passage of time.
As we all have become keenly aware of, fame is much easier to get a hold on nowadays, and that for most anyone. Holly H is multitalented, funny, beautiful, and driven. These qualities have made her endeavors successful, and of course we hope that she continues on that path to even more success. Who knows what Holly will choose to do with her life in the distant future? Whatever she opts for, we're sure she will find exactly what she is looking for, as she definitely has a knack for taking the right road on her life journey. Good luck to her in all she puts her hands…and other skills…to.