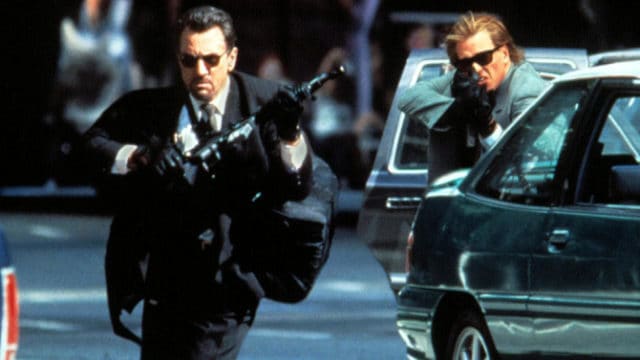 For as long as I live the movie Heat will go down as one of my favorite heist movies of all time. Not only that, but one of my favorite movies, period, of all-time. I personally think it was the best work of his career and I doubt that many Michael Mann fans out there would disagree. Good news for Mann fans around the country. Next month, for one night only, fans will have a chance to see the 1995 classic Heat on the big screen once again. According to Variety
The May 2 screenings, co-presented by Alamo Drafthouse, serve as a nationwide launch for Twentieth Century Fox Home Entertainment's May 9 release of a "Director's Definitive Edition" Blu-ray and DVD. Additionally, a Q&A with Mann will be live-streamed at each of the screenings from the Regency Village Theater in Los Angeles.
The new restoration was overseen by Mann. It screened at the Toronto Film Festival in 2015 as part of a 20th anniversary celebration, as well as at the Academy of Motion Picture Arts and Sciences last year. Q&As from both of those events are featured on the new release.
It's a shame I don't live in Los Angeles so I could actually ask Mann questions up front.. I might just have to fly there on the 1st of May to catch this thing. Then again, Boston isn't too far away.
Details on next month's screenings can be found below.
Other Participating Locations and Theaters:
Austin Drafthouse Village; Austin, TX — 7:30pm
Alamo Drafthouse Mason Park; Houston, TX — 7:30pm
Alamo Drafthouse Mainstreet; Kansas City, MO — 7:30pm
Alamo Drafthouse Littleton; Littleton, CO — 6:30pm
Alamo Drafthouse Loudoun; Ashburn, VA — 8:30pm
Alamo Drafthouse Lubbock; Lubbock, TX — 7:30pm
Alamo Drafthouse Laredo; Laredo, TX — 7:30pm
Alamo Drafthouse Marketplace; New Braunfels, TX — 7:30pm
Alamo Drafthouse Omaha; Omaha, NE — 7:30pm
Alamo Drafthouse Richardson; Richardson, TX — 7:30pm
Alamo Drafthouse Westlakes; San Antonio, TX — 7:30pm
Alamo Drafthouse Winchester; Winchester, VA — 8:30pm
Alamo Drafthouse El Paso; El Paso, TX — 6:30pm
Alamo Drafthouse Chandler; Chandler, AZ — 5:30pm
Alamo Drafthouse Corpus Christi; Corpus Christi, TX — 7:30pm
Tampa Theater; Tampa, FL — 8:30pm
Normal Theaters; Normal, IL — 7:30pm
Cinema Detroit; Detroit, MI — 8:30pm
Brattle Theater; Boston, MA — 8:30pm
Michigan Theater; Ann Arbor, MI — 8:30pm
Save