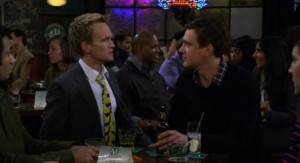 HURRAH!!
Barney and Robin MADE OUT in the cab.
And I think that's all I really needed to make me CARE about what's going to happen in the coming weeks on How I Met Your Mother and it's about time it happened. I was getting worried for a few episodes there.
Now, do I think they are going to just dump their significant others and hop right into a relationship, no, but hey, I wouldn't be opposed to it. (Sorry Kevin and Nora!)
So, let's talk about boogie boarding…
Last night's HIMYM focused on the story of how the gang is responsible for the '˜absolutely no boogie boarding'sign in front of Maclarens for their antics during Hurricane Irene in addition to Barney's quest to get rid of the Ducky tie.
I loved parts of this episode so much. For me, it pretty much is always a good episode when Carter and Bays keep up continuity and bring in previous episodes or gags. In this case, the ducky tie and the slap bet. The only thing missing was Robin taking a dig at Barney for his Canadian heritage.
So after Kevin 'therapized'Barney, we learn the only reason he wants to take his tie off is because he's meeting Nora's parents and wants them to like him. Barney tempts Marshall all episode with the offer of an additional slap in exchange for his freedom from the ducks. Then we learn that Lily and Marshall conceived baby Eriksen in Barney's bathtub on the night of the Hurricane. With this information in the open, they decide to let Barney take off the tie in exchange for 3 additional slaps on the slap bet (for a grand total of 4 as Marshall has one slap left).
Marshall quickly used two of them and wailed on Barney at the bar. The slaps were epic and Neil Patrick Harris'quivering in this scene as hilarious. My one question this brings up is that we've seen Barney wearing the ducky tie in the flash-forward to the casino earlier in the season so how or why does he have to put the ducky tie back on?
Robin and Barney's scene in the rain after the hurricane was particularly touching as Barney apologizes for pretending to be her dad and tells her 'when I let a day go by without talking to you…that day is just no good.'
Marshall spent the hurricane being afraid his uninsured self (at the time, he was recently unemployed) would get hurt. More specifically, afraid he'd get attacked by a bear. This gag, while kind of stupid, became pretty funny when Marshall was attacked in the bathroom, the most dangerous of all rooms in the house.
Lily, meanwhile, tried to get some alone time from Marshall and Ted rocked a great pair of pink rain boots as he used his boy scout skills to try to save everyone.
Some additional thoughts:
The opening to this episode was pretty great. It was like Barney as Indiana Jones.
I'm just going to come out and say it: The character I care least for is Ted. He needs a strong storyline and stat.
Quips of the night:
'I don't know Lily. We have a baby on the way. An extra slap may come in handy.'— Marshall
'You're a tropical depression.'— Robin
'Oh, therapisted! Shrinked? Shrunked? We'll figure it out.'— Ted
'I think I need to go home and evaluate how I make life decisions.'— Barney
Tell us what's wrong with this post? How could we improve it? :)
Let us improve this post!