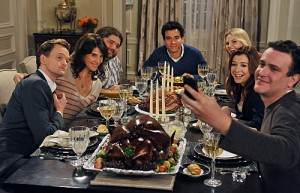 'AW MAN!'
Welcome to 'Blitzgiving!'
Tonight's episode of How I Met your Mother wasn't the traditional slapsgiving our favorite gang usually has, but it was hilarious.
On tonight's episode, we met the Blitz (wonderfully played by LOST alum Jorge Garcia), an old college roommate of Marshall and Ted. The Blitz, like Hurley on LOST, is cursed. Every time he leaves somewhere, something wicked amazing happens and he always misses it. Unlike Hurley, this curse can be passed on and so over the course of the episode it is… to Ted and then to Barney and then back to The Blitz again. This episode also shows us how Zoey and Ted became friends.
"Blitzgiving" made me think about my friends and I the night before Thanksgiving. On the biggest drinking day of the year…there's always some type of inside joke that comes up like "The Gentlemen!" and major ridiculousness. Although, I really wish WE had a skateboarding dog.
That being said, tonight's episode of HIMYM was great. The whole cast was spectacular and it was funny in all the right moments. Jorge Garcia fit into the gang perfectly and it was nice to see him on TV again. I particularly enjoyed his commentary on Ted and Zoey's verbal sparring. The LOST references were also well placed and, more importantly, didn't feel forced. He was a great addition to a very entertaining episode.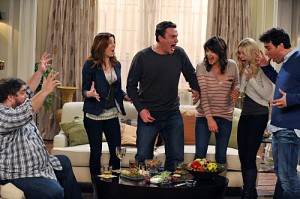 On the Ted/Zoey storyline front, they made an adorable move forward tonight becoming friends by the episode's end. After realizing that she's alone because her stepdaughter hates her, he brings the gang back to her house on Thanksgiving. You can tell these two are headed down the relationship path in the near future…but the question really is "Is she the mother?" I don't think so. Alan Sepinwall from HitFix agrees and made some points as to why she doesn't seem to be the mother in his review of the November 8th episode "Natural History" that you can check out here.
I've really liked seeing Jennifer Morrison in this type of role this season. She's quite funny and we didn't get to see enough of this in her stint on House. Here's hoping she sticks around a little even if she's not the mother.
Here's some additional thoughts I had while watching:
– Tur-tur-key-key …. HILARIOUS. I've recently heard of a turkey stuffed with a duck stuffed with a chicken but never of a turkey stuffed with a turkey. It might be genuis.
– 'Wang guy' should become a recurring character who they ask serious questions, to such as tonight's 'Can enemies be friends?' How phenomenal would that be?
– I wonder what Alyson Hannigan thinks about the proposed Buffy movie without Joss, SMG or the scoobies?! Disastrous and Devastating.
– Jason Segel is consistently amusing. I can't wait to see what he does with the new muppet movie.
My Quips of the Night:
"Worst idea ever. My junk ended up in some stranger's pocket, if their phone was on vibrate I basically dry humped them" – Marshall
" […] crotch shots, shooting stars, and double rainbows. I've missed them all" – The Blitz (Steve)
"It's a boomawang" – Lilly
"Dude you walked out of the room. The laws of physics stopped and the laws of awesome tripled." – Marshall
"You gotta throw me some addresses buddy" – Cab driver
So what did you guys think of Jorge Garcia's performance on HIMYM? How about Jennifer Morrison? Do you think she's the 'mother?' What was your favorite quip of the night? Let us know in the comments section below!
Tell us what's wrong with this post? How could we improve it? :)
Let us improve this post!