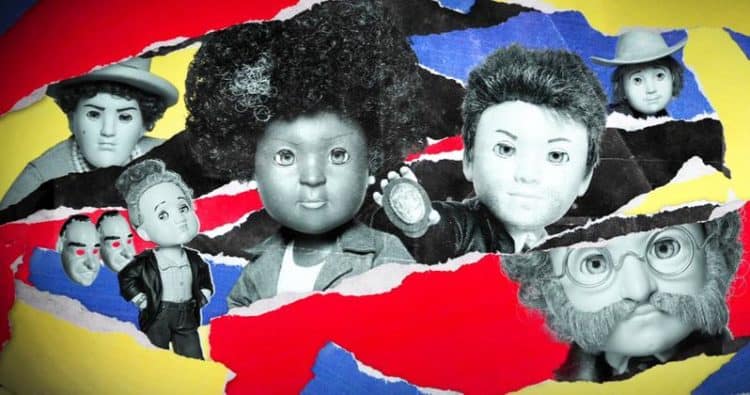 There was once a time when animated series were only for children, but that isn't the case anymore. Over the years, there have been some pretty cool animated projects for adults, and Ultra City Smiths is hoping to be one of the newest additions to the list. Featuring a star-studded voice acting cast that includes Kristen Bell and Luis Guzman, Ultra City Smiths is ready to be your new favorite show. Now that the official trailer has been released, the anticipation has really started to grow. The upcoming series aims to be entertaining, unique, and funny, but does the trailer accurately convey those things? Keep reading to find out what we learned from Ultra City Smiths trailer for AMC.
What Is The Show About?
Even though Ultra City Smiths is an animated series, it's not your typical animation. Instead of cartoons, the characters in the show are plastic dolls. That being said, this show might look like something kids will enjoy, but you might want to keep the little ones away from the screen when Ultra City Smiths is on.
On the surface, Ultra City Smiths has a pretty straightforward plot. The series takes place in a fictional town called Ultra City and follows two detectives as they attempt to investigate the mysterious disappearance of a local politician who was the last of the good guys. As they embark on their investigation, they begin to uncover lots of corruption and other issues. They eventually come up with an entire pool of subjects who all have one thing in common: their last name is Smith which is also the missing man's last name. This uncovers a whole new series of issues, and the detectives find themselves with lots of work in front of them.
Here's What We Learned From The Trailer
Despite the fact that Ultra City Smith's plot seems simple on the surface, watching the trailer will probably leave you a little confused. You might have to watch it a couple of times to get a solid understanding of what's going on. The trailer doesn't do the best job of really explaining what the show is about, but it does do a great job of making you want to know more. That said, most of the time when people watch trailers they do so with little to no information about the movie or show. For that reason, it's always nice for the trailer to be able to provide a clear understanding of what to expect. That aside, the trailer shows that no detail was spared when it comes to this show.
One thing we did learn, however, is that Ultra City Smiths is going to be full of dry humor. So, if that's not necessarily your thing you may not be able to connect with some of the jokes. Another thing we took away from the trailer is that the voice work is on point. The narrator and characters' voices definitely give what needed to be given. It's important to note, however, that the characters in Ultra City Smiths do have a tendency to randomly break out into song. If you're a fan of musicals, you'll definitely love this added touch. However, if musicals aren't your thing, you may find the singing slightly annoying.
What Critics Are Saying
Even though Ultra City Smiths officially debuted yet, it has already been released on AMC's streaming service. As a result, reviewers have already gotten to it out. So far, people seem to really be loving in. In a review for Entertainment Weekly, Darren Franich said,
"Any stop-motion project is a miracle for animation nuts, and Ultra puts its own distinctive spin on the format, with oddly expressive characters in dreamlike settings. The whole world looks busy yet desolate: the precise mood of a lonely subway ride. It's beautiful in a jagged-edge way, evoking multiple eras of urban arcana. The characters' stutter-y movements can be funny, moving, or mind-bending."
Overall, Franich seemed to really enjoy the show and he was impressed by the characters. He also believes that the show's producers did a great job creating a fictional world with all of the details we've come to expect from a real one.
When Does Ultra City Smiths Air
Episodes of Ultra City Smiths began airing weekly on AMC+ in July. The final episode was released on the streaming service on August 13. The series will make its official TV debut on September 13. Season one of the show consists of six episodes.