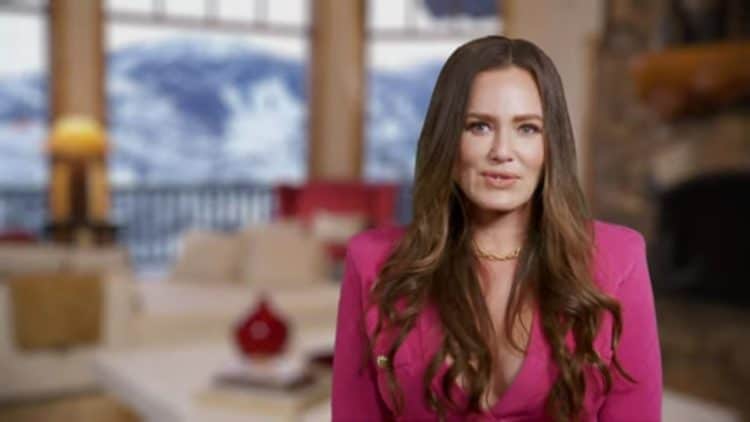 The Real Housewives franchise has recent introduced Salt Lake City to the family, and there is an entirely new cast to go along with it. Jewelry entrepreneur Meredith Marks is one of the women who has decided to go along for the right and she's already been getting a lot of attention from fans. Not only is Meredith a wife and mother, but she's also a very successful business owner. Salt Lake City may not seem like a fun or exciting city to people who have never been, but is here to show the world that it's a lot more glamorous than most of us imagined. Viewers will get to learn much more about her throughout the season, but here's what we know for now. Keep reading for 10 things you didn't know about Meredith Marks.
1. She's Been Married For More Than 25 Years
Meredith and her husband, Seth, have been married for nearly three decades. They also have three children together. Now that their kids are older, Meredith and Seth have come to a difficult point in their relationship and this will be a huge part of her storyline during season one.
2. She's Originally From Chicago
Even though she calls Utah home now, Meredith is originally from the Chicago area. Most people are probably wondering why Meredith would leave a big city like Chicago to head to a place like Salt Lake, but the answer is very simple: work. The entire Marks family moved to Utah after Seth was hired to be an executive for Overstock.com.
3. She Is Jewish
When most people think of Salt Lake City, the Mormon church is the first thing that comes to mind. Unlike many of her other cast mates, however, Meredith is Jewish. With that being said though, religion doesn't play a huge role in Meredith's life. She told Bustle, "Judaism, to me, is a time for family. It's a time to reflect back on the plight that the Jews have been through. It's less about the actual religion. I will go to temple from time to time, but not often at all. Usually it will just be on a high holiday if then even."
4. She's A Strong Supporter Of The LGBTQ+ Community
Meredith is a big believer in equal rights and she isn't afraid to make that known. She has shown lots of support to the LGBTQ+ community. It'll be interesting to see how this goes over with some of the other women on the show since Salt Lake City is known to be a fairly conservative place.
5. She Started Her Career In The Fitness Industry
Meredith Marks may be a big name in the jewelry world now, but she started her entrepreneurial journey doing something very different. Her first business was a pilates studio in Chicago which she opened with her sister. Before getting into jewelry, Meredith also worked in real estate.
6. She Likes To Travel
Meredith is truly a woman of the world and she has gotten to travel far and wide throughout the years. Not only has she visited many countries, but she's also lived outside of the United States. The experiences she's had while visiting different places have definitely helped mold her views of the world.
7. She's Been Friends With Lisa Barlow For Years
Like any other show in The Real Housewives franchise, there are some RHOSLC cast members who knew each other before the show. Meredith and Lisa actually met several years ago and have been friends ever since. Hopefully their friendship will be able to survive the show, but we've all seen how reality TV can tear people apart.
8. Her Jewelry Has Been Worn By Lots Of Celebrities
When it comes to jewelry, Meredith Marks is truly the real deal. Her pieces have been worn by some of the biggest names in the entertainment industry including Rihanna, Gywneth Paltrow, Adrianna Lima, and Gabrielle Union. Her brand may become even more popular thanks to the show.
9. Joining RHOSLC Wasn't An Easy Choice
Signing up to do a reality TV show can be a life changing experience, so it wasn't a decision that Meredith took lightly. In an interview with Female First Meredith said that agreeing to do the show as "a very big decision". She added, "I've always lived my life as a pretty private person so, putting everything out there on television all over the world was a very big deal and a very big decision to make."
10. She's Been Mugged
Chicago is a city that has become known all over the world for its violence, and this is something Meredith has experienced first hand. When she was still working in real estate, she was mugged. She told Female First that the attack was so aggressive that she was dragged across the street.