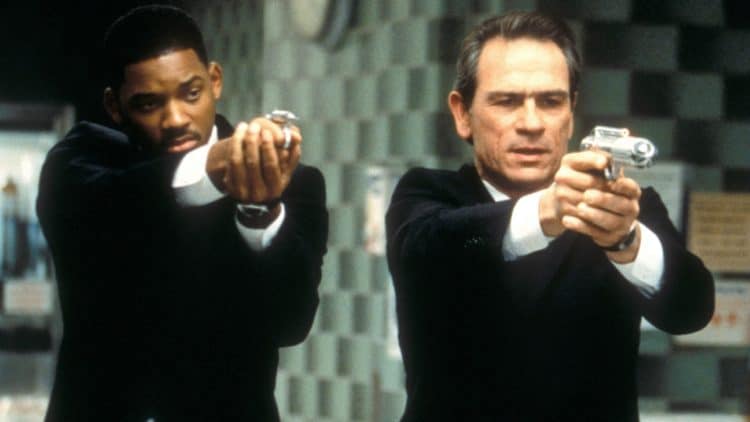 It was a movie that redefined the sci-fi genre and made us all believe in aliens. Men In Black, which is celebrating its 25th anniversary in 2022, is a movie that deserves to be rewatched and remembered for years to come. The story of two agents who work for a secret government organization that polices alien activity on Earth is still as fascinating today as it was when it first hit theaters in 1997. With groundbreaking visual effects and an unforgettable cast including Will Smith and Tommy Lee Jones, Men In Black is a classic that will never get old. A review by Paul Tatara on CNN wrote: "Men in Black is the wryest, sharpest, most entertaining special effects film in recent memory, a simultaneous participant and mocking parody of the more-bang-for-your-buck behemoth genre." Another one from David Hunter of Hollywood Reporter wrote: "A terrifically entertaining combination of alien conspiracy fears played for laughs and French Connection-meets-Ghostbusters thrills… Men in Black is so much fun one is actually mildly disappointed when it ends after an economically short 98 minutes." Needless to say, Men In Black was universally beloved by fans and critics, and while you can't say the same for its sequels, the movie as a standalone truly weathered the test of time as far as rewatchability is concerned. Here are a few reasons why Men In Black is a timeless movie that should be rewatched on its 25th anniversary.
The visual effects are groundbreaking
When Men In Black was released in 1997, the visual effects were unlike anything audiences had ever seen before. The film's aliens were brought to life with state-of-the-art CGI and puppetry, and the film's iconic final scene, which features an alien ship flying through the streets of New York City, is still one of the most impressive visual effects sequences ever put to screen. What's most especially groundbreaking about the special effects on Men in Black is that they haven't aged a day in 25 years. The aliens still look as realistic and believable today as they did when the film was first released.
The cast is unforgettable
Will Smith and Tommy Lee Jones both give brilliant performances in Men In Black, but they are also supported by an excellent cast of supporting actors and actresses. Rip Torn, Vincent D'Onofrio, Linda Fiorentino, and Tony Shalhoub all give memorable performances in the film, and each one of them brings something unique to their role. It's a testament to the quality of the acting in Men In Black that even the film's smaller roles are essential to its overall success. Fun fact about the casting: Clint Eastwood and Chris O'Donnell were originally planned to take on as leads in the movie. In a talk with Insider, director Barry Sonnenfeld said: "When we started up again, those were the two names in the mix. I had suggested Tommy Lee Jones and Will Smith. Will was actually my wife's idea. They went out to Tommy Lee Jones and he said he would consider it if there was a rewrite of the script. Then during that rewrite, Tommy got director approval so because of that I was off the movie again. This was for about four or five months. The irony is that Tommy was my idea to be in the movie in the first place."
It's the movie that made Will Smith a star
Before Men In Black, Will Smith was known primarily as a rapper and television actor. But with his charismatic and hilarious performance in Men In Black, Smith proved that he was a movie star. His chemistry with Tommy Lee Jones is electric, and he brings the perfect mix of humor and action to his role. It's no wonder that Men In Black was the start of a hugely successful movie career for Smith.
It's a Barry Sonnenfeld film
Prior to making Men In Black, Barry Sonnenfeld found success with The Addams Family and Get Shorty. But it was with Men In Black that Sonnenfeld truly found his voice as a director. His signature style is all over the film, from the witty one-liners to the impeccable comedic timing. Sonnenfeld's ability to juggle multiple genres is also on full display in Men In Black. The film is equal parts science fiction, comedy, and action, and Sonnenfeld handles each element with ease. It's no wonder that Men In Black was such a success; it's the perfect blend of genres, styles, and tones. In a talk with Insider, Sonnenfeld explained how Men in Black would arrive at his directorial desk: "I was developing "Men in Black" for a very long time and finally, after six years of trying, I was able to get "Get Shorty" made so I left "Men in Black" to do "Get Shorty." But I had heard they hadn't gotten a director they were sticking with. I was in L.A. having breakfast with my wife at The Ivy and at the next table was Barry Josephson, who was head of production at Sony at that time. I said, "Listen, if you're willing to wait until I'm done with 'Get Shorty' I would love to come back on 'Men in Black.'" So it was kind of kismet that I ran into Josephson. Otherwise, it's possible I never would have gotten involved again." Little did he know that it would become a classic '90s flick and one that would cement his filmmaking career.
The soundtrack is catchy
In addition to being a visual feast, Men In Black is also an auditory treat. The film's soundtrack, which features songs from artists like Stevie Wonder, Coolio, and R.E.M., is one of the most memorable and catchy soundtracks of the 1990s. The film's theme song, "Men In Black" by Will Smith, is still one of the most popular songs of his career, and it's impossible to hear it without thinking of the film.
It's a classic
Plain and simple, Men In Black is a classic. It's a movie that has stood the test of time and remains just as entertaining today as it was when it first came out. If you've never seen Men In Black, or if it's been a while since you've seen it, do yourself a favor and watch it again on its 25th anniversary. You won't be disappointed.