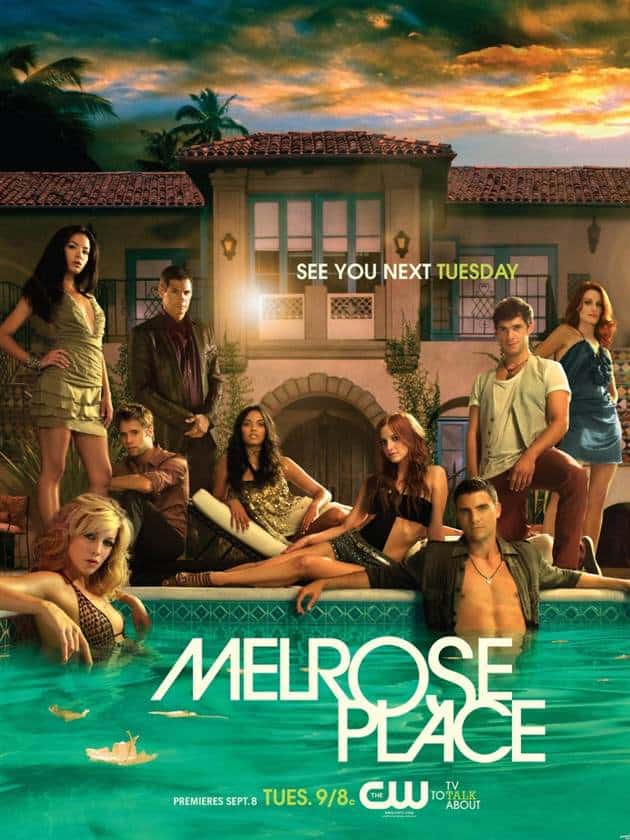 Since December 8th, 2009, fans of Melrose Place have been wondering what the hell happened to their favorite characters after a colossal cliffhanger that involved a catfight, a death, an overdose, and a hookup that left fans gagging for more. What will Riley think when she finds out about Ella and Jonah's night of passion? Will Lauren finally come clean to David about her second job moonlighting as a call girl? And will David ask what we have wondered since they hooked up: why didn't Lauren take his offer to pay off her loans? Will Violet and Auggie leave peacefully or in a blaze of glory? Will David know that his half brother is actually his son? Will Amanda wreck even more hell this time around than in the 90s? And most importantly…
Will the show survive to see this fall? I am praying for a yes answer for this question…
Melrose Place finally returns to our TV screens tonight and The CW brass, as well as the writers, promise a more "light" atmosphere than the "dark" and noir setting that was the back drop to the 'Who Killed Sydney (Laura Leighton)?' plot line that dominated the first twelve episodes and was solved in the Winter finale episode, "San Vicente". The return also marks the end of Ashlee Simpson-Wentz's role as Violet and Colin Egglesfield as Auggie and the entrance of a new resident named Drew Pragin (Nick Zano), a doctor who moves into the complex and clashes with Lauren. And last, but most definitely not least, we have more screen time for Amanda Woodward (special guest star Heather Locklear), who moves to the forefront with her new beau Ben Brinkley (Billy Campbell).
Are you not excited? I sure as hell am!
So for those of you who are new to the sultry complex that is 4616 Melrose Avenue, or if you just need a refresher for the new episodes premiering tonight @ 9/8c on The CW, then this primer is just for you. So sit back, have a drink and join us in the craziness that is Melrose Place and make sure that you have a shrink, some home insurance, and a lawyer on speed dial. Because with the residents of this apartment complex, you just don't know when those essentials will come in handy.
Meet Ella Simms (Katie Cassidy)
Ella is the resident vixen of the new crop of tenants of 4616 Melrose Place, who works as a publicist for WPK and loves her job tremendously. Spitting rapid wit and ample sensuality to boot, Elle has rightfully earned her place in the Hall of Fame of Melrose Place Vixens as Queen Bee of the current female residents, but got her card pulled by reigning Queen, Amanda Woodward, for not following orders. Ouch… Oh and did I mention she has a delectable taste in men AND women?! An added bonus….
Best Moments So Far
– Saving Her Ass By Landing Top Clients For WPK Without Breaking A Sweat
– Standing Up To Melrose Alum Jane Mancini By Refusing To Be Blackmailed By Her
– Taking Up For Neighbor Riley By Calling Another Melrose Alum Jo Reynolds Out On Her Crap
– Stealing Filmmaker and Fellow Neighbor Jonah Away From Riley
– Standing Up To Amanda Woodward… And Living To Tell About It
Worst Moments So Far
– Sucking Up To A Client By Selling Out Jonah… And Lying About It.
– Stealing Jonah Away From Riley
Where Did We Last Leave Her?
After helping Jonah land a movie pitch meeting that turned into a movie deal, Ella decided to go chill at a swank hotel where Jonah later found her and admitted his attraction to her. The two consummated their relationship in total ecstatic bliss.
Meet Jonah Miller (Michael Rady)
A struggling filmmaker, Jonah could be considered the "Billy Campbell" of the bunch with his acerbic wit and quick judgement on those around him, which can be kind of annoying after awhile. He stays with the love of his life, Riley Richmond, and runs a videography business to help pay the bills. He's a proud geek, who makes runs to the comic store on a regular basis, but still manages to find the time for Riley, who he proposed to in the pilot episode. The two constantly go back and forth on if they want to get married or not during the first twelve episodes.
Best Moments So Far
– Taking Over and Directing The BoomKat Video That He Later Didn't Get Credit For Courtesy of WPK.
– Correctly Calling The Fact That Violet Was A Complete Nut From The Get Go
– Catching A Sleazy Producer Who Was Sleeping With His Daughter's Best Friend On Tape. The Producer Later Bought Jonah's Film.
– Kicking Ass In The Pitch Meeting Ella Got Him
Worst Moments So Far
– Leaving Riley Sorta At The Alter (It Was A Gas Station)
– Wrongfully Accusing David of Stealing A Priceless Necklace From One of His Clients
Where Did We Last Leave Him?
After landing a movie deal courtesy of Ella, Jonah was leaving to go to Vegas to wed his fiancee, Riley. But after Ella broke the news that Jonah got the deal, he and Riley had an argument that ended with Jonah leaving Riley at a gas station and ending up in the bed with Ella.
Meet Riley Richmond (Jessica Lucas)
Schoolteacher Riley is like the mother hen to the denizens of Melrose Place. Considered boring by some fans, Riley is a more responsible person and is the polar opposite to her fiancee, Jonah, who is irresponsible and goofy at times, but Riley still loves him for who he is and that's all that matters him. But neighbor Auggie has eyes for Riley, which causes her to rethink the whole marriage to Jonah thing… Riley also is the most warm hearted person of the group who will stick her neck out for everyone. Even Ella, who she wouldn't trust with a plunger and Violet, who is trouble in the flesh.
Best Moments So Far
– Taking On A Model Campaign To Help Jonah Pay The Bills Despite Not Being Comfortable About It
– Getting Jonah To Talk To A Producer At A Swank Hollywood Party
Worst Moments So Far
– Turning Auggie In To The Feds For The Murder Of Sydney Andrews
– Kissing Auggie in a Drunken State
– Bailing Violet Out of Prison
Where Did We Last Leave Her?
After revealing to Jonah that she isn't sure about getting married at the moment, Jonah gets fed up and leaves her at a gas station in L.A. After telling Auggie the news, he tried to kiss her, but she pushed him away and locked herself up in her and Jonah's apartment, where she tearfully watched the anniversary/proposal DVD Jonah made for her in "Pilot". Not a good ending
Meet Lauren Yung (Stephanie Jacobsen)
Lauren is a medical student who moonlights as a hooker to pay her med school bills. The two lifestyles are about to collide,especially with her budding relationship with neighbor David heating up to the point of sauna temperatures. Lauren can be considered the hooker with a heart of gold, only if she had her heart in what she does when she finishes her medical rounds for the night.
Best Moments So Far
– Falling in Love With David
– Rightfully Saving A Patients Life and Proving to Dr. Mancini, Her Superior, That She Belongs In The Medical Program
– Saving Noah, Dr. Mancini's Son, By Rightfully Diagnosing His Condition
– Getting David To Turn A Better Leaf
Worst Moments So Far
– The Whole Hooker Thing. Sorry, She Had Other Options After A While…
Where Did We Last Leave Her?
After meeting up with an old client, Lauren overdosed on some drugs the guy slipped in her drink. She managed to call David to save her before passing out. After getting her to the hospital, David stood by Lauren's side, wondering how the woman he loves ended up OD'ing in a hotel room. Lauren's cover could sooo possibly be blown now…
Meet David Breck (Shaun Sipos)
If Ella is the top alpha female of the new Melrose crew then David is it's Alpha male. Born the son Michael Mancini, mad doctor extraordinaire, David has the penthouse suite, a nice ride, and is the only one of the residents with out a job. Seems like Michael's pockets have been nice to David, right? Nope. He stills from the rich for fun and sells the items to make his ends meet, because let's face it: being a pretty trust fund boy is sooo 1990s… When David's not hocking jewelry or paintings, he is spending time with his half-brother Noah, despite the wishes of Michael and Michael's wife, Vanessa.
Best Moments So Far
– Stealing From The Rich, Because They're Snobby (Righteous)
– Sending Jane Mancini Packing And Not Breaking A Sweat
– Finding The Crucial Piece of The 'Who Killed Sydney?' Storyline
– Hacking Into Michael Mancini's Computer, Which Had Dirt on Melrose Place Residents, Past and Present
– Hooking Up With Lauren
– Surprising Lauren With A Home Away From Home Fall Dinner and Setting
Worst Moments So Far
– His Drunken Blackouts
– Hiding The Murder Weapon in the 'Who Killed Sydney' Case
– Leaving His Little 'Brother' Noah With Violet… Not cool.
– Telling Violet That Vanessa Killed Her Mother. Just Asking For Trouble…
Where Did We Last Leave Him?
After finding out from Michael that Vanessa Sydney, David left Noah with Violet so he could go rescue Lauren from death. He was last seen standing by Lauren's side as her stomach was pumped. We also found out that his little brother Noah could actually be his son! DUN DUN DUN!!!!!
Meet Auggie Kirkpatrick (Colin Egglesfield)
Auggie's life is his job, which is a chef at the local night spot, Coal, and maintaing his recovery from alcoholism, which was brought on after the accidental death of his previous girlfriend. While he was one of the two available bachelors in the complex, Auggie has a huge crush on Riley, who is engaged to Jonah and he's the object of obsession for poor Violet, who's vain attempts at bedding him went for naught for awhile. Oh and Auggie also bedded Sydney once after meeting her at an AA meeting and she became his sponsor. But she stabbed him in the back, literally, and this revelation is one of the few reasons Auggie was a key suspect for the police, his neighbors, and the audience a like.
Best Moments So Far
– Knocking His Boss, Marcello, On Him
Worst Moment So Far
– Helping Instigate the Break-up of Riley and Jonah
– Skipping Town When He Was The Chief Suspect In the Murder Case
Where Did We Last Leave Him?
After coming back from jail and finding his place wrecked from a police raid, Auggie tried to find solace in Riley who wasn't going, but Violet was primed and ready for the taking. But Auggie didn't want that, he wanted Riley who put her foot down on his advances. This left Auggie broken and looking to jump off the wagon into hell.
Meet Violet Foster (Ashlee Simpson-Wentz)
Even though we found out that Violet was the long lost daughter of Sydney, she could have been better suited to be the offspring of Kimberly Shaw, the original nut case on Melrose Place. Violet moved into Melrose looking for love and affection from her mother, but got a cold reception that led to Violet testing her inner crazy and freaking out the other residents in the process. But she found solace in stalking poor Auggie, who kind of had a clue of Violet's crush, but not the complete extension of it, which was BAD.
Best and Worse Moments
– Please Read Here, Because A Paragraph Will NOT Do Her Any Justice…
Where Did We Last Leave Her?
After finding her mother's murderer in Vanessa Mancini, Violet kicked her ass and drowned her in the iconic pool that centers the apratment complex. She was then comforted by Amanda Woodward, who witnessed the whole thing and has a plan up her sleeve for our little Violet. Later she noticed that Auggie is still pining over Riley and burns his pictures as closure.
Get Reacquainted With Amanda Woodward (Heather Locklear)
Do I need to even introduce Amanda Woodward? Like, really?!?! The Queen of them all to the point that she doesn't even need a title to claim. Amanda returned to L.A. after faking her death in the original series to save the face of her publicist firm, WPK, which was being ran by Ella's boss, Caleb, who Amanda despised vehemently. After firing his ass, Amanda moved back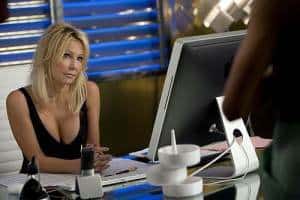 into the complex with the agenda of finding something that Sydney allegedly stole from her and to make the lives of the new residents a living hell. Especially Ella, who modeled her career after Amanda.
Best Moments So Far
– Just About All of The Classic Moments From the Original Series
– Her Impromptu Appearance at the L.A. Office of WPK and Firing Caleb
– Telling Ella That She Doesn't Have What It Takes To Be On Amanda's Level
– Confronting Sydney While She Was Praying At Church
Worst Moments So Far
– Whatever, like that is even possible…
– Oh, Wait… She Did Get Riley Fired From Her Teaching Job Because Riley Took A Sick Leave For The Photo Shoot. Oh Well…
Where Did We Last Leave Her?
Amanda was last seen placing a phone call to someone to come check all the apartments for a missing painting worth a cool million that Sydney hid from Amanda. Also, Amanda comforted a distraught Violet after the epic battle in the pool.
Get Reacquainted With Dr. Michael Mancini (Thomas Calabro)
The duplicity never ended with Michael Mancini after he fell in bed with Sydney Andrews all those years ago. But that was then, this is now. Michael is a family man with beautiful wife, Vanessa, and son, Noah. Michael must've had a one night stand with someone before he met Jane, because that ended in the birth of David Breck, Michael's illegitimate son who he has a seriously strained relationship with. The relationship is so bad that David doesn't use any of his trust fund provided by Michael to survive, but would rather steal from his rich father instead. But even though Michael has a new exterior, duplicity of others will forever be his mistress no matter who he marries.
Best Moment So Far
– Having Files On All of the Residents of Melrose's Past and Present
– The Confrontations Between Him and David
– Saving Sydney Andrews After She Was Ran Over On Her Wedding Day
– Being Michael Mancini
Worst Moments So Far
– Blackmailing Lauren
Where Did We Last Leave Him?
Dr. Mancini was in a holding cell waiting for David to clear his name by revealing Vanessa as Sydney's murderer.
So that's it folks! You are primed and ready to delve into the insanity that is Melrose Place and not have a problem catching a ride. Are you ready to sign the least to this crazy complex? I promise to be your guide through the heartbreak, the backstabbing, and the poolside debauchery that you are just dying to get involved in. Seriously! Just ask Sydney Andrews!
Melrose Place returns tonight @ 9/8c on The CW!!!!