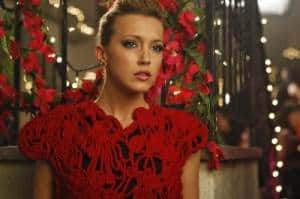 If there was any other reason to not miss Melrose Place this week other than the greatness that is the show itself, then a mini reunion of the original MP cast should've had you tuned in and glued to the seat of your comfy sofas.
The Set Up
Jonah is prepping the courtyard for a blowout party to celebrate the selling of his script. David asks Ella if Lauren has said anything about their breakup, but Lauren has remained mum. Meanwhile, Lauren and Riley are about to initiate a girls' day out, but Dr. Michael Mancini calls her in to work. Riley's day is salvaged though when Drew enlists her in helping him pick up toys for the pediatric ward at the hospital.
Amanda gets a visitor (and we get a special guest) in Jane Andrews as she comes in to check up on why the hell Amanda hasn't fired Ella yet. Excuse me? WHAT?!?! Amanda tells Jane to hold her horses, but Jane comments on Amanda being only a tenant and can be tossed on her ass in a jiffy. Damn, Amanda! You're broke AND Jane Andrews has the ups on you? The new millennium is NOT being good to you!
Meet and Greet And Treats To Beat!
Lauren gets to the hospital and helps Michael with a surgery, but he isn't finished with her. She never completed her transaction with him from the night he found out about her extracurricular activities and wants to collect. But Lauren is saved by a triple bypass surgery that Michael has to scrub into. But he tells her that she better answer her phone when he gets out. Uh-oh…
Ella finds out that one of her clients was billed $200,000 dollars from WPK, which is soooo not his fee. Amanda warns Ella that if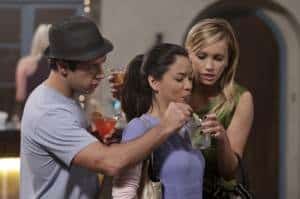 anyone is embezzling money from WPK then they will be without a job quicker than Ashlee Simpson-Wentz's stint on the show. Ella finds Joy Reynolds and asks her about her payment of $200,000, but Jo balks at that price, revealing that she only got $20,00 dollars for her work on the Anton V shoot with Riley. Ella's gears began to work.
David operates the newly purchased Coal, but gets a shock when Morgan arrives with her father's five thousand watch as a gift and she wants more of what David has to offer. When David declines, Morgan pulls out her "my father will kick your ass card" and plays it with gusto if David doesn't give her the goods. Damn, David.
Riley and Drew get to know each other pretty damn well and Riley confirms to Drew that she basically is done with Jonah. Drew displays his charm and gets Riley to blush throughout their scenes with each other. I like these two together, but I smell something amiss.
Amanda finds out from her source that Sydney put all her paintings into a storage unit and realizes that she will have to play nice with her current residents to get info from them. What better way to do that than attend Jonah's blowout?
There's No "Place" Like "Melrose" aka The Party, aka The Reunion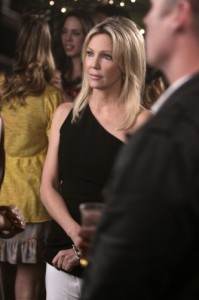 Ella confides in Jonah about someone trying to set her up. Lauren shows up and complains about Michael, but runs off as soon as David shows up. Michael calls, saying that he is on his way to the hotel. Lauren decides to risk it and stay home.
The party is at full swing and Amanda buys drinks for everyone, possibly to get everyone so preoccupied that she can snoop around. Drew and Riley show up and Jonah is shocked to see them together. Not really shocked, but peeved.
David confronts Lauren about why she broke up with him and he thinks it has something to do with his background. He just doesn't know when to let go and as Lauren tries to explain to him, Michael shows up and she freaks and runs away from David. Amanda inadvertently saves Lauren from Michael's prowling and Jane enters the scene and Michael is lost for words. The two play catch up and comment on how the building has a "strange gravitational pull". Wow…
Amanda comes to Ella on a truce for now, but only to butter her up to get info on Sydney. Ella suggests that Amanda talk to David, who is the Sydney guru. Amanda then goes back to business and asks Ella about the client accounts. This prompts Ella to reveal her suspicions of embezzlement within the company, but never reveal your suspicions to the culprit, because it is the know-it-all who is the first to go.
Riley and Drew play beer pong and are about to call it a night when Jonah comes in wanting to challenge Drew. Jonah ends up winning and acts an ass, but it doesn't phase Riley and Drew who leave to go do something else. But Jonah can't keep his eyes off the two. Later while looking for a bottle opener in Riley's apartment, Jonah comes across Riley and Drew making out. He leaves and vents to Ella of all people about what he just witnessed in his old apartment. Why Ella didn't get in his ass for even being bothered with Riley is completely lost on your boy here.
Lauren locks herself up in her apartment, but David begins knocking on her door. While both of them linger at the door, David is the first to crack, thanks to Morgan who has shown up at the party. Is it me or is this girl becoming annoying? David takes her to his apartment to get her from Lauren's front door. When they get up there, Morgan admires a painting and believes he hocked it. She then pounces David and despite him telling her that he is dull as nails, Morgan tells David that he will never be dull. Enter Amanda who saves another MP resident, who waits till after Morgan leaves and lays into David about Sydney, the paintings, and David's thievery. David mentions that Sydney gave Auggie a painting as well and I immediately want to tell Amanda to call off the search, because she's not getting that one back.
After Michael gets shot down by Jane, Jo shows up and the group is finally met with Amanda, who tells them to reunite in ten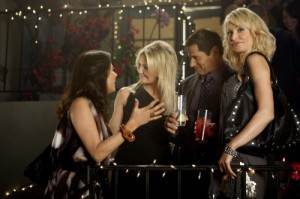 more years. After the moment of the night, Jo confronts Amanda about the embezzling, because she smelled Amanda's scent all over it when Ella brought it to her attention, especially after the scandal at D&D Advertising in the original series. But Jo learned a few tricks from good ole Amanda and demands that a check be made to her charity, unless the "Queen of Publicity" wants the world to know that she sunk her own company under. Oh and Ella hears ALL of this!
Drew approaches Jonah about the incident in Riley's apartment and asks if Jonah is really, really, REALLY over Riley. Jonah claims that he is, but after Drew mentions going to a hardware store to buy a deadbolt for Riley's door, Jonah loses it and the two get into a scuffle that ends with them in the pool along with a few other drunkards.
Michael still wants a night cap with Lauren and blows her phone up to the point that Lauren is in tears. Michael ends up in front of her door and is ready to snitch about her night life to her friends. Lauren has had it. She marches out to the residents of MP and tells them everything. Her friends are shocked, but the moment that breaks her is when David walks away in disgust.
The Morning After
Ella and Jonah – The two wake up, hung over as hell, and summarize the previous night's events. Ella finally questions him about his behavior last night over Riley, and he, again, says that he's over Riley. Yea right. Ella then gets a summons from Amanda to come to the office, which is closed due to it being Saturday. Uh-Oh…
David and Lauren – While David laments over breakfast at Coal, Lauren approaches him and tries to talk to her. He rips her up with insults, but Lauren tells him that despite all that she is in love with him. She leaves David to ponder this fact, but boy does he have a lot to think about.
Riley and Jonah – Riley runs into Jonah on her way to jog and awkwardness abounds. She confronts him on his behavior and after Jonah apologizes, she reminds him of how many times he and Ella have flaunted their couple status in front of her face and she didn't claw out Ella's eyes afterwards. Good point.
Drew – The newest resident of MP seems to have some skeletons in his closet. I get this from the fact that he snuck into the morgue at the hospital and began cutting up on a dead guy. Wassup with that?
Amanda and Ella – As soon as Ella gets into the office, Amanda lays into her for embezzling money from WPK. WHAT?!?!?! Ella reveals that she knows what Jo and Amanda discussed the night before, but Amanda feigns ignorance and gives Ella a second chance, although she will be watching Ella like a hawk…
The Melrose Place Community Letter
– The reunion was on point for what it was. I wonder how many old MP fans yelped in joy as much as I did when the four original cast members appeared on screen together.
– So Lauren came out! I fear for her now, because even though her friends know, what about the Board of Directors at the hospital?
– Ella vs. Amanda Round One! It is sooo on!!!! I would bet on one of them, but that would be like picking sides and I have to know how the hell Amanda got broke in the first place.
– What the hell is up with Drew and dead bodies? I don't know if I will like this! What will Riley think?
– Jonah. <SMACK!>
See you guys next week!