Did anyone think that Melrose finally ramped up the volume on the crazy last night? Well, I sure as hell did! We had a psychotic ex-boyfriend/brother, backstabbing friends, scheming fathers and scheming sons, and the search for what is slowly becoming the Holy Grail for our beloved Amanda Woodward. No not the item that she is looking for, but the reason behind her canoodling with Sydney Andrews in keeping said item. What in God's name could prompt Amanda trust Sydney of all people? I still have scientists and other scientific working on that paradox as we speak. Until we find that answer, how about that recap? Update: I BET I found that answer!!!! Read after the recap!!!!!
The Set Up
Everyone in LA is either getting some lovin', about to get some lovin, or is about to postpone the lovin'. David and Lauren return home from a concert date, but have to end it at the door due to Lauren having to do rounds in the morning. I doubt that, but Ok. Jonah prepares for his first day as an IT analyst for WPK that Ella pulled for him. He and Riley engage in some lovin' after Riley complains about not having a job any more. Michael Mancini returns home to Vanessa, who immediately ruins the foreplay by saying that she found David snooping around again. Michael immediately becomes worried and after he goes outside to check his car and finds Sydney's necklace is missing, he gets angry.
But Michael might have bigger fish to fry. Amanda is back in town and she is hellbent on finding that item and it seems that she has access to every resident of Melrose Place and maybe the entire LA area. She comes across Michael's information and her peripheral is set to "stun". Amanda Woodward with that much damn power? God Help Us All…
Amanda Woodward and the Quest for the Missing Object!
Amanda stops by Michael's place to see if he has any clue of the whereabouts of her secret object. The reunion had a few quibs and I giggle with glee. Amanda reveals that she and Sydney stayed in touch until Syd's murder which, like I said before, bewilders me to no end. Michael doesn't know what Amanda is talking about a directs her to David, who makes it known that he doesn't care too much about any of his dad's past associates. He also tells Amanda, who knows about David's knack for stealing, that he would've helped her if she hadn't accused him of being a thief. Son, don't toy with a snake. Amanda immediately doesn't hesitate to strike and warns David that the police would love to hear about David's part-time hobby. I wonder what does she have on everyone else?
Liar, Liar! Ella Gets "Fired!"
Jonah meets Ella at WPK and after an icy introduction from Amanda, Ella puts Jonah to work. But Jonah makes it known that he is there for work, not Ella's boy toy. I am sure Ella was over Jonah. Did I mention that I am seriously starting to dislike him? I did? Ok. Just checking.
When Jonah cracks into the mainframe he discovers that he can find just about any and everything in the server via email, video chats, etc. Ella then asks for a favor: find out what Amanda has on her. Jonah plays Moral Orel, but he eventually does the deed. Turns out that Amanda only needs Ella to land more profitable clients and that's it. I think that Jonah didn't look hard enough, but that's me. While I was wondering if Jonah would come across the fact that Amanda got Riley fired while sifting through the files, he instead finds an email from Ella to Caleb, which consisted of applauding Caleb for giving the Boomkat video shoot credit to the other director and not Jonah and that it was a "good thing".
Jonah is livid. I could care less.
Meanwhile, Ella bumps into Amanda who notices that Ella is busting her ass and it shows. But Amanda also tells Ella that her computer is rigged to know if anyone tried or succeeds to crack into her computer. She gives Ella a verbal 'warning' and sends the Mini-Me on her way.
Later, Jonah finally confronts Ella, who is really sorry about the whole thing, but Jonah has had it. He doesn't trust her anymore and declares that as his publicist, motivational speaker, and friend, Ella is 'fired'.
As if WPK cares…
Riley Gets Involved In Violet's Most Craziest Moment of the Week Yet!
So while Jonah is at work getting his feelings hurt, Riley gets bored with domestic life and who is at her door to spice things up? Our resident red head crazy, Violet, who doesn't disappoint and brings the crazy dead on as she repays Riley for bailing her out of jail that one time. After that is over, she creepily berates Riley for not sticking up for Auggie and for ratting him out. I am scared for Riley at this moment, but she manages to escape Violet's eye daggers to live another day.
Later while working at Coal, Violet is shocked to see her "brother" Levi show up from Ohio, which leads me to think that the writers have a fascination for Levi Johnston for using that name. But that's not the most frakked up thing about this reunion. Levi wants Violet to come and that their parents will understand why she left. Violet doesn't want to go back, because after finding her birth mother, she found herself in LA. Hmmm. Right… Auggie must've put it down nice, hard, and right. But then Levi grabs Violet's hand and asks to come back for him. Eh. Eh. EWWWW!!!
Violet tries to tell him that what they did was not right, but Levi says that they are far gone looking at the immoral complications in their past relationship. He says he wants to stay with her, but Violet says no. But that doesn't stop Violet from finding the crazy guy in her apartment fixing her sink. Violet freaks and asks him to leave, but he doesn't want to. Levi offers the money she owes him (which he paid back to their "Dad" to cover Violet stealing it) as cover for rent, but Violet still says no sale. Then before Levi gets physical, Riley pops up out of nowhere having heard the whole conversation and offers Levi the money to bounce. Before leaving, Levi tells Riley that Violet's manipulative. Um, Duh! The two discuss Auggie (who is MIA mind you) and they call a truce.
Later, Riley returns home and Levi barges in and starts trashing Jonah's film equipment, demanding who the hell is Auggie. When Violet shows up with a bat and Riley has her finger on Send to call 911 to make Levi leaves, he smashes Jonah's camera!!!! Jonah's moneymaker! Jonah's LIFE!!!!! Levi then storms out.
Sorry, but if that was my camera, he would be one dead son of a….I will give Jonah leeway as a fellow filmmaker, because he has EVERY right to whine now.
When Jonah comes home, he is rightfully devastated and tells Riley that Violet is trouble and so is Ella. The two make up for know, but Jonah is going to feel that camera in the morning and is going to see RED!
Like Father, Like Son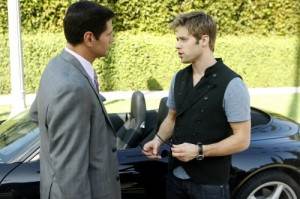 David is on his way to turn in the evidence that he has on his father, but Michael drives up and decides to have a father/son chat with David, who isn't scared of his father and makes that point known. But Michael goes dark and mentions Lauren's performance at work. In other words, if David doesn't back off then Lauren's career is in jeopardy. That's the Michael Mancini I know and hate!
David goes to Det. Buzz Killingto (aka Det. Rodriguez) about the necklace, but Det. Rodriguez says the case is out their hands since they got Auggie for the murder. Then he also includes that since the necklace was stolen, its inadmissible in court. David comes up with a plan. He tells Lauren to watch her back at the hospital, but she doesn't believe him and only sees good in Michael.
Later, Mancini gets in Lauren's ass about nearly killing one of his patients by giving them the wrong meds. Lauren is ashamed, even if she feels that she was right in her job. She calls David and he tries to get to her again about Mancini, but she realizes that David stole the evidence against him and she feels a little sour about that tidbit.
A few moments later, Lauren goes to Mancini and tells him everything that David told her about the necklace, the murder connections, etc. A complete Benedict Arnold. Mancini thanks Lauren for the info.
Later as Michael is snooping in David's apartment, he finds the necklace. As soon as he pockets it, Det. Rodriguez appears as do other cops and arrest Michael on the spot. Det. Rodriguez tells Michael that they got a tip of a burglary and then I am like AHA!!!! SET UP!
But I doubt this murder is far from solved…
Conclusion
David thanks Lauren for trusting him, Ella and Jonah are still not talking, and David calls everyone together for a toast to clearing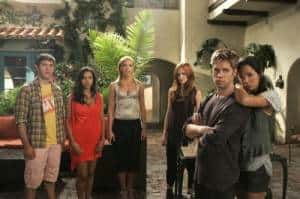 Auggie's name (who is still nowhere to be found) and sending his dad up the river. Then Amanda walks in with news that she is moving in Sydney's old apartment until her Bel Air home is finished. She also states that she can't wait to be a part of their lives.
That's code for "I have dirt on each and everyone of you and your souls are mine!"
Credits.
Mail Call!
– Violet screws her adopted "brother" and he wants more of it. I don't know who is more insane in that equation.
– Ella actually wanted Caleb to give the Boomkat video credit to the original flake of a director over Jonah? Highly doubt it. If anything, Ella was kissing Caleb's ass in that email, which is something Jonah should have thought about and will have to get used to if he wants to make it in Hollywood
– When will Riley learn to stop helping the bad boys and bad girls and just become one of them?
– Amanda and Michael's scene. Talk about killing them softly with a smile!
– Michael is so not the killer. Now that Levi is in the picture, I can see someone got a little jealous and went a little knife happy after seeing the object of their affection be turned down by her newfound mommy. But that would not work well with the overall story if they brought in someone last minute to be the culprit.
– Did Auggie leave town already? Hmmm… They said they had him in custody, but why?
– Amanda moves into the apartment complex 'temporarily'. My ASS!
WAIT!!!! Amanda's looking for the DEED TO MELROSE PLACE!!!!!! It makes sense! Amanda owned the place throughout the original's run and then Sydney all of a sudden is the landlord?!?! Think about it…
Your boy is good… See ya next week!!!!!