OMG.
That's all I have to say after watching the final ten minutes of Melrose Place last night as well as the first ten. If people still have problems about this show then they are clearly delusional. So what had me grappling with my jaw at the close of the previews (yes, even the previews were jaw dropping)? Let's get right to it.
Again, this week show was separated into storylines and I will break each up individually. Let's start with…
Ella and Jonah
Ella gets a message from Caleb (guest star Victor Webster) concerning a client who has dropped out of directing a video for a big music group called Boomkat which could be a PR disaster. Ella comes up with an idea that could help both her professional and personal life. Enter Jonah, who has just learned from Riley that no one close to her knows about the engagement. Not even her parents, which is odd because it is tradition for the guy to ask the father of the bride for her hand in marriage. Yes, I am a guy and know that. Moving on…
Ella makes this the perfect opportunity to do damage control while dishing out some damage at the same time. Ella has picked Jonah as the replacement director for the video shoot, which could be a big break for the guy. Once Jonah gets on set, he gets another pep talk/come on from Ella, who really genuinely believes in the guy. But once Jonah meets the gun-toting diva Kat (guest star Taryn Manning), it wouldn't be a stretch for him to think that Ella set him up with a helping of crazy.
But after getting Kat to come out of her shell and lose the paranoid, Jonah comes into his element as he directs the video and orders a new storyboard. Despite Ella instructing Jonah to follow the treatment for the video that the label approved, Jonah's video comes out on top and scores big with everyone. So good in fact that the original director wants his name on it and not Jonah's. Thank Caleb for being a supporter (and creator) of that blatant form of plagiarism. Ella doesn't like one bit that she (and Jonah) got played, but succumbs to Caleb's demands due to fear of losing her job. God, I hate Caleb…
Meanwhile…
Riley and Auggie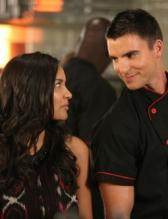 After Jonah left for the video shoot, Riley first entertains Violet (more on that below) and then confides in Auggie, asking him for some advice on a romantic apologetic dinner. Later Riley, after visiting the set and getting blown off by Jonah, confides again in Auggie and a bottle of Merlot. It doesn't take long for Riley to be sloshed drunk. It also doesn't take even longer for Riley's lips to stumble upon Auggie's. And that's sad, because Jonah turned down a strip pole rendezvous with Kate and defended Riley to Ella. Auggie doesn't turn away from the kiss, but Riley does. The more Riley screws up the more we are going to hate her, don't you all agree? When Jonah comes home, Riley tells him that she has notified all her loved ones of the engagement, which makes Jonah's day (until Ella tells him about the plagiarism, that is). They then have another revelation/lesson of the week when Jonah says that they shouldn't have to be scared to talk to each other about anything and no more secrets. Awww…. Yawn. Wonder when that kiss will leak out?
The Weirdness That Is Violet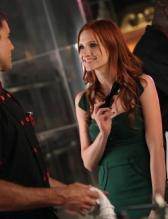 Violet, you are your mother's daughter. But could somebody have thrown in a dose of Kimberly in that mix as well?
Violet is almost caught by Lauren in Sydney's apartment (which is still a crime scene, mind you) stealing a dress. The dress is the same one that Sydney had worn when Violet bought her apartment. Violet wears the dress to work, as a means of catching Auggie's eye. She also bought Auggie a pair of two hundred dollar sunglasses as a token of her appreciation. Damn, sunglasses cost that much? What do they do? Send signals or something? Auggie declines the glasses and Violet is not too pleased, but hides it. Again, Violet, you are your mother's daughter…
If there is anyone who felt that they have been deprived of the maniacal doctor of yesteryear, they had a serious overdose of Michael Mancini last night.
Michael, David and Lauren
David thinks that Daddy Dearest is responsible for Sydney's death and will make it his part time job to prove. The only thing to me is that David is seriously distracted when it comes to endeavors. Last week, while thieving he breaks out a backstory that came out of nowhere. And now he is all of a sudden interested in who killed Sydney. I just hope David stays focused this time around, because the mystery is heating up.
As I said, David wants to know what Michael is hiding so he breaks into Michael's house and steals Michael's hospital pass. But before he can leave, Michael and the latest Mrs. Mancini, Jenna (guest star Brooke Burns), arrive. David declares that he was leaving a present for his little half brother Noah, but Michael invited the art of scheming and knows that David is up to something. While David continues to throw accusations, Michael's bad guy gone good resolve slowly but surely peels away.
First, we get the first of four flashbacks through Michael as we finally find out how in God's name Sydney survived being mowed over by a high speeding car on her wedding day. Sporting a horrible toupee, Michael tends to Sydney who says that somebody from her past ran over her (huh??!?!) and had threatened to kill her husband (double huh?!!??). Anyway, Michael switches the death certificates and Sydney warned him that doing so could cause him his practice. He tells her she is worth it. Hmmm…
Next, after moving on with his life, Michael is surprised when Sydney appears in his home after being gone for some time. Sydney informs Michael that she is fresh out of jail for faking her death, which she didn't reveal Michael's part in. Fast forward to the night of Sydney's murder, Sydney (clearly off the rails that night) calls Michael, who tends to a sleepless Noah, with the threat of turning Michael in to the board of doctors for his part in faking her death. Michael has had enough. He sends little Noah to bed and declares that Daddy has errands to run.
Dum, Dum, DUM!
In the present, David uses Michael's security pass to get into Michael's office and download files off if his computer. Lauren walks in on this, but David lies about a lunch date he had with Michael. After interviewing Lauren for a spot as an intern on his team, Michael learns from Lauren that David had been in his office.
David returns home later that night and finds the same toy truck he left at Michael's place sitting on his coffee table. Michael steps out of the shadows and teaches his son that he is the king of all blackmail, debauchery, and downright evil and will 'play this game'that David has started. He also tells David that he will monitor all of his little friends and anyone else close to David. Keeping his word, Michael accepts Lauren onto his team despite him having a concern about Lauren's debt, which was a huge issue before. Later, David uploads Michael's files on his computer and what was on the USB stick?
Files. Files on Jane, Jo, Allison, Amanda, Ella, Auggie, and a blank rental application for presumably Melrose Place. As the show ends, David takes the words right out of my mouth: 'What are you doing, Dad?'
OMG.
The previews show a more confident Jane Mancini telling the tenants that she is their new landlord.
OMG. WTF?!?!?!
I am officially addicted to the drug that is Melrose Place and can't wait for Michael Mancini to deal me my next dosage next week.