If anyone thinks that Melrose Place isn't a great show as well as deserve another season, then they clearly, CLEARLY, missed last night's episode. The storylines are ramping up and the backstabbing and twists are phenomenal. Don't believe me? Let me count the ways by recapping.
Set Up
Everyone (sans Riley and Amanda of course) celebrates Jonah selling his screenplay at Coal, but Lauren has to leave early to do rounds. After Ella takes off to answer a call, Jonah and David discuss the absence of Riley and the convenience of Ella. Jonah mentions that while Riley was stable girl, Ella is a complete 180 of that. David advises to let things run their course.
Lauren makes it to the hospital in time to find a patient almost coding, because he was having a reaction to the penicillin that he was prescribed. And who happens to be his doctor? Michael Mancini. Michael berates Lauren for his mistake, which Lauren corrects as she corrects him as well. Michael 'apologizes' and Lauren suggests that the doctor takes a day off given the stress he has just been through, which is impairing his work. But Michael will not be chastised by a mere student doctor and tells Lauren to keep her advice to herself and her mouth shut. Has old Dr. Mancini finally been released from his tomb?
Jonah The Idiot and the Women Who Love Him
Ella works her magic texting fingers and not only snags front page covers for Jonah on two major trade magazines AND scored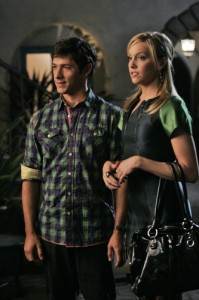 him an interview with Owen Anderson, a hot shot actor who Jonah wrote his script with Owen in mind. After introductions are had, Owen feels that the script is the best thing since sliced bread based on it's realistic attributes and wants to meet the inspiration for the main character's love interest: Riley.
So Ella, being Ella, asks Jonah to call Riley and have her come and talk to Owen, which Jonah thinks is ludicrous since Riley hates his guts at the moment. But he relents, because this is a big chance and he can't blow it, and calls Riley who is highly hesitant at first, but agrees to help out her beau. That is until she sees Ella is there. Riley puts on a game face and entertains Owen with the tale of how she and Jonah met, which sickens Ella into boredom. The conversation goes ugly after Riley mentions that she almost changed costumes for a Halloween party. Owen asks why didn't Jonah omitted that moment from the script since it was integral in Jonah and Riley's pairing and Jonah responds that the scene would've confused audiences because Riley changed her mind.
Uh-Oh.
Then what could have been World War III is stopped when Owen finds out that the two lovebirds of the script are no longer together, which means that the authenticity of the script is not accurate. After Riley walks off in anger, Owen decides to step out of the project. Meanwhile, Ella catches up to Riley and demands to know why she would help ruin Jonah than help his career. Riley vents her frustration out on Ella coming after Jonah all along, because Ella is not the commitment type and Jonah is so how will that work? Good point, Riley.
Ella finds Jonah and the two lament over the busted deal, but he comes up with a solution: rewrite the ending to maintain it's authenticity. But Ella throws a wrench in that plan by calling it off with Jonah, because she is in love with her career more than a person. Why? Well at least her career won't break her heart. But Jonah doesn't want to hear that silly talk and lands a kiss on Ella saying that she is what he wants, career and all. Awwwww gag me.
Amanda's WHAT?!?!?!??
After having a chat with Riley concerning a business proposition via Ben, Amanda is hit with some mind-frakking news. Apparently her financial advisor ran off with $15 million and he spent ALL of it which means that Amanda is BROKE!!!!!! It also seems as if she is borrowing from WPK's assets which could be bad for the company in the long run and send it under. But the drama doesn't stop there folks. At hearing this, Amanda starts to have shortness of breath, dizzy spells, and small spasm fits. What?!?? Is our Queen having problems?!?
Amanda goes to her old friend/nemesis Michael who asks her if everything is alright, because signs point to panic attacks. I think that having $15 million dollars stolen from you is great reason to panic.
Meanwhile, Riley wants to make a proposal to Ben and wants Amanda to help with the meeting, but Amanda doesn't think Riley is adequate for the position. But Ben does and thinks Riley's proposal was so excellent that he wants to fly to D.C. with her to discuss it a bit more. Amanda overhears this and has another panic attack. This will not end well for someone.
Meet Dr. Drew Pragin
The courtyard is jolted by the sound of a guitar solo coming from Auggie's old haunts. It's Drew Pragin, new resident of Melrose Place and Lauren is ready to rip his head off for waking her up. Drew throws his good ole boy charm at Lauren, but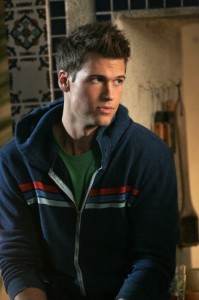 she ain't buying it. So imagine going into work and seeing your new nemesis is the new resident that YOU have to show around? Not too cute, I know. Lauren is immediately turned off by Drew's "could careless" charm, especially since they are doctors. Lauren must not be a big fan of Alex Karev on Grey's Anatomy then as well… But Lauren's disdain for Dr. Pragin for quickly dissolves as he exemplifies his unorthodox skills in calming panicked patients. Well, it was either that or Lauren had other things on the brain to worry about. See below…
Michael. You Are NOT the Father!!!!!!
David gets a jolt in the mail in the form of a letter from Vanessa, Michael's deceased wife aka Sydney's murderer, stating that if she is dead then she needs David to know the truth about Noah, which is that Noah is in fact David's kid. Sydney knew a cunning person when she saw one. Game recognized game and Sydney died for it.
So Michael, who is still having a crappy day, locks himself up from the world, but has it rocked again when David stops by. Michael is upset and is letting his conscious get to him about the down turn of recent events. Wait, Michael has a conscious?!?
Before I can marvel at this, David lands the bombshell on his father and Michael loses it, demanding that David stay away from him and Noah after just lamenting on how he wishes he was close to David. That's the Michael we all love to have! Michael decks David and the two end up in a short scuffle that leaves Michael laying in a pile of glass. David has made his point, but will Michael accept it? Keep reading…
Full Circle
Lauren gets a wonderful surprise that any twenty something would go gaga over in a New York minute. Someone anonymously, and generously, paid off Lauren's medical school fees! Lauren is floored and then thinks the most idiot thing possible by assuming that Dr. Michael Mancini paid it off to keep her mouth shut. Before I can say "wrong Mancini, babe", Michael does it for me and then blasts Lauren's ass for even assuming such a thing. Just when I think Lauren has learned her lesson, she drops the ball yet again and in the process disturbs a hornet's nest. She calls Wendi and tells her former madam that since med school is paid off that she doesn't need to do anymore hoeing to make ends meet. But Wendi is not finished with Lauren, who owes her one more gig. Lauren doesn't want to do it and Wendi lays down the school of hard knocks on the budding doctor. Either do the job or look for a new career other than saving lives.
Conclusions
Riley hits it off with Drew after Ella and Jonah announce that he's changing the ending of his script to fit his life now, which also stood for "Hey, people! We're a couple! Deal with it." Later while humping, Ella ignores and tosses her phone to show that she means business with Jonah. Whatever.
Lauren is called off by Wendi for her final gig, which she masks as another late night shift at the hospital. Drew offers to go with her, but Lauren plays it off by saying she might be right back. Hmm. As I am thinking how much Drew will be a problem for Lauren's lies, Lauren makes it to her john's room. When the door opens up, my mouth hits the floor. Lauren's date for the night is none other than the good doctor Michael Mancini!!!
Michael doesn't flinch and plays it cool, but his gears in his head rolling. Lauren begs for Michael to keep the secret in the bag and he does, but only if Lauren does something for him in return: break David's heart by leaving him. Lauren is baffled, but Michael has said his peace and if she doesn't do as he says then her career is as good as screwed. Lauren has fell from the hornet's nest into the viper's den all in one day.
Tell me that this show is not GREAT!!!
Melrose Place Community Letter
– Welcome, Drew Pragin! Hope your stay is longer than the previous residents!
– Amanda having panic attacks? I fear for her, because if the upcoming episodes are any indication, her ass may end up in the hospital due to a reaction from some of the drama heading her way.
– I'm still not buying Jonah and Ella. There are shippers out there who love these two together, but I don't see it. Ella was built to be a predator when it comes to the dating world and Jonah can be an impatient, jealous guy. Not a good combo. I wonder how long will it take before Ella gets tired of him. Now Drew and Riley? I can see that going places.
– Should I just start calling Ben "The Wandering Eye" or "Wandering Ben"? Every woman he's come across so far has been hit on by the playboy. This will not end well and I can smell the tear ducts revving up from here.
– David has a kid and I wonder where this will lead. I don't know if I want to see a little kid running around Melrose Place. That would not be good for the show or for the kid's safety. I mean there is an unguarded pool in the middle of the court…
– Lauren and Michael. Now THAT was a Melrose Place moment!!! This will most definitely not end well and I wonder who will survive and what will be left of them in the end. Can NOT wait for next week!!!!
So what do you guys think? I really want to hear your comments!!!!!
See ya next Tuesday!!!!