Tuesday, we picked up where the pilot left off. Auggie takes a shower and sports a nasty stab wound in his back. Both Lauren and David return home from their jobs of the night, Lauren getting the cash and David getting the loot. Riley awakes Jonah to breakfast in bed, which she uses to say sorry for making Jonah wait an entire day before saying yes to his wedding proposal. A bowl of could cereal would so not do it for me. Sausage, bacon, eggs, and biscuits had better been on my plate if I was in Jonah's shoes. Anyway, Jonah and Riley plan a day off to celebrate, but before they can start off the day right with a morning sex Ella arrives wanting cameras installed in the courtyard due to Sydney's murder. This ticks off Riley, who feels as if this could wait, but Ella wins and the beach day is postponed. Outside, Auggie finds Violet looking for jobs and recommends her to visit Coal, the restaurant/club Auggie works at. She obliges, but really wants to jump his bones. Detective Rodriguez, the guy who is assigned to Sydney's murder case, then confronts Auggie about his history with Sydney. We are then thrown into a flashback of Auggie and Sydney's first encounter that started at their AA meeting and ending up in Sydney's bed. In the present, Auggie tells the detective that he and Sydney were just friends. More like friends with benefits, Auggie…
Ella arrives at WPK (her publicist job) to total chaos, as people are being fired left and right due to a merger with a larger company. Ella isn't scared and walks into the office of her new boss, Caleb Bower, who promptly hands her a box to pack her belongings after Ella showcased her defiance to him. But Ella isn't out for the count. She talks good game on bagging the hottest star of the summer for the firm. Caleb gives Ella by the end of the week to land such a mammoth deal, which Ella herself is scared might not happen. Of course, she doesn't let Caleb know that…
Back at Melrose Place, Jonah puts up the cameras to Riley's chagrin. David meets with a crony to sell the painting. After giving the guy information about his next heist at the House of Nightingale, David gets a call from Ella, who demands to be David's plus one to the party so she can land the actor for her job. David complains about how his ex will not be too pleased if Ella shows up on his arm when Ella gives him an ultimatum: it's either entrance into the party or his alibi is ghost.
Lauren is doing rounds when she gets a call from Toby a.k.a Mr. Indecent Proposal, who has another proposition for her to make money, only this time its for Toby's friend. Lauren is appalled and hangs up.
Riley runs into Auggie, who lets his guard down and tells her about how Sydney's death is still haunting him. Riley, trying to be a good friend, takes his hand and sits down to talk with him. But Ella spots this and grins when she realizes that the seemingly intimate encounter was caught on the new camera in the courtyard.
Violet shows up at Coal looking for Marchello, who turns her down when he sees what she is wearing. Auggie tries to come on defense of Violet, who Marchello thinks is another notch on Auggie's belt and reminds Auggie that Sydney, who got Auggie hired there, wasn't just a friend herself. This prompts another Auggie flashback, in which we find out that a previous girlfriend of Auggie's was killed in a knife fight in a bar. To drown out the memories, Auggie turned to drinking. Sydney comes in to stop him from falling of the wagon and breaks off their three-month affair to make sure that he gets it together.
Lauren finds out that even though she paid the $5000 on her $30,000 balance on her tuition that if she doesn't pay it in full then she will be kicked out of med school at the end of the semester. She relays this to Ella, who gives her a damn good inspiration speech about achieving your goals at all costs and not caring how you get there. If only Ella knew…
Jonah monitors the surveillance and spots when Riley and Auggie were talking in the courtyard, which did look kind of intimate. Riley comes in and while Jonah fast forwards the footage before Riley can see it, they come across footage of Violet floating in the pool in the same fashion as Sydney's body was found. Alert bells start to ring in Jonah's head, but Riley thinks that he is jumping the gun on Violet, because Auggie thinks she (Violet) is cool. And the floodgate has been opened…
Jonah reveals that he saw the footage of Riley and Auggie, which Riley downplays. Then Jonah lets slip that Ella might have told him to watch said footage, which Riley explains to Jonah (who is really completely clueless) that Ella is after him despite him thinking that Ella is trying to help his career. For some idiotic reason, Jonah claims that Ella gets his passion for his career and Riley doesn't, which is a no-no. Riley, highly offended, leaves Jonah to stutter an apology.
Meanwhile after a great motivational speech from Ella, Lauren takes Toby's offer to meet his friend Rick, who wants to introduce Lauren as a new girl he is dating to his friends and has the full night planned.
Ella and David arrive at the House of Nightingale party and Ella immediately stalks her prey, while David runs into Trudy, his ex and hostess of the party. David lets slip that he stole the painting from Michael's house in the most subtle line possible and is really a blink and you miss it moment. While looking for Jasper, the movie star Ella is stunned to see Lauren walk in with Rick. Both girls see each other and my mouth hits the floor! Lauren introduces Ella, along with David, to Rick as her date and that she only met him recently. Ella and David buy their story and with the smooth manner that Lauren and Rick declared their coupledom, how could you not believe the lie? I think Lauren is getting the hang of the game, people…
Ella finds Jasper, a British bad boy, who scoffs at Ella's suggestions of having a publicist, but does barter sexual favors for a meeting at WPK. Ella coerces Jasper to show his junk, which she snaps a mobile picture of and lays down the law with some friendly blackmailing. She later finds David, who is in the middle of stealing the expensive watch, and tries to figure out what is his damage. To shut her up, David reveals his past to her by showing her a picture of him and his mother in a trailer park in San Bernardino, where he lived until he was thirteen and before Michael Mancini scooped him up after his mother died. David swears Ella to secrecy on this subject. Why? I don't know. Why did this revelation have to come out now? I'm just as clueless there as well…
After some vigorous sex with Rick, Lauren jumps up to go home, but Rick wants her to stay, because he has grown some affection for her. Under a day, dude? Really? I bet he says that to all the girls he pays for. Lauren demands to be paid so she can go in a manner so raw that would make even the most high-class hooker proud.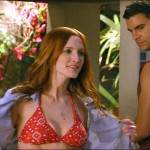 Detective Rodriguez and another detective confront Auggie about his past and want to know the truth about Sydney Andrews. This prompts a flashback to the night Sydney died, where Auggie finds Sydney snorting coke after David passed out from drinking. After arguing with a coked up Sydney, David takes Sydney's drugs and she pulls out a knife and attacks. While trying to wrestle the knife out of her hand, Auggie receives his cut that we saw at the beginning of the episode. Auggie snarls at Sydney before we are sent back to the present where Auggie tells the detectives that he did not see Sydney that night and that he would never hurt her. Mmmhmm….
Caleb calls Ella into his office where he tells her that he was at the party this past weekend and signed Jasper himself using his sexuality as a key weapon. Turns out that Jasper and Caleb are gay and that despite not really being attracted to Ella, Jasper wants her as his point person. While Ella is no Amanda Woodward, she is quickly growing on me.
The group has a little get together in the courtyard where everyone wraps up their stories for the week. David donates lobster tails to the barbecue, which could have easily been bought with the money from his latest heist. Ella tries to get Jonah to have lunch with her to discuss a new movie idea, but Jonah, after reconciling with Riley and learning to work on his trust issues, decides to take a rain check (Ella wasn't thrilled). David and Ella ask Lauren about her new beau who Riley thinks is Toby, but Lauren dodges the subject. Violet got the job at Coal and after Jonah gets a sly dig in on Violet's shenanigans in the pool, he asks her if she ever talked to Sydney. After stating that she wished, Violet flashes back to when she met Sydney and revealed to her that she was Sydney's daughter. Sydney denies the claim, but Violet has proof courtesy of a string of Sydney's hair that Violet stole and had a DNA test done on it. It came back a match. Yet, Sydney still claims that she never had a baby. The whole scene is vintage Melrose creepy with Violet telling Sydney that she won't be getting away from her that easily. Cue the Twilight Zone music…
So what did you guys think? The pool scene at the end reminded me of vintage Melrose and this mystery is turning out to be a great way to open the series. But they will have to continue to play it right and not let it dominate the storylines for it to be a true success.
See you all next week!