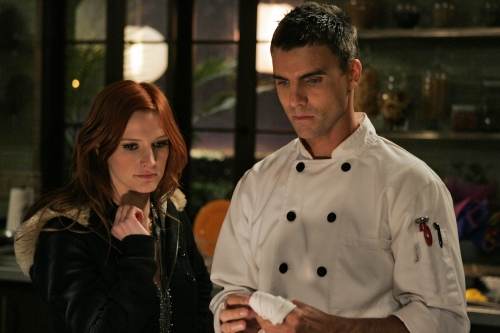 Your boy is in tears because Melrose Place is back on my TV screen and I am as happy as a golddigger on Rodeo Drive! And we were NOT disappointed!!!! CW, be warned that fire and brimstone will rain down if you cancel this show. You have been WARNED!!!!!
The Set Up
It's the night after the cliffhanger and everyone is in a bed of some sorts: Lauren is in the hospital while David paces back and forth outside her room, Violet looks as if she is having either a withdrawal from being crazy or being Auggie-less, Auggie is actually passed out drunk, Riley calls for an absent Jonah as she tosses and turns in her sleep, and then we find ourselves in Ella's hotel room where she and Jonah awake from their forbidden rompfest the night before. Jonah sees that Riley has blown his phone up like a love sick lunatic and wants to ditch breakfast with Ella to take care of home without mentioning the previous night's events to Riley. Not so fast, bud. Ella feels that Riley deserves to know the truth not only because it's the right thing to do, but it will also put them in the clear to date openly as well. Jonah claims that the situation is complicated, but Ella says its really not when he puts his brain to it. But since when has Jonah really used his head?
Amanda gets showered with gifts from her boyfriend Ben Brinkley (guest star Billy Campbell), who promises an even bigger surprise for later at her 'welcome back to L.A.' party. The hint that Amanda demands is met with Ben's claims of it being able to show everyone how much he loves her. Hmmm…
Lauren awakes in the hospital and David picks this as the perfect time to play the dual roles of caring suitor and interrogator. She comes up with a lie and David sees through it, but Lauren changes the lie a bit to the point David believes it. She claims that she went to meet a guy she used to "date", but he drugged her and that's how she ended up on the floor. David has heard enough. It's ass kicking time. Lauren asks for David to not go after the guy, Rick, but since when has David followed the rules? He waits till Lauren is rolled out the room and copies Rick's number into his phone from Lauren's.
Ella returns home to Amanda making it known to the complex that she is moving in. Ella tries to sneak into her own apartment, but Amanda spots her and lets the insults fly when she sees Ella's disheveled look, claiming that Ella looked like a one night stand. Damn. But while Ella tries to convince her boss otherwise, Amanda ignores that B.S. and orders Ella to find a new caterer for her party later since she fired the ones Ella hired earlier. To raise Ella's blood pressure even higher, Amanda stresses that the event must go without a hitch because of Ben's big surprise, which Ella thinks is an engagement ring. After bombing Ella yet again, Amanda demands that she invite all of the residents of MP to the party. Hmmm. Do I smell a scheme?
Commitments, Schmitments!
Jonah finally returns home to a worried Riley and the two began to talk. Jonah almost spills the beans about his faux pas with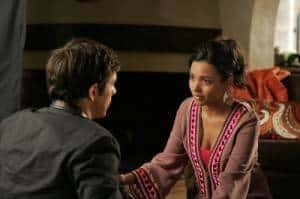 Ella, but punks out after seeing the state Riley is in. Riley wants to go back to the way they were, but wants to nix the whole engagement part. This is not what Jonah wanted to hear and claims that he's not sure given the drama they been through if he's ready.
Jonah then asks David if he can crash on his couch and reveals what happened with Ella. David feels that Ella is a mistake and Riley is the real thing, but Jonah regurgitates Ella's line about how Ella knowing what she wants and Riley doesn't. David advises that Jonah keep the Ella hook up to himself and not tell Riley.
Later at the party, Ella bumps into Riley who tells her that she and Jonah talked, which Ella totally miscalculates. Jonah then shows up before Ella nearly spills the beans about everything by claiming that it's good to know where everyone stands. Riley wants to know the meaning of that comment, but Jonah pulls Ella to the side and confesses that Riley doesn't know squat yet. When Ella demands to know why, Jonah says that he can't figure out how to break something so earth shattering to someone as fragile as Riley. Ella makes it clear that she is not happy, telling Jonah to meet kettle and black when it comes to not knowing what he wants.
After that, Riley plays the memory game with Jonah about their days in college and tries to get him to reenact a moment of ecstasy in a room of Ben's mansion. Jonah stops the action from going further by stating that he has to reveal something if the two of them are to continue their relationship. As Riley listens, her world is shattered to hear that Jonah slept with Ella, her nemesis of sorts, and she leaves the room beyond pissed.
"You Don't Measure Up…" MEOW!!!!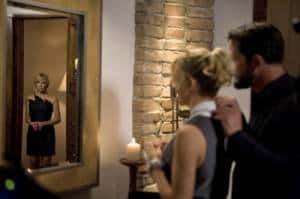 Ella makes some unflattering remarks about Amanda that Ben overhears and she fears that she is in deep ish, but Ben manages to give Ella a glowing review to Amanda, who later praises Ella for her hard and diligent work. Ella is elated. During the big surprise reveal, Ella watches from the crowd as Amanda's face falls when the surprise turns out to be a brand new Bently. So much for that engagement ring…
Ben later uses Ella as a model for his backup gift, which is a sparking diamond necklace. As he puts it on Ella, he begins to flirt. Hard. Ella tells Mr. Brinkley to slow his roll, but Amanda sees this and hurries off. Ella takes after her and explains the situation to Amanda, who promptly rips Ella to shreds, eats those said shreds and then craps them out into a filthy gutter. Ben gracefully comes to help Ella leave with the remaining dignity she has before Amanda went in for seconds. After Ella leaves, Amanda admits that she thought that Ben was going to propose, but quickly plays it off in his face. Now we all know Amanda wanted Ben to put a ring on it, so why is she fronting?
The Incredible David Breck
After doling some advice to Jonah, David takes the info he found on Rick (Niall Matter) and locates him at his studio. David acts as a delivery man to gain access in and confronts Rick for his actions. But when Rick calls Lauren a whore, David then introduces the jackass to his fists of extreme fury.
Lauren checks herself out the hospital, but before she leaves, someone calls her name. It's Rick and he has seen better days, but that doesn't stop him from trying to scare Lauren for what David did to him. Rick declares vengeance on David if he finds out his name. Lauren wants to know all that Rick revealed to David, but he still plays the jackass hand and Lauren gives him a pinch in his broken ribs. She tells the creep that he left her for dead and the only thing that happened was that karma visited him and kicked his ass.
Lauren later meets up with David in his apartment and tries to throw the scent off while trying to see if she is in the clear. But David is still in the dark and the two decide to brush the incident under David's bed, which they end up in.
So Long, Dear Friends!!!!
Ella signs up Auggie as the new caterer for Amanda's bash and he's happy to accept the gig since he's without a job. Ella spots a half empty bottle of whiskey on the coffee table and confronts him about it. Auggie lies about using it for recipes he's trying out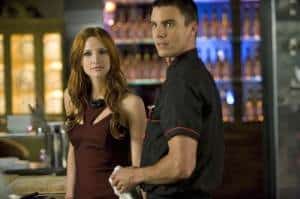 and that he's fine.
Violet nearly scares the crap out of Riley (and me) when she sneaks up behind the poor girl and starts ranting about seeing Riley and Auggie in the courtyard the night before. Riley sets the record straight and Violet holsters her crazy for the moment and suggests that they both attend Amanda's party.
Auggie is on top of his game in the kitchen, but Ben brings up some wine from his cellar that Auggie could use in the dishes he's making. Ella tells Auggie to watch himself. Auggie later spots Riley making up with Jonah, while Violet spots the scene from the sidelines. Auggie, hurt that Riley is not fawning over him, runs to the kitchen to fetch a drink from the wine bottle.
Later while cooking, an intoxicated Auggie cuts himself. Violet floats into the kitchen knowing that Auggie is drunk and that he's drunk over Riley, which Violet predicts will eventually kill Auggie. So she has a suggestion: the two of them leave Melrose Place for good to get over their past demons. I can hear a million yelps of joy from across the nation at this suggestion.
Conclusions
Remember that scheme I smelled earlier? Well it was ripe as hell. Turns out that Amanda wanted all the residents to be at her party so that a guy she hired could search their apartments for that missing painting that Sydney took while they were away. All apartments were checked, except David's, because he was home. This calls for a Plan B and I am sure Amanda will not disappoint.
Jonah returns to the apartment complex to find an upset Ella, who wants some affection after nearly being ate alive by Amanda, but Jonah feels like crap about Riley and needs time to think. Now, Ella doesn't have time for his crap, telling Jonah that he knows where to find her when he gets his ish together. Jonah later crashes at David's and cries on his shoulder. I'm so over his crap, too, Ella.
Auggie returns from the party to see Riley in pain and something immediately comes to him… Meanwhile, Violet packs the last of her things, one being a picture of Sydney, and is ready to go. The screams of elated joy grows louder. I, on the other hand, might be the only person sad to see her go.
The next morning, Riley finds Auggie's apartment empty except for a letter on the floor from Auggie addressed to her. As Riley reads the letter, which says how Auggie only wanted her to be happy and that he couldn't tell her goodbye to her face, Auggie and Violet drive into the sunset on the back of his motorcycle. Despite what the other fans say, you two will be missed, Auggie and Violet…
Melrose Place Community Newsletter
– So this marked the end of a chapter for the new Melrose Place and the end of the Violet's Crazy Moment of the Week segment here at TVO. Unfortunately, Violet didn't have a crazy moment tonight, but that's OK! We got to see them off in a decent and plausible fashion instead of a blink and you miss them moment. Remember Rhonda Blair from the original series? Thought you didn't.
– So the stage is set for round two and if the set ups tonight have any indication, we are in for a bumpy ride. Any predictions on what might go down? Post them here and let's discuss…
Tuned in tonight and didn't know what the hell was going on? Try out TVO's Melrose Place 2010 Primer! It will catch you up to speed in no time.
Holla at ya next week!