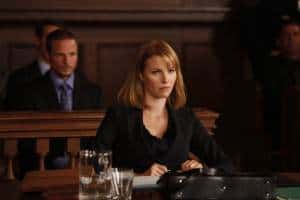 She made her debut as the new ADA on Law & Order: Special Victims Unit Wednesday night; Thursday, actress Melissa Sagemiller sat down with us to give us the dish on what we can expect from her character, filming her first episode, and how this isn't her first appearance on the show.
What a lot of fans might not know was that you appeared in a very early episode of SVU. What's it like coming back to the series all these years later?
It's a cool circle. I was on, I think, Episode 5 of the first season. When no one knew, you know, [that] it was going to become like a historic show, basically – I think one of the best shows on television. It's a really cool thing. It's funny because I walked into the meeting for this role and the executive producers remembered me. Well, they remembered that it was the fifth episode. It was crazy. I was touched that they remembered.
You know, I felt really comfortable. Everyone is so laid back and they just joke around and like that's sort of the way I like to work too, just having fun and everyone is so open. And Mariska [Hargitay] is just one of the nicest female leads that I've ever worked with, just really no competition or sort of backstabbing. She's just like, "Hey, you're part of the family. I'm having this event, come to the event. Oh, you need this?" She made a call for me. She's awesome. She's like mother hen. I really, really, really look up to her and have gotten to know her. Every time she sees me she asks, "How's your son? How's your family? Have you found an apartment yet?" I mean, I'm really lucky.
Law & Order shows are known for shying away from characters' backstories and personal lives, and sticking to the procedural format. As an actress, knowing that, do you approach this role any differently?
When I met and we talked about the character, they gave me the backstory which is sort of a cool backstory. I think they're doing more of that this season and I do have this backstory that I think is going to come into play over the next several episodes.
Mariska and I talked about it, actually, because she had talked with Neal Baer, the executive producer, about it. So I think there's actually going to be more of a backstory going on at least with my character. I think something's going to come out in the next five to ten episodes that will just give my character a little more depth. So, I'm looking forward to that.
Can you tell us about some of the backstory that we'll be seeing?
I'm in awe of Detectives Benson and Stabler, particularly Olivia Benson. There's something in my past, a personal connection that we have. Something that she did for me and a family member who she helped out. So I know this. She's not aware of it yet and I think it becomes revealed in the next several episodes.
In your debut episode, "Branded," you also worked with some great guest stars. Particularly, you had those great courtroom scenes with Jason Wiles and Kevin Alejandro. What was it like working with the two of them?
Oh, they're amazing. Kevin was on Sleeper Cell. He was on the second season so it was really fun to reunite with him. Jason is – I think we have the same agent and I've been watching his work for a long time.
But they were creepy but real and that was really cool too – the whole courtroom scene where the whole reality of who was the father and everything came out. It was explosive. I actually was a little frightened when Kevin sort of had that outburst and there was an altercation between the two of them. I was scared. But they were great to work with. So was David Alan Grier. David Alan Grier played the defense attorney in that episode and I'm a fan of his too.
My thanks to Melissa Sagemiller for a wonderful interview. You can catch her on Law & Order: Special Victims Unit, which airs Wednesdays at 9 PM ET/PT on NBC.
Tell us what's wrong with this post? How could we improve it? :)
Let us improve this post!