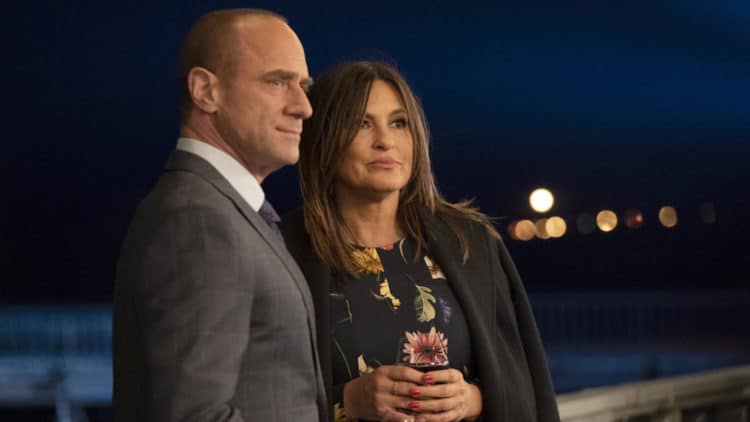 Detective Stabler and Detective Benson's chemistry was undeniable from the start. For most of us, their unbreakable bond was what initially kept us enamored when the show aired in 1999. What's a crime procedural show without an awesome partner duo? Think Rizzoli and Isles, Schmidt and Jenko (21 Jump Street), or even Briscoe and Logan (Law & Order Criminal Intent) just to name a few. For many years fans of the show hoped that Stabler and Benson would eventually cross that line and explore that side of their relationship. Yet, those dreams were abruptly squashed when Meloni left the show at the end of Season 12 due to a major contract dispute. However, Stabler (Christopher Meloni) made a few epic appearances on SVU this year and he also plays the lead detective on Law & Order Organized Crime which often intersects with Law & Order SVU. Stabler's return to the franchise has many fans wondering whether they'll finally get the happy ending they've always desired.
We First Met Detective Stabler and Benson……
When we first met Stabler and Benson they were young, fresh-faced detectives eager to solve cases. As a product of rape, Benson's personal experience with dealing with sexual assault victims drove her passion and determination for seeking justice for victims. Benson's quick temper might be off-putting but he's a family man with a good heart and a genuine desire to protect victims. Stabler and Benson are both complicated characters but they are good people and that serves as the basis for their relationship. Olivia and Elliot's relationship went well beyond their job. Right or wrong, she always stood by Elliot's side during his time at SVU. There were several instances in which Stabler risked losing his badge because of his anger issues and how he would aggressively handle suspects. Olivia on the other hand has always been a stickler for doing the right thing, but she was always willing to risk her reputation for her partner. Although Stabler and Benson never crossed that line, their close relationship was a source of contention between Stabler and his wife. Stabler's wife Kathy always resented Elliot and Olivia's deep work relationship because she felt as if her husband spent more time with his partner than he did with his family. This was one of the reasons that Kathy and Elliot ended up separating earlier during the series. Fans always thought that there was something more than friendship brewing between the duo because when Stabler resigned at the end of Season 12 without even giving Olivia a heads-up it left her completely heartbroken. For a while, it was difficult for Olivia to connect with a new partner.
Fast Forward Ten Nearly Years Later…..
Ten years later in Season 22, Stabler's return has fans of the show excited. Stabler and his wife are in town to surprise Olivia at her award ceremony. A terrorist attack that was meant for Detective Stabler ends up claiming the life of his wife thereby opening the doors for Stabler and Benson to explore a possible romantic connection. Like always, Olivia is there to help Elliot and his adult children grieve the loss of Kathy. During a heated intervention with his family, Detective Stabler tells Olivia that he loves her. He quickly tries to cover his statement out by saying that "he loves all of them." There's also excitement around a congratulatory letter Stabler and Kathy planned to give to Olivia on the night of her award ceremony. Stabler admits that Kathy helped him write the letter but he also slipped a few special words into the letter unbeknownst to Kathy. In the letter, Elliot and Kathy tell Olivia that if there is a man in Olivia's life that he's faithful, loyal, and devoted just as she deserves. But Elliot secretly writes in "that in a parallel universe it would be you and I." We finally have concrete evidence that the love they share goes beyond friendship. After insisting that Olivia read the letter, Benson begins to pull away. However, the showrunners promise that the full letter will provide much needed clarity.
Why Are Stabler and Benson Better As Friends?
In a perfect world, the guy always gets the girl at the end. Yet the world that Stabler and Benson live in is far from perfect. Stabler isn't ready to entertain a relationship with Olivia so soon after the death of his wife. How would he explain the relationship to his children who would view their love as a betrayal to their mother? Stabler is a complicated character and he still has a lot of growing to do when it comes to controlling his anger. Olivia is a captain now and she can't afford to babysit and cover for Stabler like she did when they were partners. If Stabler and Benson do decide to explore a romantic relationship it won't be anytime soon.
Tell us what's wrong with this post? How could we improve it? :)
Let us improve this post!