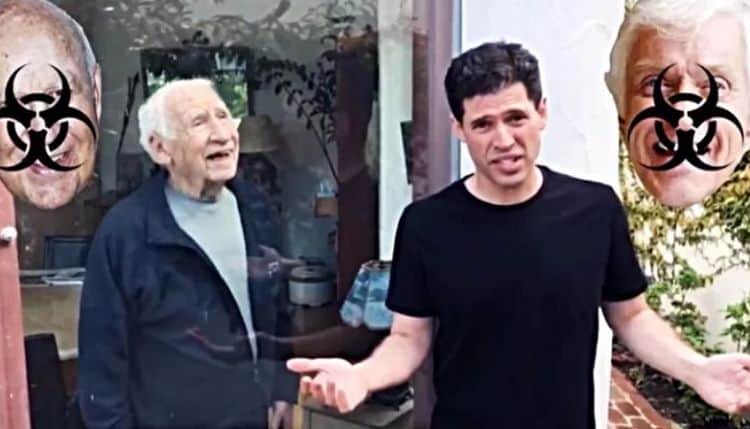 Leave it to Mel Brooks and many others to pipe up during the pandemic and try to make life a little lighter in a way that will make people laugh but also hope make them listen. Brooks has been on the forefront of humor for so long that it's easy to think that he wouldn't miss the chance to have a moment in this current madness, but the message that he and his son Max are sending about social distancing is being seen as important by many people at this time. The only sticking point in this entire thing comes from hearing those in the White House state that Millennials apparently need to take the lead on this since they're being asked to take care of 'the greatest generation' and their kids, which is bound to ruffle a few feathers since so many people are becoming sensitive concerning words these days. Not being a Millennial all I can do is shrug and state that trying to keep people safe is a worthy goal, no matter who the best generation is and who is expected to lead the charge towards the general well-being of America's citizens. What Max is saying about the probability of a 40-something individual catching the virus and recovering is very true, as many of us in our 40s are relatively safe unless we have some underlying condition that might allow the COVID-19 virus to do us any type of harm.
A message from me and my dad, @Melbrooks. #coronavirus #DontBeASpreader pic.twitter.com/Hqhc4fFXbe

— Max Brooks (@maxbrooksauthor) March 16, 2020
Seniors and those with immune system deficiencies however are at risk like it or not since those who contract COVID-19 and don't suffer any symptoms might be in the clear, but can easily transmit the disease to those that have little to no defense. Protecting our elders and those that don't have the defenses in place to fight against the disease is paramount since otherwise the losses that have already been experienced could go from tragic and unfortunate to staggering in a very short time. Contracting the disease is unfortunately not as easy to prevent as it's been seen, but at least trying to prevent this is something we do have a least a bit of control over, and it's beyond time that we start doing what we can to help out those that otherwise don't have a lot of chances of staving off the disease on their own. Why it would come down to asking one generation to shoulder the burden is kind of hard to imagine since such a statement is a bit absurd. There's plenty that every generation can do to help against the spread of COVID-19, though of course the overall sentiment is that those at the least amount of risk are being asked to help out by making sure that their elders and those among them that are compromised by health issues can weather this pandemic.
One has to wonder just how those that are that high up the list of the Hollywood elite are taking this since a lot of the best performers of our or any time are getting on in years, and therefore at greater risk. From Tom Hanks and Rita Wilson to Mel Brooks to many others it's been seen that this pandemic isn't leaving anyone out since it can affect pretty much individual that comes into contact with someone that might have it. Why it's seen as such a surprise however is still puzzling since it would almost appear as though people were thinking that the stars couldn't possibly be included in the problems of the world for whatever reason. No one is getting away from this disease that easily, no matter how much money or influence they have. Those that do manage to avoid getting it are still going to feel the impact that it will have on the economy since like it or not, the entertainment industry is feeling the pinch and will feel the punch to the metaphorical gut that's to come after since things are bound to change in a very big way, even after the virus has gone on its way. With the theaters closing and the streaming wars heating up the entertainment business is definitely going to see a massive shift, and for people like Mel Brooks it might not be quite as disastrous since his movies have been been available for a long time now. But for the rest of Hollywood there could be a very big shakeup coming.
In the meantime it's important to take the disease seriously but never forget to have a sense of humor about it since like it or not, there is a need to laugh, to live, and to remind each other that this is not the end. Wake up with a smile and think of how you can help another person in your day, and remember to find a reason to laugh, it'll do wonders. Jerry Davich of the Chicago Tribune would likely agree.