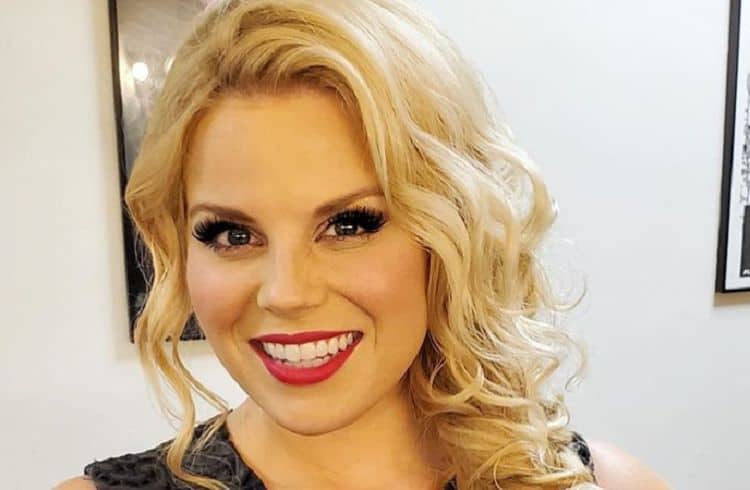 Megan Hilty first burst onto the scene as Glinda the Good Witch in the Broadway production of Wicked. Since those early days, her flame just seems to get brighter, and she's now as much a star of TV and film as she is of the stage. Up next for Hilty is the Lifetime movie Patsy and Loretta, a biopic of the country music legends that's due to premiere on October 19. Prepare yourself now with these 10 fun facts about the talented star.
1. She dreamed of being an opera singer
As a child growing up in Seattle, the young Megan harbored ambitions of becoming an opera singer. "I decided I was going to be an opera star. I was about 12," she told the Seattle Times, before recalling her first-ever stage performance at school. "I had one line: 'Nancy, he killed Nancy!' and I had to kiss a boy on the cheek and it was scandalous." Her passion for singing wasn't shared by her mother though, who was too tone-deaf to hold a tune and would make Megan sing along to records rather than accompany her herself.
2. She made her Broadway debut in Wicked
Unlike some singers who spend years toiling away at minor parts, Megan hit it big straight away. Her first job after graduating from Carnegie Mellon University (Glinda the Good Witch in the Broadway production of Wicked) would turn her into an overnight sensation. After initially acting as a standby, Megan took over the role fully from Jennifer Laura Thompson on May 31, 2005. She was an instant hit, and would later revisit the character in the "Wicked" national tour and when it staged again in Los Angeles.
3. She realized diversifying was the key to success
Given the splash she made on Broadway, it would have been understandable for Megan to limit herself to more work of the same. But while working on Wicked, she quickly came to the realization that if she really wanted to make it big in the industry, she would need to try her hand at other things. "I started realizing that the key to longevity in this business is to keep yourself diverse and do as many things as possible", she told the Seattle Times. "A lot of shows need a recognizable name, that's the formula. I could sit around and cry about losing jobs because I'm not a TV star or I could go and take something into my own hands and try to make it in this world, too."
4. Her first TV job was uncredited
After deciding TV was the way to make it big in showbiz, Megan got to work auditioning. Her initial steps in TV weren't quite so noteworthy as their stage equivalents, with her first role being an uncredited turn on The X-Files. However, she quickly established her footing and has since achieved just as successful a career on TV as she has on stage.
5. Her film debut was in Shrek
Megan's first appearance on film came in 2007, when she added her voice to those of Cameron Diaz, Eddie Murphy, Mike Myers et al as Snow White in Shrek the Third. She's since appeared in numerous other films, including What Happens Next (2010), Bitter Feast (2010), Happiest Man Alive (2010), The Maiden and the Princess (2011), Secret of the Wings (2012), The Pirate Fairy (2014), Tinker Bell and the Legend of the NeverBeast (2014), Legends of Oz: Dorothy's Return (2014), and Rules Don't Apply (2016).
6. She owned her own brand of beverages
Growing up in Seattle, home of the original coffee shop, it was perhaps inevitable that Megan's one foray away from the world of entertainment would in some way involve the beverage. In 2009, Megan launched Net Worth Coffee Brokers, a line of antioxidant-packed teas and specialty coffees sold online.
7. She's released an album of holiday covers
Megan's first effort as a recording artist came in March 2013 with her debut solo album, It Happens All the Time. Buoyed by the success of her first release, Megan decided to try her luck a second time in August 2016, this time with an album of holiday covers, A Merry Little Christmas. The album, which included such tracks as "Jingle Bells", "It's the Most Wonderful Time of the Year / Skating", "A Place Called Home", "Santa Baby", and "Count Your Blessings", proved a hit with fans, but there's no word yet whether Megan will be releasing a follow up.
8. She has 2 kids
After ending her long-term relationship with actor Steve Kazee in 2012, Megan began dating Brian Gallagher, and on November 2, 2013, the two married at a glitzy Las Vegas wedding. Their first child, Viola Philomena Gallagher, was born on September 18, 2014; their second, a son called Ronan, was born on March 13, 2017. "We are overjoyed with the new addition to our little family," she told Playbill after the birth of her son. "It's incredible how much love you can feel for someone you've just met."
9. She won her first award for Noise Off
Despite her many successes on stage and TV, it wasn't until 2016 that Megan won her first award, a Broadway.com Audience Award for Favorite Featured Actress in a Play for her performance in Noise Off. That's not to say she hadn't already received a huge clutch of nominations: her first was a Broadway.com Audience Award for Favorite Female Replacement for Wicked. The next batch (which included a Drama Desk Award for Outstanding Actress in a Musical, a Drama League Award for Distinguished Performance, an Outer Critics Circle Award for Outstanding Actress in a Musical, and a Broadway.com Audience Award for Favorite Actress in a Musical) came for her work in 9 to 5: The Musical. She also won various nominations for Smash, Robert and the Monster, Secrets of the Wings, The Pirate Fairy, and Legends of Oz: Dorothy's Return.
10. She's been described as a Supernova
Throughout her career, Megan has been as much adored by critics as she has by viewers, receiving so many glowing reviews they'd make quite the library. Of those reviews, perhaps the one that stands out the most is Brian Scott Lipton's effusive praise of her 2012 run as Lorelei Lee in John Rando's City Center Encores! production of the 1949 musical comedy, Gentlemen Prefer Blondes. "If Hilty wasn't already a star, her singular take on Lorelei — a blend of calculatedly exaggerated comic line readings and powerhouse vocals –would make her one. Now, she's a supernova", he eulogized.