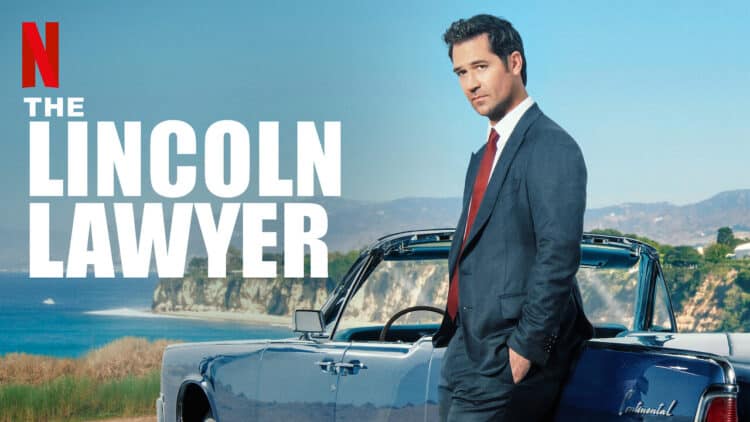 From the genius of David E. Kelley, who created shows like Doogie Howser, M.D., Picket Fences, Chicago Hope, The Practice, Ally McBeal, Boston Public, Boston Legal, and many others, comes The Lincoln Lawyer, an upcoming legal drama streaming TV series which is set to appear on Netflix this month. The show is developed by TV writer Ted Humphrey, who worked on shows like The Good Wife and Shark. The Lincoln Lawyer is based on the 2008 novel The Brass Verdict, authored by Michael Connelly. A movie version of the book premiered in 2011, starring Matthew McConaughey, Marisa Tomei, Ryan Phillippe, and Josh Lucas. If you're interested to learn more about the cast members of this exciting TV legal drama series, read ahead. Here are the cast members of the upcoming Netflix legal drama streaming series The Lincoln Lawyer.
Manuel Garcia-Rulfo
Manuel Garcia-Rulfo stars in The Lincoln Lawyer as Mickey Haller, the main protagonist of the series. Garcia-Rulfo is best known for appearing in the hit western action movie The Magnificent Seven. He's also worked on movies like Cake and Bless Me, Ultima. His most recent film work include appearances in Murder on the Orient Express, Widows, Mary, 6 Underground, Greyhound, and Sweet Girl. He is currently working on the movie A Man Called Otto, an upcoming comedy-drama directed by Mark Forster. Garcia-Rulfo has also worked on TV. Some of his small screen credits include Ralph Inc, Touch, Alguien Mas, From Dusk till Dawn: The Series, L.A. Series, and Goliath, where he appeared for six episodes.
Neve Campbell
Neve Campbell will be starring in The Lincoln Lawyer as Maggie McPherson. The popular actress has appeared twice on People's "50 Most Beautiful People." Campbell is true-blue scream queen, gaining widespread popularity for her role in the Scream series, where she plays the character of Sidney Prescott. Outside the franchise, she's worked on movies like Hairshirt, Drowning Mona, Panic, Relative Strangers, Partition, Sky Scraper, and Castle in the Ground. She is set to appear in a yet-to-be-titled Scream movie in 2023. Despite being a movie mainstay, Campbell is no stranger to TV work. She's worked on shows like Welcome to Sweden, Manhattan, Grey's Anatomy, and House of Cards, where she played a lead role.
Becki Newton
Becki Newton plays the character of Lorna on the upcoming legal drama series The Lincoln Lawyer. Newton's most prominent role is as Amanda Tanen in the hit comedy series Ugly Betty. She also worked on How I Met Your Mother as Quinn Garvey. Her movie credits include P.S., August Rush, and most recently, Otherhood. On TV, she most recently starred in Weird Loners and had recurring roles in shows like Divorce and Tell Me A Story. In an interview with Newton on Buzzfeed, she talked about her career working on TV, saying: "I think so much of TV is happenstance," Newton added. "The things that are hits often aren't the things you expected or were promoted to be hits … [Ugly Betty] didn't have 'hit' written all over it from the beginning." Given the star-studded cast of The Lincoln Lawyer backed by an excellent creator, chances of the show becoming a hit are on her side.
Jazz Raycole
Jazz Raycole will be portraying Izzy in The Lincoln Lawyer. Raycole is an actress and dancer best known for her role in the hit sitcom My Wife and Kids, portraying Claire Kyle during its first season. A familiar face on TV, Raycole has appeared on shows like The Soul Man, Suburgatory, Vanity, The Quad, I Ship It, and most recently, Council of Dads. In an interview with PS Love Charli, Raycole talked about how she became an actress: "Well I did this workshop where I got found by all of these agents and managers, and I'm like "Whoa! Let's try this!" And I was a kid, must have been around 4 or 5. I started off with commercials and then my first movie of course was Waiting to Exhale. Then I kept working pretty consistently. That's when I knew I wanted to be an actress; when I was about 15. I did this episode of Law and Order. At that point I was a kid, I was a kid actor. It was a lot of sitcom stuff, a lot of guest star stuff. So I got this opportunity to do Law and Order, a dramatic role, and I wasn't sure if I could act at that level. And I ended up looking at it and decided that that's what I wanted to do for the rest of my life."
Angus Sampson
Angus Sampson is set to play Cisco in the upcoming series The Lincoln Lawyer. Sampson is best known for starring in the Insidious film series. He also appeared in the crime drama movie The Mule. His most recent film credits include Benji, Winchester, Mortal Kombat, and last year's Next Goal Wins. On TV, he is most prominently known for his role in Nightflyers. He's also worked on shows like The Walking Dead, No Activity, Bump, and Jurassic World Camp Cretaceous.
Christopher Gorham
Christopher Gorham will be playing Trevor Elliot in The Lincoln Lawyer. Like Becki Newton, Gorham is also an alumnus of Ugly Betty. Since then, he's starred on shows like Covert Affairs and Insatiable. He's also guested on shows like Hot in Cleveland, Once Upon a Time, Heartbeat, and most recently Modern Family. In an interview with Brief Take, Gorham talked about enjoying being on Netflix when he starred in Insatiable, saying: "We're so grateful that we're on Netflix because I don't know if the show could exist as it is anywhere else. It's fun, it's campy, it's bright, and I think that on any other network…I don't think that any other network would have been as brave as Netflix would be to allow this show to be what it is and to be what Lauren Gussis wanted it to be. We are very grateful."
Recurring actors
Actors scheduled to appear in The Lincoln Lawyer in a recurring capacity include Ntare Guma Mbaho Mwine as Detective Raymond Griggs, LisaGay Hamilton as Judge Mary Holder, Jamie McShane as Detective Lee Lankford, and Krista Warner as Hayley Haller.
Tell us what's wrong with this post? How could we improve it? :)
Let us improve this post!