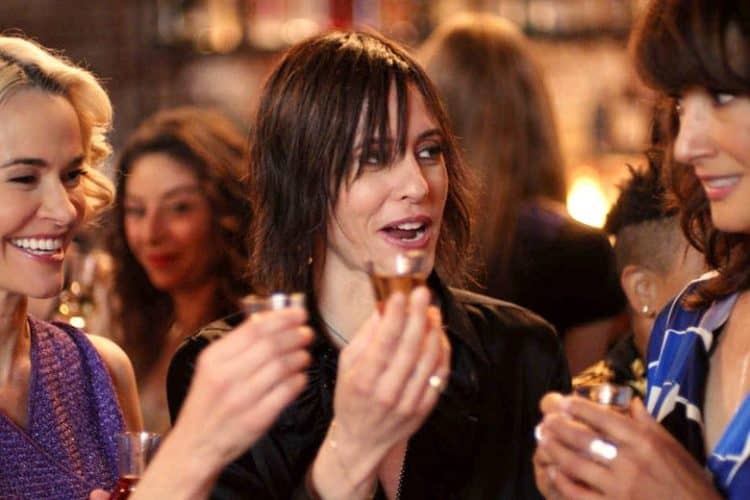 We adored the original "The L Word" and binged all the episodes more than once. When it stopped running, we were at a loss because there was nothing quite like it to fill its place, and we felt like there was more to the story. As it turns out, we were right. Ten years later, the story of Bette, Alice, and Shane continues with the much anticipated The L Word: Generation Q. We cant wait to catch and doubtless binge, all eight new episodes. The ladies will be thrown back into their familiar world of love, sex, and plenty of drama, but joining them is a whole group of newcomers. Are you ready to meet the cast of The L Word: Generation Q? We are.
Jennifer Beals as Bette Porter
Bette and her wife Tina spent six seasons in and out of love. Between the miscarriage, cheating, having a baby, breaking up, fighting over custody, and the death of Jenny, Bette has been a busy woman. Of course, she was busy before any of that happened. Jennifer Beals, yes, the one from Flashdance, played this power bottom turned Buddhist, turned kidnapper, mom, and possible murderer to the hilt. We adored every second of it. Bette and Jennifer are both back. What we know of Bette is that she and Tina have split for good, but her now-teen daughter Angie will be a part of the show. More on that in a minute. Jennifer is an executive producer on the show in addition to her starring role as Bette. She has mentioned that she, and of course the other producers, felt as we do, that nothing ever took the show's place. Given the current political situation and divisive feeling of America, bringing the show back as a reboot is vital to everyone involved. We're just glad to see it.
Leisha Hailey as Alice Pieszecki
We want to talk about Alice, the hilarious character played by Leisha Hailey. However, as beloved and engaging as Shane's bisexual BFF is with her journalism, radio, and TV hosting is, the actress who plays her is even more intriguing. Leisha was born in the United States Civil Administration of the Ryukyu Islands, Japan, in 1971, just before the end of that occupation, and the US leadership of Okinawa ended. At seventeen, she came out and moved to New York to go to school at the American Academy of Dramatic Arts. By 1991 she'd formed a duo, The Murmurs, with classmate Heather Grody. The pair found work as musicians and toured as part of Lilith Fair for a while. From her screen debut in Boy Meets World in 1997 to founding Marfa Records, releasing an album as part of Uh Huh Her and becoming Alice, Leisha has been a busy woman. Now, as one of the Producers in The L Word: Generation Q, she'll be busy on set again as the slightly older and possibly wiser Alice.
Katherine Moennig as Shane McCutcheon
We love Katherine Moennig. No one could have played Shane for the ladies man she is quite as well as she did. The womanizing, sexy-as-hell, fan-favorite was always one of the performances we looked forward to most each week on the show. Katherine is also coming back as a producer for the reboot. The three characters, Shane, Alice, and Bette are the reason there is a show to reboot after all. Perhaps our favorite 'thing' about Kate is that she came out as a lesbian while filming the original L Word show. She grew up Catholic and went to Catholic school, so regardless of her shag haircut and tomboy inclinations, the lesbian icon wasn't really aware of her same-sex preference as such until it became a part of her life in a very different way. Now she's out and proud, but the story of her finding herself through being someone on TV is one that's always touched our hearts.
Arienne Mandi as Dani Nùñez
Guarded PR exec Dani is Bette's new love interest on the rebooted The L Word. She tends to put others before herself even though she plays things close to the belt. Balancing career ambitions, generous spirit, and private life isn't easy for her. Though she's got quite a few films and TV credits to her name, Arienne seems to be a mostly private person who doesn't spill many personal details about her life to the media.
Jordan Hull as Angie
Bette and Tina's daughter Angie is a bit of a troublemaker. She vapes, skips school and might, or might not, be queer. Jordan Hull is a relative unknown. As a newcomer, we look forward to learning more about this young actress as the show progresses.
Leo Sheng as Micah Lee
Trans-Man Micah is a professor of climate science. He's soft-spoken and more than a little bit afraid to be vulnerable in front of anyone. Leo Sheng, on the other hand, was born in China and raised by two mothers. He grew up outside Ann Arbor, Michigan, and faced challenges as one of the very few Asian students and one of the few queer youths where he lived. He came out as trans at age twelve and began his social transition in junior high. He shared his story online and through the Huffington Post and MTV Voices to help others who were struggling. As an activist, transman, and actor, we're glad to see him on the cast and can't wait to hear his L Word story.
Jacqueline Toboni as Sarah Finley
Sarah has more in common with Kate Moennig than you might expect. The character is a sweet but unfocussed person who is struggling with reconciling who she is, and loves, with her religious background. Meanwhile, Jacqueline Toboni is a recognizable face we enjoyed in the series Grimm where Toboni played Truebel. Intriguingly, she got the part after reading for it as an exercise in a theater class. She blew her audience, and more importantly, the casting director away with her reading and landed a role she didn't know (at the time) she was even seeking.
Rosanny Zayas as Sophie Suarez
As a TV executive, Sophie works with Alice. However, as a Dominican American, Rosanny is thrilled to be playing someone like her on TV. There aren't a whole lot of representations of strong Dominican American women on TV these days, so the actress, who openly admits she used to stay up late to watch the original show, is more than happy to show off a bit of her culture to the world. Fore Rosanny, this is a genuine dream job.
Final Thoughts
We're excited to see the show premiere tomorrow night. The eight-episode run will, we hope, be the beginning of a beautiful and long-running new series that married the old with the new in a seamless transition that's very true to reality. Watching two generations of people grow and change, facing heartbreak, love, and all the incredibly hot scenes that come with it will be fascinating and fun for us. We already know this is going to be one of our favorite things on TV. What are you looking forward to about the reboot? Let us know in the comments section.
Tell us what's wrong with this post? How could we improve it? :)
Let us improve this post!