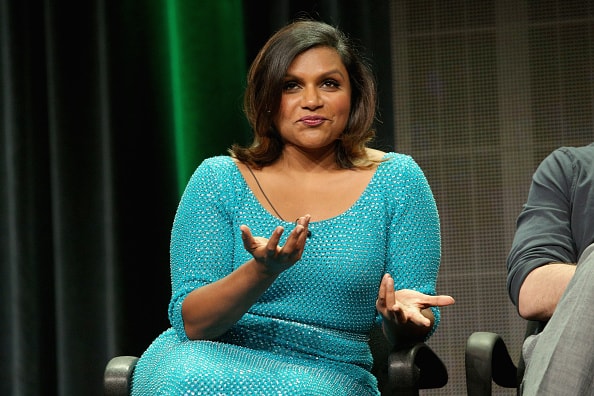 Going to the doctor is not a fun experience. You are in pain, feeling terrible, and just want to be at home in bed. Your feelings may be different about visiting the hospital if you were able to be treated by one of the many TV doctors that have been appearing on your favorite series. TV doctors tend to be better looking, funnier, and in the top of their field. Who wouldn't want to be treated by one of the attractive and intelligent doctors practicing at Grey Sloan Memorial Hospital from the long running drama Grey's Anatomy? We at TV Overmind thought it would be a good idea to sift through 30 years of television and pick our favorite TV doctors from the last three decades. Did your favorite make our list? Read on to find out.
Dr. Mindy Lahiri (Mindy Kaling) on The Mindy Project
If you were to see Dr. Mindy Lahiri, you might not think she is a doctor. This would because she would be randomly talking about romantic comedies to homeless people and scarfing down a chili dog while texting. However, once you see her in action as an OBGYN at Schulman and Associates, you know she is top-notch and one of the best doctors in her field. Plus she is really, really funny and one of the best TV doctors of recent years. Thankfully Hulu recognized this and we will see Mindy in all her pregnant glory during the 4th season of The Mindy Project.
Dr. Doogie Howser (Neil Patrick Harris) on Doogie Howser, MD
Before Neil Patrick Harris was hitting on every woman in New York City as Barney Stinson on How I Met Your Mother he played a young genius doctor on Doogie Howser, MD. Doogie had it pretty tough. Not only was he working a full-time job as a teenager, but he also had to deal with pimples, first kisses, and making it home by curfew. The series would last for only four seasons, but Doogie will go down as one of our favorite TV doctors of all time.
Dr. Michaela "Mike" Quinn (Jane Seymour) on Dr. Quinn, Medicine Woman
Being a doctor in a rural Colorado town during the 1800's would be difficult. It would be even more difficult if you were a woman, because most of the people in the town you reside in would think you should be at home having kids and not delivering them or tending to their injuries. Dr. Michaela Quinn had to deal with a lot adversity, but was able to win over the hearts of the townsfolk of Colorado Springs making her one of our favorite TV doctors. She was even able to find love and have a family of her own with Sully.
Dr. Heathcliff Huxtable (Bill Cosby) on The Cosby Show
Things are not looking so bright for Bill Cosby lately, but that should not hinder Dr. Heathcliff Huxtable from making our list of the best TV doctors. Dr. Huxtable not only was a successful obstetrician, he was also a loving husband and father. Most of the series' hijinks occurred at the Huxtable home, where Cliff had an office. He would take the time out of his busy day delivering babies to school his own children. Some of the best moments were when Theo wanted to move out on his own and become a model, so Cliff had him live a day as an adult or when Vanessa got drunk at a party so Cliff had her play the same drinking game with the family.
Dr. John Dorian (Zach Braff) on Scrubs
Many people may believe that Dr. Cox is worthy of appearing on the best TV doctors list, but John "J.D." Dorian will go down as our favorite doc on Scrubs. Whether he was pining over Elliot, having a "bromance" moment with Turk, or being picked on by the Janitor, J.D. had the most awesome daydreams to ever appear on network TV. It almost makes you wonder if your doctor does the same thing when you talk to him or her. J.D. also had a sentimental side and was able to show empathy for his patients which is a quality I know most people WOULD want their doctor to possess.
Dr. Nick Riviera (voiced by Hank Azaria) on The Simpsons
If you live in Springfield and need to seek medical treatment, the best idea would be to make an appointment with Dr. Julius Hibbert. If you are low on funds and looking for poor treatment with a friendly welcome than by all means pay a visit to Dr. Nick Riviera. Dr. Nick even has the motto, "You've tried the best, now try the rest." He also once congratulated Lisa when she informs him that they no longer use him as their family doctor. With that kind of humor, Dr. Nick was a must for our favorite TV doctors list.
Dr. Derek Shepherd (Patrick Dempsey) on Grey's Anatomy
It must be awfully hard being one of the top neurosurgeon's in the world and have strikingly good looks. Now Dr. Shepherd is included in this list of our favorite TV doctors. If he was still alive today, his ego may have gotten a tad bit bigger. Sadly, the beloved doctor made his finally rounds towards the end of Grey's Anatomy's 11th season after tending to victims of a car accident. He will always be remembered for being the very best at Grey Sloan Memorial Hospital.
Honorable Mention:
Dr. Gregory House (Hugh Laurie) on House
Dr. John Carter (Noah Wylie) on ER
Dr. Christian Troy (Julian McMahon) on Nip/Tuck
Dr. Temperance Brennan (Emily Deschanel) on Bones
Dr. Ross Geller (David Schwimmer) on Friends
Who is one of your favorite TV doctors? Let us know in the comments section below.
Photo by Imeh Akpanudosen/Getty Images
Tell us what's wrong with this post? How could we improve it? :)
Let us improve this post!